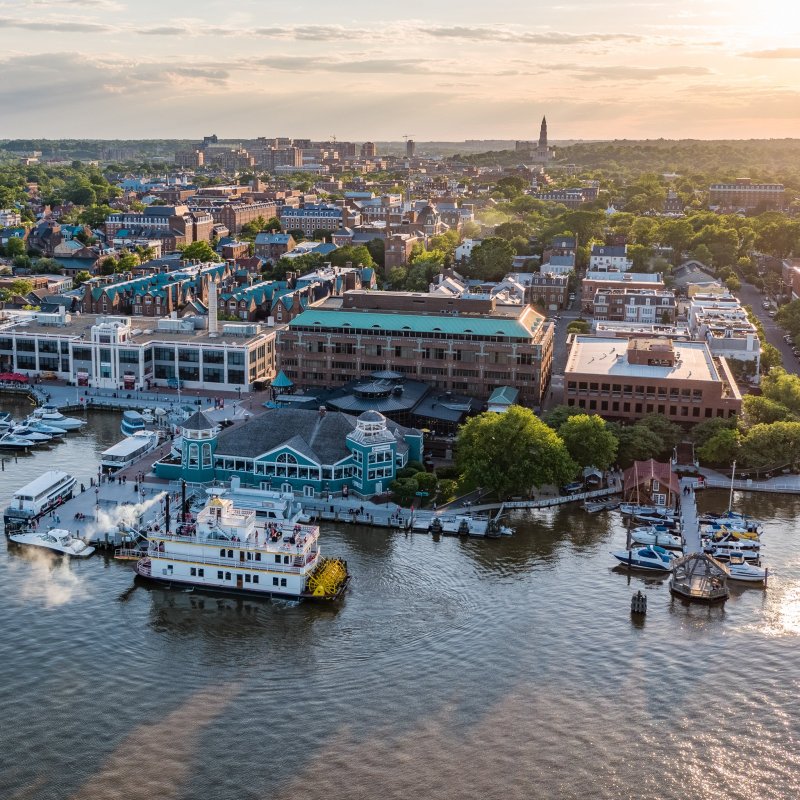 Quintessential Southern charm and hospitality await you in Alexandria, VA. Beautiful brick sidewalks under your feet and glass-front brownstones lining the way provide a glimpse into 18th-century architecture in a city that is ripe with historical significance coupled with modern-day appeal. Offering a diverse restaurant culture and unique one-of-a-kind boutiques, your Alexandria weekend getaway will be a respite from the hustle and bustle of the weekday treadmill.
Whether you choose to stay in Alexandria during your D.C.-area vacation or go specifically to experience the historic beauty of Old Town Alexandria, your adventure will be inspiring, restorative, and informative.
Things To Do In Alexandria
Explore The Torpedo Factory Art Center
The Torpedo Factory Art Center on the Potomac River is home to seven shared galleries and 82 artists' studios. Built in 1918, the factory produced Mark III and Mark XIV torpedos; the latter were used in WWII.
The galleries and studios share the space with historic tableaux that detail the history of the original torpedo factory. Galleries include the Potomac Fiber Arts Gallery, the Multiple Exposures Gallery, and the Printmakers Gallery among others. The open studio concept allows you to watch artisans at work in their creative spaces.
A visit to the Torpedo Factory Art Center should be on everyone's list. Whether you are interested in the makers' movement or are a history buff, the three floors of galleries and studios offer lots to explore.
Hours can vary due to the scheduling of private functions. Be sure to check the website for the current schedule.
Journey Through Time At Mount Vernon
George Washington's Mount Vernon home is a peek into 18th-century plantation life. Boasting 21 rooms and a panoramic view of the Potomac, Mount Vernon is a lovingly maintained piece of American history. The rooms house historical and replicated pieces that transport the visitor back to the origin of our nation. The four gardens allow the visitors to wander the property while enjoying the lovely vistas created by the lush plantings. Be sure to stop and enjoy the Upper Garden and greenhouse.
Touring the mansion and gardens in person is a treat for history and art buffs. You can visit virtually with their online tour, too. Although it is not like being there, the virtual tour is a fun way to get a head start on your visit.
Plan to have lunch at the Mount Vernon Inn Restaurant. Dine on Southern classics like skillet cornbread, peanut and chestnut soup, and turkey pies in the classically rustic restaurant.
Experience A Tall Ship Sail On The Potomac
A new arrival for 2020 is the tall ship Providence. A reproduction of John Paul Jones' command, the Providence will offer themed Potomac River cruises. Planned outings include family pirate and adult-only pirate cruises during which you're invited to dress in appropriate seafaring garb. Additionally, craft beer and wine tasting cruises will allow you to enjoy the sites of the riverbanks while experiencing some of Virginia's local libations.
Ride The King Street Trolly
Take a ride down King Street on the King Street Trolly. Park near the Old Town Metrorail Station and hop on the free trolley that runs down King Street to the waterfront. The trolley stops every two blocks, so it's perfect to hop on and hop off as you make your way through Old Town. Street parking in Old Town can be difficult to find, making the trolley very appealing.
The general schedule is Sunday through Wednesday from 11:00 a.m. to 10:30 p.m. and Thursday through Saturday from 10:30 a.m. to 12 midnight. Be sure to verify the schedule online or with the trolley driver so you don't miss the last run.
See The Sites In Washington, D.C.
Alexandria's location close to the metro D.C. area makes it the perfect jumping-off spot to visit our capital city. Leave your car behind — driving and parking in D.C. are a nightmare — and use one of these transportation options to get into the city instead.
The Metro is about a 20-minute subway ride from Alexandria. It offers multiple stop options, is easy to navigate, and is inexpensive at about $3 per person each way. There is also the Metrobus that takes about 45 minutes. This option allows you to enjoy the scenery along the way.
The best way to see D.C. is by private tour. When you visit with a private driver, you ensure that you see everything on your list with the ease of a car ready to whisk you off to your next venue. With door-to-door service, like this option offered by Concierge Tours, you can have a unique, personalized visit to Washington, D.C., that will make your capital city experience uniquely special.
Eating In Old Town Alexandria
There is no shortage of Old Town Alexandria restaurants. Your options include quiet, tucked-away bistros, sumptuous seafood fair, bustling boisterous pubs, and exquisite fine dining. Old Town offers dining for every culinary mood and desire.
Bistro Sancerre
Elegant dining and an extensive wine list are the hallmarks of fine French cuisine. Bistro Sancerre offers a menu for the discerning diner. White tablecloths, snappy waitstaff, and traditional decor set the mood for a special dining experience.
Start with an expertly prepared appetizer like baked brie with kumquat marmalade. For your entree, consider a modernized classic: Coquilles St. Jacques paired with a spectacular French wine. The dessert selection is a vision of delicate French confections.
Taverna Cretekou
When you walk through the front door of Taverna Cretekou, you are met by charming Mediterranian decor and amazing aromas. Ask for a seat on the patio for a secret garden dining experience.
You will be instantly transported to the Greek Islands by this restaurant's perfectly cooked cuisine. Start with a Mezedes sampler of tarama, tzatziki, and dolmades. Consider Exohikon for your main course; it's a baked filo stuffed with lamb, cheeses, artichokes, and other savory goodies. You must include a chilled ouzo for an authentic Greek experience.
Chart House
The Chart House is the quintessential waterfront restaurant, offering gorgeous seafood dishes and al fresco dining. With modern seaside decor wrapped in an upscale casual atmosphere, your visit to the Chart House will leave you visually and culinarily satisfied.
Dine with front-row views of the Potomac River, starting with the crab cake and avocado-corn relish. Follow with a main dish of mahi bathed in a peanut sauce and mango sticky rice. Your taste buds will be doing a happy dance.
Shopping In Alexandria
Antique brownstones with one-of-a-kind ground floor shops line King Street. Brick paved sidewalks and turn-of-the-century emporiums set the tone for your shopping experience. No big box stores and very few designer outlets are found in Old Town. The focus is on independent shops run by local entrepreneurs who embody the makers' movement and Old Town charm.
With items made exclusively by American artists, Imagine Artwear displays clothing, jewelry, and other finely crafted goodies. If you are looking for a wearable souvenir, make sure to stop at Imagine Artwear. By supporting local artisans, you are contributing to the preservation of Old Town's heart and soul.
Do you love to hunt for a bargain? Visit Mint Condition, a designer consignment boutique where you may stumble on Channel, Rag and Bone, Pulitzer, and other high-end designers. It's worth a peek in the shop; you may find the perfect item you didn't know you were missing.
Places To Stay In Alexandria
There are many unique hotels in Alexandria along with the plethora of high-end and mid-range traditional chains. It will be hard to choose, but your Alexandria weekend getaway stay can be historic, relaxing, and charming.
Luxury In The Middle Of Everything
Stay right in the middle of Old Town at the Kimpton Lorien Hotel and Spa, a luxury hotel with a chic European vibe. It is the perfect place to lay your head after a day of touring metro D.C. and Old Town.
Stay At George Washington's Home
The former home of George Washington, The George of Old Town, will charm history buffs and antique lovers alike. With eight suites named after presidents, the elegance and charm of this unique hotel await your arrival. With the option to rent out all eight suites, it would be a sensational spot for a family reunion.
Airbnb In The Center Of Old Town
Airbnb offers unique homestays and the Eisenhower, an Airbnb Plus rental, is a good choice. It offers a well-appointed, modern apartment in the heart of Old Town. A shared rooftop deck is part of the package and is the perfect place for sipping your morning coffee as you watch the neighborhood come to life.
Pro Travel Tip
Driving and parking on the weekends is congested. Avoid the frustration of navigating your car by utilizing the many alternative transportation options. Leave your car at your hotel, walk the tree-lined streets, and settle into a pedestrian state of mind.
Your Alexandria, VA, weekend getaway will be a memory you can cherish forever.