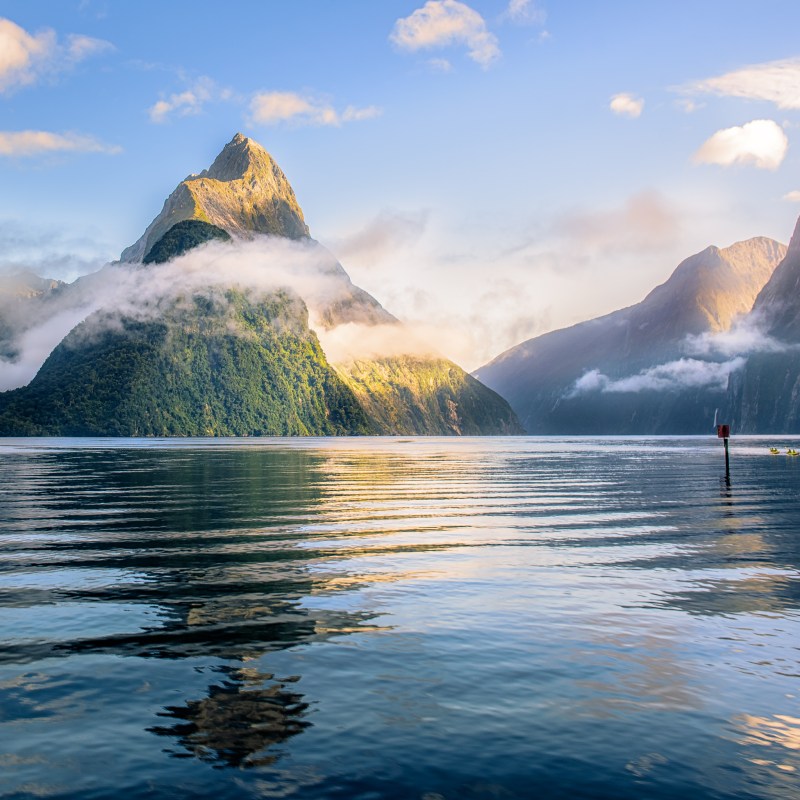 The Hobbit and Lord of the Rings movies have helped catapult New Zealand to the top of "must-visit" countries lists for an increasing number of tourists. Travelers are flocking to see the snow-capped mountains, lush native forests, majestic rivers, glaciers, and warm, inviting hot springs. The friendliness of the locals is legendary, and the food and local produce are outstanding.
You might ask if it really is possible to see one of the most beautiful countries in the world in just 14 days? Yes, but you will need to get on the road early and keep moving. This carefully curated itinerary hits those unmissable spots and experiences.
Note that distances and times are a general guide only.
Days 1 And 2: Auckland
Fly into Auckland, the City of Sails and New Zealand's largest city, with 1.5 million people. Visit SkyCity in downtown Auckland. It's a hotel, live entertainment venue, casino, bungee jumping spot, and a favorite amongst travelers. The 360-degree views from the rotating Orbit Restaurant showcase the city and the beautiful islands of the Hauraki Gulf.
Take a short walk and relax onboard a 30-minute ferry ride to the stunning Waiheke Island, where you can visit world-class wineries, white sandy beaches, and quaint seaside villages renowned for local artisan crafts and foods. Take the hop-on, hop-off bus around the island, or for the more adventurous, rent an electric scooter and explore at your leisure.
The following day, for a truly unique experience, rent a car and drive out to Auckland's west coast to visit the black ironsand beaches. While out west, visit the Gannet Colony in Muriwai, go mountain biking in the Waitakere Ranges or Woodhill Mountain Bike Park, or stroll through lush native forests and engage in some bird spotting.
For fine dining in Auckland City, don't miss my all-time favorite, Sails Restaurant, or have a cheap and cheerful meal on a Tuesday, when you can savor New Zealand's famous green lip mussels at the De Fontein Belgian Beer Cafe for half price.
Find more on how to get around Auckland here.
Day 3: Hahei Beach (111 Miles, 2.5 Hours)
Keep your rental car and drive from Auckland to beautiful Hahei Beach in the Coromandel region, where I recommend you check into the Hahei Holiday Resort. Comfortable cabins right on the beach are priced very affordably.
Visit Cathedral Cove, either by foot (a 2-hour out-and-back walk) or on the Water Taxi, or, for the full marine tour, book with Hahei Explorer. Later, drive around to Hot Water Beach, where you can dig a hole between the low and high tide marks and sit in the hot thermal waters, day or night.
Day 4: Rotorua (134 Miles, 3 Hours)
Rotorua is famous for its hot thermal pools, boiling mud, and geysers, which are accompanied by a striking rotten egg smell caused by the sulphur they release into the air. Don't let that put you off this must-see destination — you'll soon get used to it.
A visit to one of the many geothermal parks in Rotorua, such as Hell's Gate, will provide an opportunity to relax those sore traveler's muscles in a hot thermal spring or traditional outdoor mud bath.
Take in a Maori dinner and show during which you can learn about the indigenous culture, sample a traditional hangi (or pit-cooked) meal, and watch cultural performers.
The next day, drive seven miles to the gorgeous, aptly named Blue and Green Lakes to enjoy the usual water sports, biking, fishing, and hiking. If you have time, the nearby Buried Village, New Zealand's most-visited archeological site, is worth seeing.
While in Rotorua, we stay at the lovely Novotel Rotorua Lakeside Hotel, where the indoor geothermal mineral pools are a big attraction.
Day 5: Wellington (312 Miles, Just Over 6 Hours)
An early start is required as you head to New Zealand's capital city, Wellington, to wander around my favorite free museum, Museum of New Zealand Te Papa. There are 1.5 million visitors each year, and if you only visit one museum during your New Zealand trip, this is the one.
Afterward, and particularly if you are a fan of King Kong, The Lord of the Rings, or The Hobbit, visit the Weta Workshop. Take one of the many tours to learn how the characters are created and brought to life.
Stay at the Novotel Wellington Hotel for a comfortable night's rest.
Day 6: Picton, South Island (3.5 Hours By Ferry)
Enjoy the three-and-a-half-hour ferry journey across Cook Strait and up the magnificent Marlborough Sounds to Picton, the gateway to the South Island. If you are a wine buff, drive south to Blenheim (17.5 miles, 25 minutes) to savor the award-winning wines of the Marlborough region. Let someone else do the driving and take a wine tour so you can fully enjoy the food and wine. Although sauvignon blanc is a firm favorite here, I would highly recommend Cloudy Bay for its oaky chardonnay.
For something different, sleep surrounded by vineyards at the Korohi Vineyard Accommodation.
If wine isn't your thing, head west from Picton, taking in the beautiful Queen Charlotte Sound on your way to Nelson (66 miles, 2 hours). From here, you can drive up to Abel Tasman National Park (83 miles, 2.5 hours) to walk some of the famous track that winds through the stunning native forests.
The Nelson area has so many great places to stay, from Nelson itself to Motueka to the golden sands of Kaiteriteri.
Day 7: Rest Day
After all that traveling and wine consumption or walking, you'll want a day to catch your breath and to brace yourself for the long but worthwhile Day 8 drive.
Day 8: Pancake Rocks In Punakaiki (188 Miles, 4 Hours)
Take your camera and pop on your walking shoes for an easy short walk to capture these unique geological structures that look just like giant stacks of pancakes. If the tide is high and a good swell is running, you should be treated to a great display from the blowholes and surge pools.
The variety of accommodation here ranges from budget to high-end. Shop around to find a place that suits your tastes and needs.
Day 9: Fox And Franz Josef Glaciers In Glacier Country (135 Miles, 3 Hours)
A visit to the South Island wouldn't be complete without seeing Fox and Franz Joseph glaciers. These two must-see destinations are located just 25 minutes apart, but if you only have time for one, opt for Franz Josef.
It's a nice easy walk up to the viewing points. Make sure your camera is well charged for the Instagram-worthy scenery. To actually step onto the glaciers, and for the best views, you have to take a helicopter tour. And for the keen hikers, there are many walking tracks in the area.
Just five minutes from Fox Glacier is Lake Matheson, also known as the Mirror Lake. On a still day, it perfectly reflects the picturesque Mount Cook (Aoraki in Maori) and Mount Tasman. You can take the excellent 2.5-mile track around the lake or stroll the 20-minute walk to the first lookout, where you'll have an opportunity to take great photos of one of the most photographed lakes in New Zealand.
To mix up the accommodation a wee bit, I suggest you check into the Fox Glacier TOP 10 Holiday Park's cabins or motels. These are very affordable options, but be quick as these places fill up fast!
Days 10 And 11: Queenstown (200 Miles, 4.5 Hours)
Queenstown, the tourist capital of New Zealand, buzzes both day and night and has plenty of exciting offerings to whet your appetite. Here are few of the most popular.
Jetboat riding on the Shotover River will get your blood pumping no matter your age. Owned by the local iwi (Maori tribe), The Shotover Jet experience will blow your mind.
Take the gondola ride up to the skyline to take in the panoramic views, dine at the restaurant, do a bit of hiking, and enjoy an exhilarating luge ride back down. Gondola, dinner, and luge packages are available.
In the evening, bask in the spectacular scenery of Lake Wakatipu on board the TSS Earnslaw steamship, a 1912 Edwardian twin-screw steamer. This is one of the oldest tourist attractions in Central Otago and the only remaining commercial passenger-carrying coal-fired steamship in the Southern Hemisphere. Your evening cruise will involve your fare, plus the cost of anything you choose to eat or drink on board.
Sightseeing highlights in the Queenstown area include the historical restored gold mining town of Arrowtown, just 12.5 miles away. This region of Central Otago is world famous for its pinot noir, and visiting some of the boutique wineries or taking a wine tour should be on any wine buff's agenda.
My top recommendation in the entire country is a full-day trip out to Milford Sound with one of the multiple tour companies operating between Queenstown and Milford. Sit back, relax, and be mesmerized by the scenery while someone else drives. Once there, you will hop onto a boat and experience the serenity of the remarkable sound and its many waterfalls. Prices for the coach and boat package start around $70.
Stay in Queenstown itself to be closer to the nightlife. The main hotel chains are all represented, but you can get better value a few streets back from the city center. Prices will rocket and vacancies plummet during peak season, so book ahead to be sure you'll have a roof over your head.
Day 12: Tekapo (160 Miles, 3 Hours)
En route to Lake Tekapo, if the visibility is good, take the short detour to view Mount Cook (Aoraki in Maori), New Zealand's highest mountain.
On the shores of Lake Tekapo, visit The Church of the Good Shepherd. Built in 1935 as a memorial church to commemorate early settlers, this is one of the most photographed buildings in the country.
When looking for accommodation, try Airbnb. I recommend the Galaxy Studio Unit if it's available.
Day 13: Christchurch (140 Miles, 3 Hours)
The largest city in the South Island is also the oldest established city in New Zealand.
Now mostly recovered from the devastating earthquake of 2011, thousands of people are flocking back to visit the botanical gardens (free) and the International Antarctic Centre, to relish the gondola rides, and to punt on the tranquil Avon River.
When it's time to eat, pop down to the Friday Street Food Market in Cathedral Square and pick up some tasty internationally inspired delights.
I recommend staying at the Novotel Christchurch Cathedral Square.
Day 14: Day Trip To Akaroa
After a gorgeous 1.5 hour drive over the Banks Peninsula, this quaint seaside town feels unlike any other place in New Zealand. Founded by the French in 1840, Akaroa's heritage is proudly on display. Visit the Giant's House, an internationally significant garden, via an easy walk from Akaroa's waterfront.
For a truly unique once-in-a-lifetime experience, jump on a tour boat and swim with the rare and endangered tiny Hector's dolphins.
By now, your 14-day journey has flown by and it's time for you to fly home from Christchurch. You will have driven over 1,800 miles and experienced the very best of our beautiful country.
If you can spare more than 14 days, then my recommendation would be 28 days minimum, or, to really appreciate what New Zealand has to offer, rent an RV and stay with us for two months.
Pro Tip: When To Visit
February and March are the best months to come to New Zealand for an action-packed adventure. If these months don't suit you, then aim for the shoulder seasons: fall (May/June) or spring (October/November). If you come during either of these times, be prepared for some colder weather, especially down south.