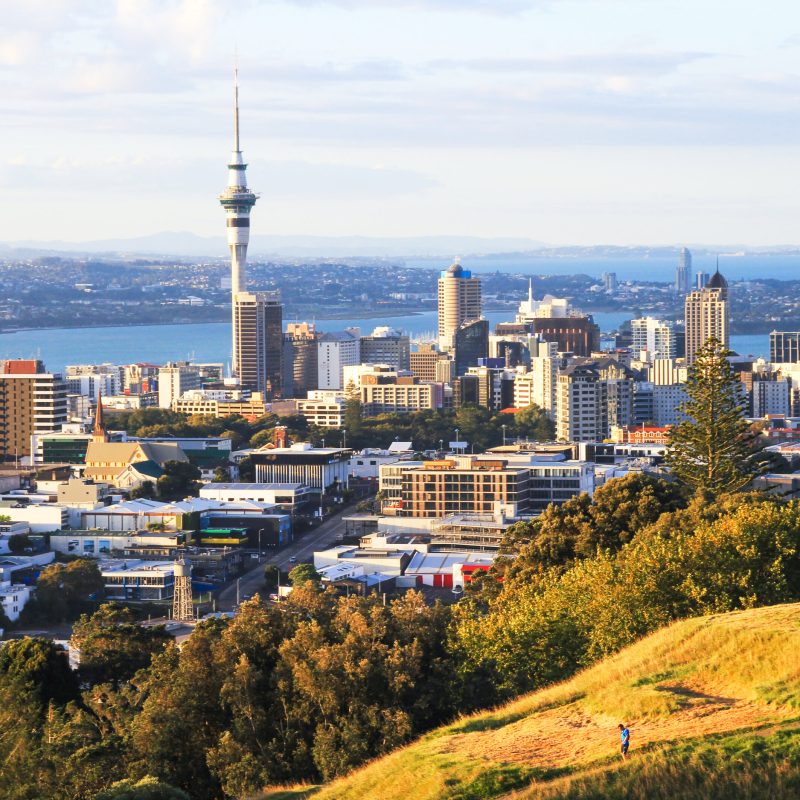 Auckland doesn't often rank as one of the world's top cities to visit. But it seems like the spotlight is shifting to highlight multicultural, creative, and naturally stunning cities like Auckland. For decades, New Zealand has been on travelers' hit lists for adventure, wine, and culinary tourism, plus surfing, road trips, and more. Auckland is the perfect stop on any of these itineraries as it encompasses all the factors that make New Zealand so spectacular. Auckland also happens to be the largest Polynesian city in the world and is home to a flourishing Asian population that has made its mark on Auckland cuisine.
Auckland is much more than just the city proper. The greater Auckland region includes the surrounding towns and landscapes as well. Cruise the many islands that dot the harbor and beyond, visit the nearby black sand beaches, or venture off the beaten path to experience rainforests, parks, volcanoes, and thermal springs.
Here are some of the best hidden gems in Auckland, New Zealand.
Step Onto An Island Within An Island
Auckland's harbor is a frenzy of activity. But amid the criss-crossing boats is a small, green respite. In fact, it's so small that you might miss it from the shore. Browns Island, also known as Motukorea in Maori, is one of the last remaining reminders of the area's eruptive past — literally — as it is one of the Auckland volcanic field's most well-preserved volcanoes.
Once upon a time the island was alive with civilization. In fact, it's entirely possible to take a glimpse into its past lives thanks to Maori artifacts. Today, it's not much more than an escape from Auckland's urban environment. But it is beautiful. Keep in mind that regular boats don't stop here, but if you're willing to visit by private sailboat, kayak, or seaplane, you'll have a private playground for the day.
Travelers interested in kayaking out to the island can opt for a half-day tour offered by Auckland Sea Kayaks. The tour involves a trek to the summit of the volcano, visits to Maori village sites, light refreshments, and more. The tour involves approximately one hour each way of sea kayaking. Prices run around $100 per person and include refreshments.
Enjoy Chinatown
While Auckland's official Chinatown is situated in the city's eastern suburbs, locals often turn to what they consider to be the "real" Chinatown when they're itching for the best Chinese eats. Dominion Road is a long street just outside Auckland's central business district, or CBD, that is heralded in local circles as the city's more authentic Chinatown. From Taiwanese noodle joints to Sichuan spicy cuisine, dumplings, hot pot, bubble tea, and more, Dominion Road has everything to satisfy a craving for Asian cuisine.
Tourists may overlook Dominion Road because it's not as shiny or polished as Auckland's other Chinatown, but every Friday and Saturday night you can be sure to see Auckland locals flooding the sidewalks for tasty, cheap meals. Get your noodle fix at Yong's Hand Pulled Noodle House, which boasts signature bowls of hand-pulled beef noodles. For hot pot, Hot and Spicy Pot is a fan favorite.
Get Some Liquid TLC
You will not have a problem finding a place to eat or drink in Auckland. But for a hidden gem of a cocktail bar, locals flock to Caretaker for a dose of liquid TLC. This New York-style cocktail lounge sits tucked amid some of the city's most popular spots in the Britomart neighborhood. It's easy to miss it if you're not paying attention. Heading down the stairs to Caretaker feels like stepping back in time to an after-hours speakeasy situation.
Drink options change on a daily basis, but bartenders are more than equipped to whip up any cocktail you fancy. Everything about this bar concept is custom, from the design to the cocktail creations themselves. Hand-carved ice, seasonal produce, and fresh juice round out the ingredients leveraged to make Caretaker's delicious beverages. The decor is all about fostering an intimate mood, with small tables, leather seats, distressed mirrors, and dark woods.
Get Lost In Eden
Take a break from the pulse of the city by venturing into your own little Eden Garden. This 5.5-acre garden tucked on the side of Auckland's Mount Eden is the perfect respite from the city. Visitors can peruse perennials, bromeliads, and native New Zealand plants. The garden was built in an old quarry in the center of the city and has been flourishing for more than 50 years. It's a wonderful excuse to slip away for an hour (or an afternoon) of roaming amongst the trees, plants, and flowers, and grounding yourself in the delicate splendor of the island. Mount Eden is Auckland's highest volcanic cone, and from its peak visitors can enjoy views of both the city's harbors. It used to be possible to drive right to the summit, but today visitors can only summit on foot. There are six different paths, each varying in difficulty, though none should take more than about 10 minutes.
Mellow Out With Some Cake
As the name suggests, Mellow Coffee and Desserts is just that. With cute decor and a friendly staff, this coffee and cake house is considered an absolute must among locals. There is also free Wi-Fi, and you can even grab a blanket to keep you warm. The Asian cheesecakes are delicious and patrons seem to be particularly partial to the Oreo cheesecake.
Beyond coffees and cakes, Mellow also serves massive breakfasts with omelets and pancakes as well as hearty lunches and dinners. Also popular is the mango shaved ice, taro lattes, and the many rolled ice cream options. The shop is open until 10 p.m. every day, making it perfect for an afternoon pick-me-up or an after-dinner wind down.
Rummage Through The Past
Whether you consider them secondhand or vintage, it can't be denied that the goods at Junk and Disorderly are one-of-a-kind treasures. This is one of the largest secondhand stores on Auckland's North Shore, but has still remained relatively off the radar. The shop first opened in the early '90s and is a treasure trove of all things offbeat, from hanging potted plants to toys, mismatched furniture, and assorted bric-a-brac. The inventory here is constantly changing, so if you find something that might make a great memento, don't assume you have a few days to think on it. Better nab it while you have the chance!
Slurp The World's Most Flavorful Oysters
Oyster lovers know where to slurp the best of the best. But did you know that some of the best bivalves in the sea are found off the coast of Bluff, New Zealand? Served on their own or with a splash of lemon, Bluff oysters are delectable, briny, and succulent — if you can manage to get your hands on any at all. The season is short — from March to August — but this delicacy is absolutely worth seeking out. There's an annual oyster festival held in Bluff each winter that advertises itself as proudly unsophisticated. Auckland locals hop a short Air New Zealand flight to gorge themselves on oysters and white wine before returning back to the city, but you can enjoy Bluff oysters at the upscale Oyster and Chop while playing tourist in Auckland.
Hit The Beach
In addition to its mountains, lakes, and rivers, New Zealand is known for its beaches. But one of the best hidden gems in the Auckland area is Muriwai Beach. Along the same coast as Piha, which is the most famous surf beach in Auckland, Muriwai is much smaller and lesser known, and is popular among local surfers. The black sand beach is stunningly beautiful, and depending on when you visit, you may feel like you have it all to yourself. A small surf club on the beach offers lessons for the more adventurous, while a cafe provides tasty snacks. It's also a beautiful, calm walking beach for taking in the long summer sun.
This is one of the best spots for catching a glimpse of Australasian gannets in the Takapu Refuge. The birds gather to breed at this spot on the coast. There are a few walking trails that wind through native flora and lead to a lookout that has views of the beach. The beach is just 35 minutes from the city center.
Step Into Nature At Tawharanui Regional Park
One of New Zealand's biggest draws is its sheer natural beauty. Why not treat yourself to a day trip to one of the best off-the-beaten-path spots in nature? Tawharanui Regional Park is one of Auckland's best kept secrets. It's on the northern coast, which means it's great for swimming and surfing. Above the beach, pohutukawa trees create the perfect shade for a picnic. There are walking trails, great bird watching opportunities, and miles of green forest. A slightly more strenuous hike in the park rewards visitors with panoramic views of the entire peninsula. Get ready to explore miles of beaches, dunes, caves, and rock pools. There are four white sandy beaches, the main one being Anchor Bay, which is lined with white sand. The park is 80 minutes north of Auckland and provides the natural escape so many visitors come to New Zealand seeking.
Planning your first visit? Here's how to get around Auckland, New Zealand — no rental car required.