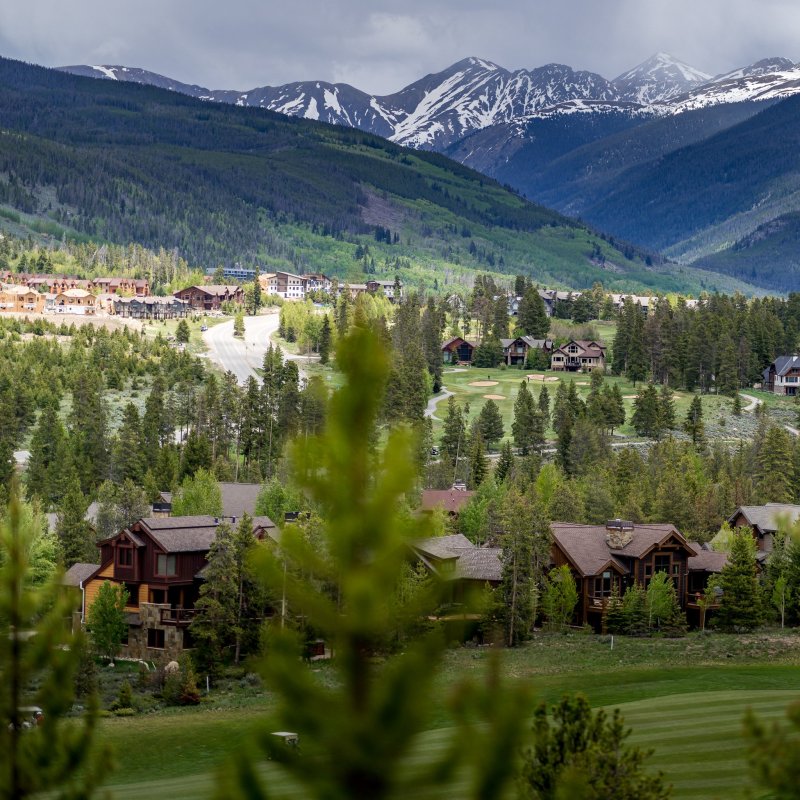 When temperatures start to soar across the country, it's the ideal time to head to the Rockies, where higher elevations and towering pines bring mountains' worth of cooler temps. And there's no need to drive long distances to enjoy all the joys of summer in the Rocky Mountains.
Keystone, just 90 minutes from Denver, is the first of the Rocky Mountain resorts you'll reach from the Mile High City, yet possibly the least well known. It's not swanky like Aspen, a shopping destination like Vail, or a funky hangout spot like Breckenridge, but Keystone offers abundant outdoor activities — without the crowds — in spectacular settings with more to do in the summer than I could cram into a long weekend the first time I visited.
And best of all, everything in this beautiful destination is affordable and easy to access.
Here are all my favorite finds in Keystone.
On The Lake
One of my favorite things about Keystone is the lake, which comes alive in summer with myriad water-based activities. (Note: Keystone is divided into two main resort areas; one is centered around Keystone Lake and the other is set at the base of the River Run Gondola that goes up to Dercum Mountain.) Spending time under the bluebird skies relaxing on the water and enjoying the views of the Continental Divide is one of Keystone's "only here" experiences. And it's hard to believe it's so close to Denver.
I've found that peddling slow laps around the lake's circumference in a paddleboat is the perfect way to get my Keystone bearings and take in the scenery without requiring any special skills. With more dexterity and balance, you can opt for a stand up paddleboard (SUP), kayak, or canoe. All options are available to rent from the Keystone Adventure Center located on the path leading to the lake. Prices start at $16 per half hour for all the boat options and $25 for stand up paddleboards.
Biking
Keystone has some of the best biking anywhere in Summit County (Colorado's ski resort region), and since biking is one of my favorite ways to explore a new destination, my next stop was Keystone's family bike rental center near the lake. For a mountainous region, there are a surprising number of long, flat trails, with easy paved options carouseling around the lake, plus a 25-mile bike path that heads toward Breckenridge. Bike rentals start at $20 per hour, but if you know you'd like to explore more, multi-day rentals start at just $30 a day.
If you're an adrenaline junkie, know that Keystone is a mecca for mountain biking, with a quick-paced terrain park with 55 miles for freeride and downhill mountain biking with lift service and a unique Drop Zone that features jumps, ramps, ledges, and rock gardens all designed to allow mountain bikers to get air time, if that's your thing. Note that mountain bike rentals are available at the bike park; rentals with full body protection gear are around $100 a day.
Mountain Hiking
At over 12,000 feet, Keystone is one of the highest resort mountaintops not just in Colorado, but also in the entire country. Because of the altitude, I've found it's easier to save my mountaintop explorations for a day after I've arrived so I can acclimate. Then I lace up my hiking boots and head to the top of the gondola for fresh air, warm rays, and spectacular views of the Colorado Rockies and Lake Dillon.
Hiking in the sunshine feels like a good excuse to eat real mountain cuisine. It takes two gondolas to reach dinner at Der Fondue Chessel, which at 11,444 feet is one of the highest restaurants in the country. In fact, having a glass of wine will feel like you've been drinking on an airplane, which is to say way more potent. The thin air makes the party atmosphere of this cheese-filled fondue restaurant even more festive; with magicians making balloon animals and live music, it always feels like a party. If you come at night, the sunset from up high and the star-filled gondola ride back to River Run Village make for one of the most romantic summer nights in Colorado.
White Water Rafting
White water rafting is an activity I never thought I'd try, let alone enjoy, and yet there's something about being on the river near Keystone that hooked me as soon as I hit the water. Part of the allure is that it's a fit for almost all abilities and experience levels. As a complete novice, I sat toward the back of the raft, and, honestly, barely paddled, but I loved being out on the gentle Arkansas River (for more advanced oarsmen, there are full day rapids to run on the mighty Colorado River), and since we were floating for 90 percent of the time on my trip, I could take in the sky stretching scenery. My son, who was an experienced raftsman, took the key front position and paddled all the way. Better still though, the professional guide on the back of the raft made all the decisions and steered, so I knew we were always safe.
Horseback Riding And Wagon Rides At Keystone Stables
Horseback riding is one of the most scenic ways to see Keystone. With one- and two-hour sessions available daily as well as overnight rides upon request, Keystone Stables provides an Old West experience that reminded me of how the first settlers would have seen the soaring Rockies. I've tried both horseback and wagon rides and found they both offer highlights for every level of horse fan. Horseback riding in the hills on a horse who is accustomed to picking its way through scrub and inclines is a unique workout, and although I've ridden before, getting used to pitching forward as we climbed and backward (for balance) as we descended was a whole new workout for my quads. But the views from up the mountain, without any other people around, were worth discovering the new muscles in my legs.
I've always thought wagon rides seemed a bit hokey, but when I traveled with friends to Keystone, the whole group was able to take the wagon ride together and chat along the way to our final destination: an outdoor barbecue dinner. Maybe it's because I'm a sucker for any meal served outdoors, or maybe it was being away from bright lights, Wi-Fi, and electronics, but I loved arriving at dinner via covered wagon, and the food tasted even better as the sun set.
Golfing
Full disclosure: I don't know a 4 iron from an andiron, but I do know that people love the summer golf season in Keystone. The rolling hills around the resort are home to two incredibly scenic 18-hole courses: The par-72 Keystone Ranch Golf Course, centered on a small lake, and the par-71 Keystone River Course that climbs in elevation and twists around the Snake River. Both give golfers an opportunity to hit at high altitude, which makes balls soar. Lessons with PGA pros can help you either learn or refine your game. And if you're traveling with junior golfers, know that free golf is offered after 5 p.m. all season long on both courses for kids age 17 and under with a paying adult. Keystone Golf also offers fun programs and a variety of clinics to get families playing together, which is a great perk if you're traveling with your extended clan.
Summer Festivals
Another thing to love about summer: It's outdoor festival season! In Keystone, this means delicious food and rollicking come together every few weeks from June to September. Highlights include the Bacon and Bourbon Festival, a Wine and Jazz Festival, and the Bluegrass and Beer Festival, which features 30 different breweries and three stages of music. In August, the Summer Mountain Town Music festival offers up three days of live music for free, no tickets required, with plenty of opportunities to purchase food and drinks, and it wraps up with a festive fireworks display for a true celebration of everything that's great about summer in Keystone.
Pro Tip
There's a wide array of places to stay within the Keystone community, including apartment-like condos and a new Hyatt. By staying on property, you unlock a mountain's worth of free perks including complimentary guided hikes, free summer lift tickets, free rounds of golf, tennis court time, and yoga.