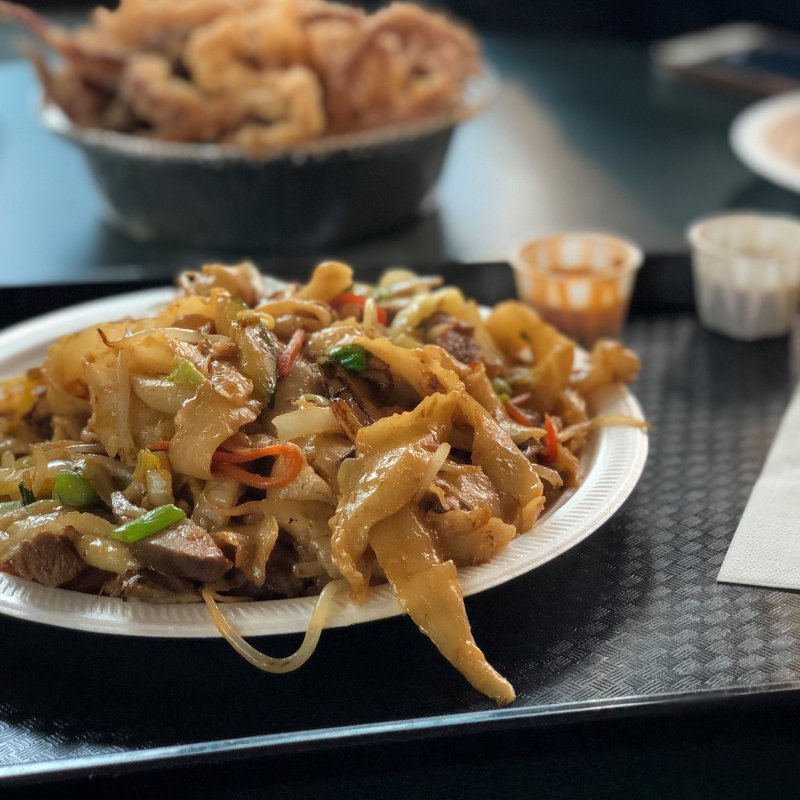 The roots of Vancouver's Asian cuisine may run more than a century deep, but there is no denying that Canada's beautiful city by the bay is currently in the midst of a modern-day moment on the world culinary stage.
Celebrity chef David Chang recently featured Vancouver's Asian cuisine scene in an episode of his Netflix series, Breakfast, Lunch & Dinner, guided by none other than Vancouver native and actor Seth Rogen.
And a 2018 article in the New York Times posed this question about Vancouver: "The best Asian food in North America?"
Locals say the trend dates back to the arrival of Cantonese railroad workers in the 1800s. It was then fueled throughout the 1980s and 1990s by an influx of immigrants from Hong Kong hoping to preserve their way of life before Britain's 1997 handover of the territory to China.
According to census numbers, about 20 percent of Vancouver's population is of Chinese origin. And in the nearby suburb of Richmond, the percentage is even higher, with about 53 percent of the population with Chinese ancestry, and 74 percent with Asian heritage overall, says Tourism Richmond's manager of communications Lesley Chang.
That influence has resulted in a community with a rich and layered tradition of Asian cuisine. Walk through downtown Vancouver or Richmond, and you will find hot pot spots next to dim sum restaurants next to bubble tea cafes.
On my recent foodie odyssey to Vancouver, I arrived with a wish list featuring noodles, dumplings, bao, and tea. Choices in Vancouver and Richmond more than fit the bill.
Here are seven reasons why Vancouver is an Asian foodie paradise.
The Dim Sum Rules
As a lover of steamed dumplings and seafood, I was excited to check out Vancouver's much-vaunted dim sum scene. I began the search as soon as my plane touched down. My conclusion: There is perhaps no better way to recover from a long flight than with a basketful of plump shrimp dumplings, a pot of jasmine tea, and an ice-cold Tsingtao beer.
Along with the stellar quality of its seafood, Vancouver also delivers an authentic dim sum atmosphere. You're likely to be asked to check off your choices on a paper menu and then wait for the various small plates to be delivered to your table as they are prepared, piping hot from the kitchen.
Another great feature is the variety of price points. From white-tablecloth establishments to takeout joints, consider these local favorites.
Dynasty Seafood Restaurant
Located not far from downtown Vancouver along West Broadway, the upscale Dynasty Seafood Restaurant is a community mainstay. Although known for more than its dim sum, Dynasty has a great selection of the traditional small-plate choices. I recommend the tender shrimp dumplings, the succulent scallop dumplings, and the rich and flavorful tofu with crab cream sauce.
Kirin Restaurant
With four locations in the Vancouver area, Kirin has been serving dim sum to locals and visitors since 1987. It boasts an elegant setting and attentive service. Restaurant specialties include the roasted squab and the honey garlic ribs.
Kam Wai
For a quick and economical dim sum fix, Vancouverites head to takeout favorite Kam Wai in Vancouver's Chinatown. Bonus: If you like it, you can take home frozen versions of your dim sum choice. Try the barbecue pork bun, black bean spareribs, and lotus-leaf wraps.
There Are Budget-Friendly Public Markets
If picking and choosing your favorite Asian delicacies from among a dozen or more mom-and-pop stalls sounds like a delightful way to spend a Saturday morning, head to one of Richmond's bustling public markets.
From Yaohan Centre to Parker Place to Richmond Public Market, the community has the food-hall market covered.
Along with authentic cuisine and a fun, casual atmosphere, these markets offer reasonable prices. Here are a few local favorites.
Xi'an Cuisine, Richmond Public Market
Just a short walk from the Richmond stop on Vancouver's super-efficient SkyTrain Canada Line is the massive gable-ceilinged Richmond Public Market.
Although it likely will be busy on a weekend, seek out Xi'an Cuisine, with its signature cumin lamb fried-noodle dish featuring thick hand-pulled noodles. After you order, be sure to stay to watch your noodles being pulled by hand. Other specialties include green-onion pancakes and golden-fried pot stickers.
Chef Lui Kitchen, Richmond Public Market
For build-your-own combo bowls, head to Chef Lui Kitchen, where workers will pile up a bowl with a protein of your choice, rice, and three sides. Try the fried squid or the fried beef with black pepper sauce.
Golden Rice Bowl, Yaohan Centre
Located in a supermarket/food-court setting in Richmond, Yaohan Centre features an array of competing stalls. Check out Golden Rice Bowl, where you can get bowls with two items plus rice, served with a cup of Chinese tea. Specialties include the deep-fried tofu and the panko-crusted fish.
Hot Pot Spots Abound
Dining out doesn't get much more entertaining than a traditional Chinese hot pot eatery, where diners choose from an array of meat and seafood options, leafy greens, and dumplings and noodles, and then cook their choices in simmering broth.
Vancouver has countless options for hot pot dining, including local favorite YuShang Hot Pot.
Located on Vancouver's West Broadway, YuShang distinguishes itself by providing individual broth pots for each diner. That way, everyone can choose whether to have a vegetarian or meat-based broth for dipping their food choices. YuShang is also known for its beautiful presentation of its meats, veggies, and tofu varieties, which are arranged as virtual works of art.
For a unique flavor combo, try the spicy mushroom broth with sides of minced-shrimp-and-scallion dumplings, chrysanthemum leaves, and scallops. Or, for a splurge, try the wagyu beef.
World-Class Sushi Is At Your Fingertips
An Asian food tour would hardly be complete without a sushi outing, and Vancouver has some exceptional options.
For an upscale meal in a sleek and sophisticated setting, head to the Fairmont Pacific Rim, where the Lobby Lounge and RawBar delivers a multisensory experience. With live music playing in the background, you can watch as meticulous sushi chefs slice and arrange exquisite, fresh-from-the-sea sushi creations from an open bar.
Consider starting with the lobster and prawn cocktail before moving on to the salmon motoyaki roll and sashimi moriawase, piled high with luscious slices of wild sockeye, albacore tuna, and red tuna. Top it all off with a restorative blend of Japanese gin, plum sake, yuzu, sansho pepper, tonic water, and orange in the classic Tokyo Tonic cocktail.
It's Got A Strong Southeast Asian Game
Along with its strong Chinese bent, Vancouver's cuisine is also inspired by a range of Southeast Asian nations. On a single weekend, you could conceivably take a tour of Southeast Asia, starting with Malaysia and Singapore and moving on to virtually any other locale in the region.
For a taste of Malaysia, head to one of five Vancouver locations of the popular Banana Leaf Malaysian Cuisine, where a colorful setting and a lively atmosphere set the stage for favorites like the classic Malaysian flatbread roti canai and pineapple fried rice heaped high in a hollowed-out pineapple.
Or if it's Singaporean cuisine you're craving, check out the small Prata-Man Singapore Cuisine, where the go-to choice is Hainanese chicken with rice or laksa noodles.
You Can Enjoy A Dumpling Trail And A Night Market
Not only does Richmond have a celebrated dumpling trail, but the community also hosts the largest night market in North America.
Lesley Chang of Tourism Richmond points out that the Richmond Night Market's impressive cross-section of cultures and cuisines attracts about a million people every year. Open between May and October, the night market features more than 100 food stalls with cuisine from around the world, as well as more than 200 retail vendors.
For the dumpling-focused diner, Richmond's Dumpling Trail Tour encompasses 20 locations that range from food stalls to upscale restaurants. Among the featured choices are xiao long bao, a Shanghainese take on dumplings stuffed with pork and soup; har gow, shrimp dumplings wrapped in a tapioca starch pastry; and siu mai, dumplings stuffed with pork and shrimp and topped with salmon roe or a whole prawn.
You'll Love The Bubbles And Sweet Treats
If you crave a sweet drink to wash down all of those dumplings, noodles, and seafood, there is virtually no end to the choices of bubble tea available in Vancouver and Richmond — from multiple locations of Asian chains Gong Cha (bubble teas and bubble waffles) and Yi Fang (fruit teas) to Vancouver's Bubble Queen, with its selection of fancy milk teas and egg waffles.
Planning a trip to Vancouver? Don't miss the city's hidden gems and free attractions.