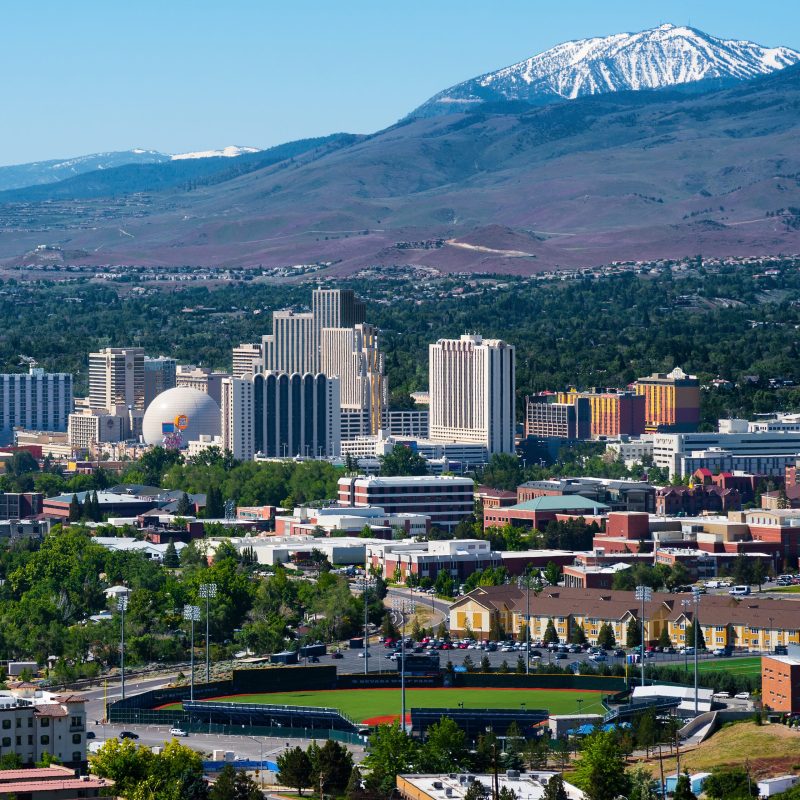 Dubbed The Biggest Little City In the World, Reno is undergoing a revitalization that deserves a second look. Its emerging downtown area is surrounded by a plethora of outdoor adventures creating a vacation for everyone. Here are some of the best things to see, do, and enjoy in town.
Reno Riverwalk
At the epicenter of the city's beautification is the Reno Riverwalk District. Situated along the Truckee River, this historical district is home to local shops, bars, and restaurants. The paved path next to the river is popular for bikers, runners, and walkers and is a scenic way to experience all the local flavor. In the summer you can wade in the water, or step up the adventure by visiting Reno's Whitewater Park. There, you can rent kayaks, canoes, rafts, and inner tubes to float down the river.
You can learn a lot about Reno's rich diversity by experiencing different art around the district. There are around 40 murals in the area, all hand-painted by local or nationally-known artists. On the first Saturday of every month, there's a guided walking tour that will introduce you to these murals, along with sculptures and other art. Tickets are $10 and can be bought online.
The Riverwalk District hosts many events throughout the year, from concerts to Halloween parties. Two of the most popular are the Dine the District Food Tour and the monthly Wine Walk (hosted the third Saturday of every month). For $20, the food tour allows you to try samples from a variety of restaurants in the area. The wine walk leverages the same concept, but with wine (and also costs $20). It's a fun way to try out the area before picking your favorite spots.
Festivals And Shows
Did you know Reno is home to the largest free hot air balloon race? Or that thousands of classic cars descend upon the city in the summer? Reno is home to a number of festivals happening year-round.
Hot August Nights is a car show celebrating classic cars from around the country over several days. Coming to Reno for more than 30 years, this festival includes a classic car parade, concerts, contests, and local vendors — all while raising money for underserved children.
In September, look to the sky for The Great Reno Balloon Race. The race organizers say it's the country's largest free hot air balloon event. Get there before dawn to see the magnificent Glow Show, during which more than 30 balloons light up the night sky. Or sleep in a tad and catch the mass ascension of nearly 100 balloons later in the morning. Whenever you go, make sure to allow plenty of time for parking, as this multi-day festival does get busy.
Perhaps the tastiest festival is over the 4th of July holiday. The Biggest Little City Wing Fest serves up more than 20,000 pounds of chicken wings in downtown Reno. Listen to free music while you sample wings from 20 different vendors during the two-day event. Expect traditional sauces, plus some unique ones like maple and cheesecake. Then, see which ones win the big awards at the end!
The festivals don't stop there. Reno also hosts a rodeo, an art show, a jazz festival, and much more. Be sure to check out Reno's special event website to review the complete calendar as you plan your trip.
Reno is also known to bring in some big-time acts and though they may not be full-on Vegas style, they are close. Attracting big names like the Eli Young Band, REO Speedwagon, and the Beach Boys, Reno is an easier (and often less expensive) place to see some of your favorite shows. You'll find a lot of the shows at the local casinos. The Grand Sierra Resort, for instance, attracts Dancing With The Stars, Riverdance, and Bonnie Raitt. The Reno Events Center also brings in a variety of performance from music to comedy. And the Pioneer Center for the Performing Arts is your stop for musicals right in the heart of downtown Reno.
Outdoor Adventure
Outdoor activities rule all year in and around Reno, starting with the rock climbing wall right smack in the middle of the city. Reno claims it as the tallest outdoor climbing wall in the world. Real rocks await you around the city, too, both for the novice and expert climbers. While the climbing is open year-round, the best time to climb is in the fall.
The Reno trail system is perfect for hikers and bikers alike. The 12-mile bike path along the Truckee River is a great place to start, or amp it up on the 40 miles of single track mountain biking trails just outside the city. The city also has a good system of bike lanes on highways, so road cyclists can get in their workouts, too.
Reno also offers fishing — both rod fishing and fly fishing — horseback riding, and golfing with a handful of courses within the city limits. There's even more if you're willing to travel less than an hour away to Lake Tahoe. Tahoe is also home to boating, mountain biking, hiking, and horseback riding in the summer. In the winter, there are ski resorts, snowmobiling, tubing, and more!
Casinos
A trip to Nevada wouldn't feel complete without some casino time. Though they aren't as flashy as the ones in Las Vegas, Reno does have a number of casinos. One of the biggest is the award-winning Grand Sierra Resort. Located near the Reno/Tahoe International Airport, the Grand Sierra has a casino, a nightclub, and plenty of restaurants ranging from an upscale wine bar to a family-friendly diner. There's also a 50-lane bowling alley, a hotel-themed escape room, a movie theater, and a spa. Outside you'll find Great Adventure Land — home to a race track that you can pay to drive on — and the Ultimate Rush, a sling shot-type ride that will launch you 180 feet in the air!
Or you can just relax outside by the pool. In the winter, there's even an ice rink open to guests and locals. The Grand Sierra Resort has hotel rooms as well as an RV Park and offers both military and AARP discounts.
Head about three miles south and you'll see the Atlantis Casino Resort Spa towering over the area. This resort is home to numerous restaurants, including the Atlantis Steakhouse — named one of the top 100 most romantic restaurants in America by OpenTable. The Bistro Napa is frequented by locals, especially for its happy hour. Be sure to get there early — it gets busy!!
You can also find casinos in downtown Reno. Some are smaller and older and just offer gaming, while others (like Harrah's), do have hotels attached, making them a great hub for any downtown activities. The vast majority of casinos in Reno have both slot machines and table games.
Eating In Reno
As Reno grows, so does its food and drink scene. For a pre-dinner drink, head to one of the many new breweries and distilleries making Reno home. One great spot is Ole Bridge Pub located along the Riverwalk. It serves up brews and even some wine with great views of the Truckee River. With patio seating and games like shuffleboard and darts inside, it's a great spot to unwind. Next door is Campo, a casual restaurant that uses locally-sourced food to make its delicious recipes. Both the indoor and outdoor dining areas are cozy places to enjoy dishes like bruschetta, lobster mac and cheese, or one of their specialty pizzas.
For a more romantic evening, head across the river to La Famiglia, a perfect spot to grab dinner before a show at the Pioneer Center for the Performing Arts. The authentic, homemade Italian dishes and expansive wine menu will have you thinking you're in Italy.
For brunch, bring your appetite to Squeeze In. It has two locations in Reno — one on the northwest side, one on the south side — but started out in small town Truckee, California, just over the border. The family-owned restaurant started small with just a handful of seats forcing diners to "squeeze in" to eat breakfast. Now, the large omelets are legendary among locals for their funky names and unique ingredients. The food has even gained the attention of Food Network and national magazines.
Shopping In Reno
Reno has a number of shopping areas, from malls to smaller shops promoting local artists and vendors. The Basement is truly a unique shopping experience that's worth a visit. Located in the historic Post Office Building in downtown Reno, the underground shopping center features only locally owned shops and eateries. It's the perfect place to pick up a one-of-a-kind gift or souvenir.
Looking for antiques? Head over to Junkee, a 15,000-square-foot store filled with antique furniture, clothing, and more. Meadowood Mall is a large mall with all the staple chain stores and restaurants. On the south side of Reno is The Summit, an outdoor mall area with big-name stores, restaurants, and a movie theater surrounded by water fountains and open spaces for live music in the warmer months.
Fresh produce is available all year long at various farmers markets around the city. All of them offer local fruits and vegetables, and some even have local art, crafts, and products. Check online for the latest schedule of Reno farmers markets.
Pro Tip
The key to visiting Reno is to plan. Look at the calendar and find the events that interest you and plan your trip around them. It's clear there's plenty to do, but finding the right time for your Reno vacation is key.
Also read up on