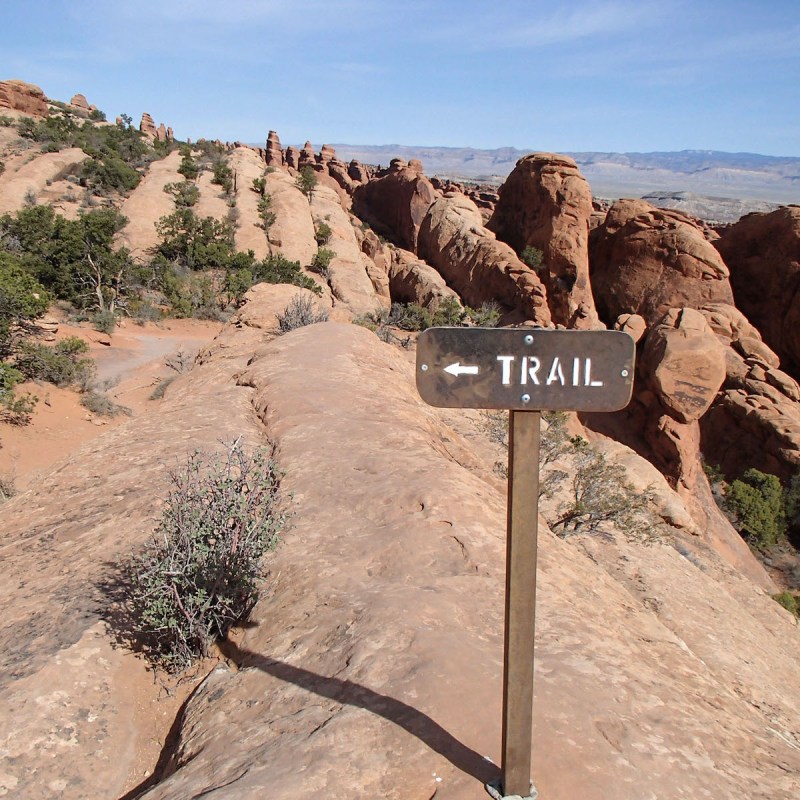 With more than 2,000 sandstone arches, plus hundreds of looming rock pillars, funky buttes, and striking cliffs, Utah's Arches National Park offers a different remarkable view around every corner.
Driving through the park certainly affords some stunning vistas, and the park's map points out key formations you can see from the road. But if you want to get up close and personal with some of the most impressive and unique arches in the park, you'll want to tie on your tennis shoes to traipse along the trails.
The good news: Hiking trails in Arches National Park vary from short and easy (and wheelchair accessible) to longer and more strenuous. No matter your ability and energy level, you can find a trail or two that allows you to marvel at geological wonders in an otherworldly red-rock setting.
Here are five hikes of varied length that represent the best that Arches has to offer. That said, I'd also argue there are no bad hikes in the park. Any trail that gets you out enjoying nature and breathing the clean, arid air is a great one in my book!
1. Delicate Arch Trail
Don't let the "strenuous" label that the park gives this trail scare you off. Yes, it does climb 480 feet in elevation across wide stretches of slickrock that get no shade (bring plenty of water!). And there's a narrow ledge near the top that might wig you out if you don't love heights. But the reward at the end of this 1.5-mile one-way trek is so worth it.
Delicate Arch is a magnificent freestanding arch that you'll likely recognize from Utah license plates. It's 52 feet tall, and you can walk right up to the arch and stand under it for fun photos, if you like. The sandstone colors are especially magnificent at dawn and dusk — the rock might appear to be light tan, fiery orange, or even deep mahogany depending on the sun's position in the sky.
Note that this is a popular hike, so be prepared for crowds. The trailhead is found at the Wolfe Ranch parking lot, which can max out early in the day in the summer months. Visitors typically get up early to hike to see the arch at sunrise or at least finish up the hike before the sun is at its peak in the sky in the warmest summer months.
Finally, don't miss the rock art located just off the trail (it's marked with a sign) close to the trailhead. The images carved into the stone are fine examples of petroglyphs that Native peoples created centuries ago.
Pro Tip: If you don't want to hike to the arch but still lay eyeballs on the rock formation from a distance, you can access a Lower Delicate Arch Viewpoint (100 yards, wheelchair accessible) or Upper Delicate Arch Viewpoint (.5 miles up a steep-ish incline).
2. Devils Garden Area
What's cool about Devils Garden is that it offers different hikes depending on your time and ability level. If you hike the entire loop, including a tough Primitive Loop Trail section, and you take each little offshoot to reach all the marked arches, you'll cover nearly 8 miles. But you can also just do an out-and-back to a couple of nifty sights.
Start at the Devils Garden trailhead to walk a hard-packed path. It's .9 miles one-way to skinny Landscape Arch, which spans more than a football field in length. Beyond this spot, the trail gets steeper with some narrow ledges and drop-offs, and you can end your trek at Double O Arch, which would take your round-trip hike back to the trailhead 4.2 miles.
But if you're game for a robust hike that includes some scrambling over slickrock (the park doesn't recommend the hike if the surface might be wet or icy), commit to the entire Devils Garden Loop. That includes the sights above, plus an offshoot to the Dark Angel spire and the Primitive Loop Trail that will likely involve needing to keep an eye out for cairns (short rock towers) to help guide you along the less-developed trail.
Pro Tip: If you make it out to Dark Angel, traipse around a bit and you may find some hidden treasure! You'll know you've located it when you come across a sign that says, "You've found something unique. Please preserve it."
3. Balanced Rock
This 128-foot-tall monolith indeed looks like it could topple over at any moment! What's neat about Balanced Rock is that it's entirely viewable from the park's main road, so you don't have to get out of your car to see it. But this area is also a nice place to stretch legs with a picnic (there are tables and restrooms across from the parking lot) and some sweet views of the snow-capped La Sal Mountains and The Windows rock formations in the distance.
The loop trail around the base of Balanced Rock is just .3 miles. It's partially paved and flat, so that section is wheelchair accessible (otherwise it's flat gravel).
4. Windows Loop Trail
The Windows area of the park has a large concentration of arches — have fun seeing who in your group can spot one first! The Windows is viewable from afar at the Balanced Rock viewpoint but is worth the easy stroll if you have time. The 1-mile gravel trail loops around three named rock formations: Turret Arch, North Window, and South Window, but you'll likely see many more.
The first 100 yards of this trail is hard and packed flat; it's labeled barrier-free by the National Park Service. The loop splits at one section, so choose a more primitive trail or stick to the gravel path — or if you want to get more steps in, backtrack around and do both.
5. Park Avenue Trail
This trail that descends into a canyon is the only "moderate" hike in the park. It's short — just a mile one-way — but steep, with an elevation gain of 320 feet. The first bit of the trail is wheelchair accessible to a viewpoint of a sweeping vista of Park Avenue — so named because some think the stone towers and sheer cliffs resemble a city skyline. Then the trail is more uneven as it winds through a canyon where you'll walk amid this impressive, looming rock.
The trail ends at Courthouse Towers, which also has a viewpoint of still more amazing named rock formations. (I love the Three Gossips — giant figures seemingly standing and chatting.) To return to the trailhead, go back the way you came. The park discourages walking along the paved road for safety reasons. Or, if you have someone in your group who doesn't want to hike, you might get picked up by car after a one-way trek!
Tips For Visiting Arches National Park
Arches National Park is a wildly popular vacation destination, especially in the summer months (though locals know to make these hikes in the spring and fall when desert temperatures aren't quite so brutal). Arriving at the park early in the day is a piece of advice that can't be overstated; park rangers suggest getting there before 8 a.m. to secure parking at the viewpoints and trailheads. If you have your heart set on a certain hike, head there first!
Park officials also note that it's proper etiquette not to hover in a parking lot to wait until a space opens up, which often causes more congestion. Instead, move along to a different area of the park — there's plenty to see! — and return later in the day.
Finally, when you're out and about exploring Arches National Park on foot, stick to the trail. It may not appear as if anything is living in the sandy spots off the trail, but all sorts of small critters and microorganisms live amid the desert vegetation and in the soil, so you don't want to trample on their home. Similarly, as tempting as it may be after a rainstorm, resist the urge to jump in puddles — wet or drying puddles also contain living organisms.
For further reading: