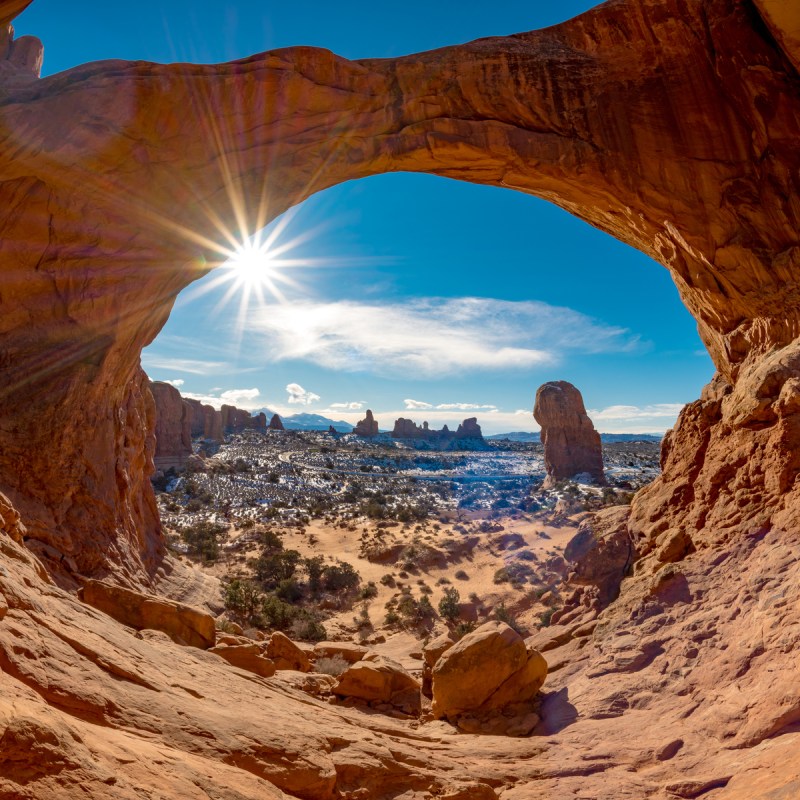 Arches National Park is known for two things: its magnificent red rock formations and its crowds.
First, the rock formations. Geologic forces have been at work for roughly 65 million years — exposing and then eroding sandstone layers, the National Park Service (NPS) explains. The resulting red rock landscape at Arches "might feel timeless, dream-like, or even other-worldly," the service notes. It seems mind boggling, but the national park is home to more than 2,000 natural stone arches, towers, pinnacles, and balanced rocks.
Now, about those crowds. More than 1.5 million people visit Arches each year — and that number continues to grow each year, according to the NPS. Of course, people want to visit the park because it's so beautiful. Then again, it's also very accessible: Arches is just five miles outside Moab, Utah.
Fortunately, there's no need to put aside your dream of visiting Arches just because it's crowded. That's because the NPS recently released "Plan Like a Park Ranger: Top 10 Tips for Visiting Arches," which explains how the rangers who work there would plan a trip to the park.
So here it is: The inside scoop on how to plan a memorable — for all the right reasons — trip to Arches National Park.
1. Pack Your Patience
It's important to plan on crowds and traffic because the park will be crowded. Arches' rangers suggest arriving at the park either before 8 a.m. or late in the afternoon because the lines will be shorter then. Expect to wait a long time to enter the park if you arrive between 9 a.m. and 2 p.m.
Pro Tip: Be sure your vehicle has a full tank of gas when visiting Arches: There are no opportunities to get gas inside the park.
2. Plan Your Day
Given the traffic and possible long wait time to enter the park, you'll need to plan ahead so you can make the most of your time inside. You can find basic park information and lists of all the noteworthy things to do and places to see here.
Pro Tip: Download the NPS App. It provides interactive maps, tours of park places, and on-the-ground accessibility information about more than 400 national parks to make your trip planning easier. The free app is available for iOS and Android devices.
3. Have A Backup Plan
When Arches reaches capacity, the rangers will close the entrance gates to temporarily restrict access. Make sure you have a backup plan in case that happens. Good news: There are plenty of things to do and see in the Moab area. You can find those attractions — including other national parks — here.
4. Stay Up To Date
Once you have your backup plan, be sure to check for up-to-date alerts and conditions, such as park closures and restricted access times by checking the park's Alerts page, Twitter account, or the NPS App. That way, if the park is full and temporarily delaying entry, you can default to your backup plan and visit later.
5. Be Ready For The Desert
Park rangers respond to dozens of search or rescue incidents in the park each year. These incidents typically involve heat exhaustion, dehydration, climbing or scrambling accidents, and improper footwear.
Make sure your visit to Arches is fun and safe. Information about preparing for the heat and sun, choosing the proper footwear, and other tips may be found here.
Pro Tip: Pack plenty of water and salty snacks. To stay safe, avoid strenuous activity during midday and afternoon heat.
6. Know The Rules
Rangers recommend spending time in advance to learn what is — and isn't — allowed at Arches so your recreation is both fun and responsible. You can find more information about backpacking, canyoneering, climbing, and even using motorcycles and off-highway vehicles at Arches here.
Pro-Tip: Remember, a permit is required for all overnight stays in the backcountry.
7. Leave No Trace
Sadly, rangers find words or shapes drawn, carved, scratched, or painted on rocks almost every day. All graffiti is vandalism. Period.
"Help protect Arches National Park by not leaving your mark," the rangers say. "Make memories, take photos, and leave no trace."
8. Leave Pets At Home
"Arches National Park is a designated natural area, and its purpose is to preserve and protect the park's natural environment, cultural resources, wildlife, and scenic beauty," the rangers explain. To achieve that aim, dogs and other pets are not allowed on Arches' trails — even when they are carried.
For that matter, pets are not allowed anywhere off trail, at overlooks, or in the visitor center or any building — even if they are in a carrier. If you simply must travel with your pet, you can find pet-friendly places to visit outside of Arches here.
9. Campsites Are Limited
Unless you are backpacking in the backcountry, camping in Arches is only allowed in a designated campsite — in Devils Garden Campground.
"During this busy season, the campground is usually full every night," rangers explain. "If you're arriving at Arches without a reservation, you'll probably have to look for a campsite outside the park."
10. Do Even More Planning
Finally, to make the most of your trip to Arches, rangers recommend doing even more planning — the work will pay off. The NPS has even prepared a list of suggested itineraries to help with your planning. You can find lists of hiking trails as well as suggestions about how you can see famous arches and rock formations while driving through the park here.
Pro Tips: Sunset and evening are great times to visit Arches. The park will be less crowded, the temperatures will be cooler, and the stargazing is spectacular.Now that you know how rangers would prepare for a trip to Arches, you can start planning your own vacation. For more information and tips, be sure to check out all of our Arches and Utah coverage.