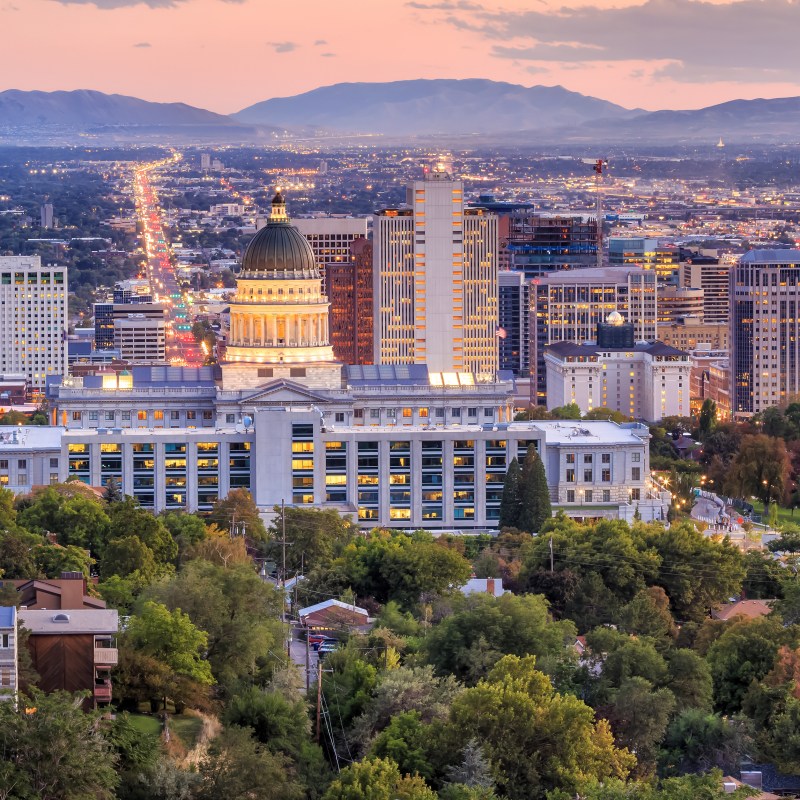 Salt Lake City has a model town feel and many free attractions courtesy of The Church of Jesus Christ of Latter-day Saints (LDS) previously called Mormons, who represent nearly half of the city's population.
In 1847, Brigham Young led his people on a thousand-mile westward trek to escape persecution, but as soon as he saw the salt plains and mountain ranges, he recognized them as the promised land and halted the wagons. While your reasons for visiting may not be religious, you must experience Salt Lake City; it is a destination that both promises and delivers.
1. Visit Salt Lake City's Epicenter
Temple Square attracts around 5 million visitors a year. Ramrod-straight, white buildings housing LDS church offices tower to the heavens. Men in telltale white shirts stride through the area on church-related business. The six-spired white temple (built in 1893) is a neo-gothic masterpiece and the symbolic heart of the worldwide LDS church. The landscaped gardens provide color in an otherwise white-on-white world.
Take a free 45-minute tour of Temple Square. Guides are modestly dressed, young female missionaries from all over the world. Tours are available in 40 languages. Guides are open and charming and will attempt to answer your questions about the LDS faith. The visitors center has an interactive guide to the temple's interior, where the Salt Lake Tabernacle, which Frank Lloyd Wright described as "one of the architectural masterpieces of the country and perhaps the world," is situated.
Temple Square remains open despite being mid-renovation. The church will host a public open house in 2024 before rededicating the temple, which could provide the chance of a lifetime to see its inside.
2. Listen To Angelic Singing
The world-famous Tabernacle Choir performed at the 2002 Winter Olympics and presidential inaugurations from Reagan's through to Trump's. Attend free Thursday night rehearsals from 7:30 to 9:30 p.m. Check dates as the 360-member choir is sometimes on tour. Major choir events include the Messiah and Christmas concerts.
There are free events, but they're so popular that a computer randomly selects ticket recipients from hundreds of thousands of requests. For possible standby seating, line up at Temple Square's Tabernacle flagpole 90 minutes beforehand.
3. Tour A Glorious Old Hotel
The lavish Utah Hotel (1911) hosted every U.S. president from William Howard Taft to Ronald Reagan before being renovated to beyond its former glory in the 1980s and rechristened the Joseph Smith Memorial Building in 1993 in honor of the Mormon Church's founder. Tourists are sometimes so overawed by the lobby, with its commanding staircase, marble columns, and huge crystal chandeliers, that they don't realize they can enter. But attendants happily explain the history and direct you to the 10th floor for stunning temple views. Or dine with these views at The Roof or The Garden restaurants. The casual Nauvoo Cafe is on the ground floor. Enjoy mocktails, as you won't find tea, coffee, or alcohol in LDS restaurants. All three restaurants are closed on Sundays.
4. Find Your Roots
The LDS's Family History Library holds the world's largest genealogical collection. The first floor discovery center provides interactive activities for the whole family.
Or head to the floor relating to your ancestors, whether they were from the U.S., Canada, the British Isles, Europe, Latin America, Asia, Africa, or Australia.
No appointment necessary. After visiting reception you are paired with an assistant. Have your main search question ready. Within 30 minutes, my trained helper located a Scottish forebear I'd never found myself. They have millions of records from at their disposal, including DOS records.
On a second visit, my new helper was unflagging in her resolution to reconnect me with family members I'd not seen since I was a child, even though I could not remember their surname. She kept searching long after I was ready to give up.
These marvellous LDS helpers rarely hear how their work reunites families, but what I discovered in that single session ended with my meeting relatives on the other side of the world who I'd not seen for 50 years!
The help is free and I was never asked whether I would like to join the Mormon faith.
The Family History building is across from Temple Square, but there are LDS research centers worldwide.
5. Visit Historic Homes
Beehive House (1854) was Brigham Young's early home and was crowned with a replica beehive, symbolizing industry. This was Young's official residence as President of the Church of Jesus Christ of Latter-day Saints, and as the first governor of the Utah Territory.
It was also home to some of his family and where he entertained important visitors such as Mark Twain, Susan B. Anthony, and Elizabeth Cady Stanton.
Brigham Young had 55 wives and 59 children. Not all the marriages were conjugal, and not all his wives lived with him. Yet on a tour of Beehive House this history is glossed over. What was the division of labour like with so many wives? Were there tensions?
The church banned polygamy in 1890, but it's historically interesting. On my guided tour the practice seemed swept under the 19th-century carpets. Free 30-minute tours are offered Monday through Saturday 9 a.m to 9 p.m. starting every 10 minutes.
Next door, Lion's House (1856) is where many of Young's wives lived and his family gathered for meals. In LDS communities, there's an emphasis on hearty fare. Enjoy such a meal at Lion's House Pantry, a cafeteria where LDS workers gather. Walking in, I saw a party of white-shirted men silhouetted in an alcove against the window, like a scene from The Last Supper. Nourishing foods such as beef and barley soup, baked salmon, meatloaf, chicken pot pie, mashed potatoes, and steamed vegetables are served. The restaurant, which is moderately priced, is famous for its freshly baked dinner rolls and honey butter. It is not open on Sundays.
6. Pack Your Pink Suit
Forget Rocky running up the steps at the Philadelphia Museum of Art: Utah's State Capitol saw Elle Woods tottering up stairs in Legally Blonde 2 in her hot-pink suit amidst a sea of dark-suited lawyers. Utah's State Capitol, built in 1916, is a neoclassical masterpiece that underwent one of the U.S's largest preservation projects between 2004 and 2008. Its towering ceilings and arched windows are reminiscent of the Musee d'Orsay. There are murals, marble floors, domes, frescoes, and grand staircases. Look for beehive symbols throughout and step outside the second-floor rotunda for magnificent views over Salt Lake City.
There's free entry and parking, or take bus 500 from Temple Square. This route is also walkable, but the museum is over half a mile from Temple Square up a steep hill. It's open daily, and self-guided and hourly led tours are available.
7. Shopping In Salt Lake City, Utah
City Creek Center
An upmarket mall across the road from Temple Square, and also owned by the LDS, features Louis Vuitton, Nordstrom, and Tiffany stores. The mall's neoclassical curved arches are reminiscent of the State Capitol, and it has a retractable roof for fine days. A creek runs through the middle, and there are fountains, waterfalls, and kids' splash pads. It's a peaceful spot for coffee. Yes, there's coffee. The best I found was Harmons upstairs.
There's two-hour free parking (the third hour is free with certain store validations, and this can be useful for visiting Temple Square).
Gardner Village
Built around a historic mill with brick paths, a duck pond, and a covered bridge, Gardner Village's 22 boutique shops are all about the latest trends in furniture, clothing, and jewelry, and Utah's famous salt-water taffy (get it at the Chocolate Covered Wagon). Gardner Village is famous for its Halloween-themed WitchFest and is located 12 miles south of downtown Salt Lake City in Salt Lake Valley.
Markets
The Saturday Farmers Market in Pioneer Park sells fresh seasonal food. I'd heard Utah's sweet corn was good, but these were the sweetest cobs imaginable. The local peaches and berries are legendary. Enjoy the Beehive State's honey. Stalls are in a square around the park's perimeter. The market is also great for crafts, baked goods, and food vendors. Open spring and summer.
Kid to Kid
Kid to Kid is now an international chain that sells upscale and trendy preloved kids' clothing, but it all began in this family-orientated city. Expect lots of scarcely worn garments and great toys, many that are new. This is a great place to outfit grandchildren.
8. Eating In Salt Lake City
Salt Lake City attracts tourists, tech industry professionals, students and academics, and mining engineers with Bingham Canyon Mine, another main attraction. With all these worldly visitors and locals, you can enjoy a hipster-ish food scene during your Salt Lake City exploration. Here are the best restaurants to try.
Eva's Bakery
Eva's Bakery transports diners to Paris. Indulge in French cheese plates served with breadbaskets, croissants and soft scrambled eggs with Gruyere, boulangere potatoes, and French toast stuffed with lemon cream cheese. Eva's is popular for Sunday brunches.
Red Iguana
Red Iguana boasts "killer Mexican food," and their menu is not Americanized Mexican, but the real amigo. Famous for its mole dishes, the restaurant usually has a hungry line waiting outside. Arriving at 5:30 p.m., we waited, but only 10 minutes. Worried about increasing queues, the owners opened Red Iguana 2 two blocks away. There's a queue there now! Then they opened Taste of Red Iguana in City Creek Center's food court, but the experience doesn't seem as authentic in the ultra-modern space.
Garage On Beck
Here you can enjoy funeral potatoes, a comfort dish of hash-browns, cream of chicken soup, cream cheese, and a coating of cornflakes traditionally served at funerals, in an old auto repair shop converted into a roadside bar — so not an LDS setting. More a scene from Mad Max with corrugated iron and back fence views over smokestacks. But this is a highway dive bar with taste. Their funeral potatoes are shaped into balls and baptized in hot oil. Try the bread pudding made with cream and bourbon and topped with whiskey caramel. Over 21s only.
Coffee
To reassure me Salt Lake City has great coffee, my kids took me to Publik straight from the airport. These three small-batch coffee roasters are where Salt Lake City's digital nomads hang out all day getting caffeinated. For more than a muffin with your coffee, head to Campos. The decor is industrial chic with indoor plants. The enterprise began in Sydney, and Australians know how to brunch. Try the persimmon and ricotta toast with lemon and rosemary or the smashed avocado on toast with pistachio and pickled citrus.
Drinking
Alcohol is available in bars (with food) and in restaurants, including brewpubs. Liquor is available for purchase almost exclusively from state-run liquor stores (which are not open Sundays). Utah's drinking laws take some navigating, but Salt Lake City is still worth the stop!
Want to see more of the state? Read up on