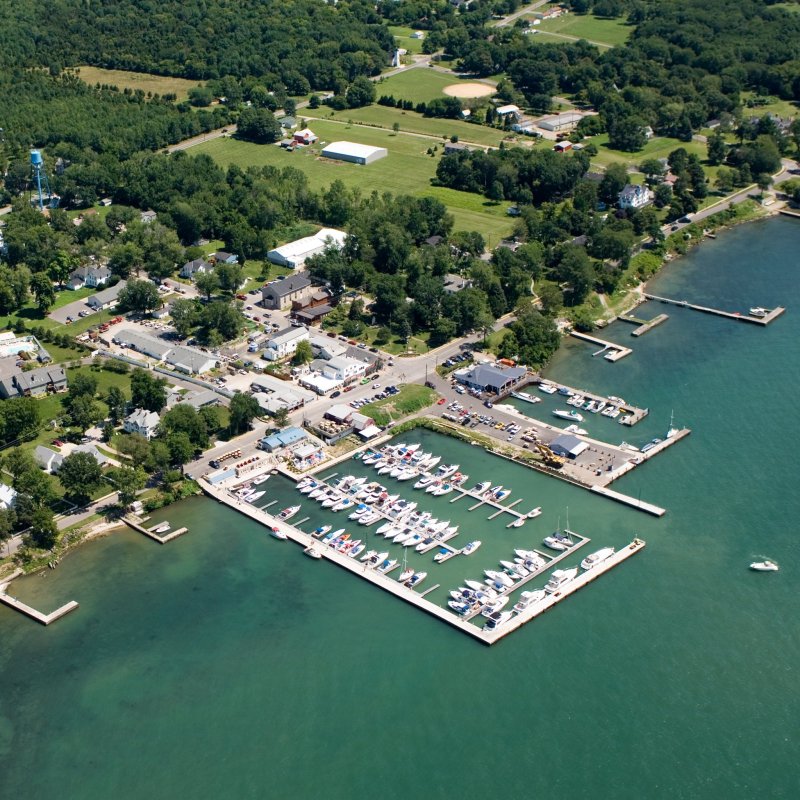 I have visited Kelleys Island a couple of times and have fallen in love again and again. This island is located a little over 10 miles from Sandusky, Ohio, and is home to approximately 300 people, which, on average, swells to 1,500 people each day in the summer.
If you love the island life and adventure, Kelleys Island is for you. Here are some of the best things to do there, whenever you go.
Ride The Ferry To Kelleys Island
Getting to Kelleys Island is an adventure in itself. There are no roads or bridges, and visitors must travel by private boat, ferry, or plane to get there.
The Kelley's Island Ferry Boat Line offers service out of Marblehead, Ohio. Passenger service, as well as space for automobiles, RVs, trucks, and tractor-trailers, are available.
If the weather is a little drizzly and cloudy, I would suggest boarding the ferry with your car. If the weather looks great, hop on the ferry as a walk-on passenger and rent a golf cart when you get to the island. Dress in layers either way, and know that it's important to pay attention to the time that the last ferry leaves the island.
Depending on what time of year you visit, you will want to monitor the weather, as the ferry may stop running in cases of inclement weather and ice. Ferry service usually closes in January and resumes when the water opens back up.
Rent A Golf Cart
Renting a golf cart on Kelleys Island will make your visit the ultimate adventure. Once you hop off the ferry, you will see signs to rent golf carts. There are several reputable businesses that rent them. I would suggest renting your golf cart for a minimum of two hours as you will cover quite a bit of ground during that time frame.
Visit Inscription Rock
Inscription Rock is a large limestone boulder on the southern shore of Kelleys Island and not to be missed. The petroglyphs carved into its surface have made it famous. I have recently seen many petroglyphs, and these are just fascinating.
The Inscription Rock drawings were made by Native Americans who inhabited the island before European and American settlers arrived. The artwork has faded over the years, but you can still see the inscriptions if you look closely. It's truly a fascinating work of art.
Fun Fact: The Chamber of Commerce Director told me that there were two petroglyph rocks on Kelleys Island at one time, but just one remains today.
Visit The Kelleys Island Historical Museum
Park your golf cart in the parking lot at the Kelleys Island Historical Museum. The history of the island is displayed in a fun way throughout the museum, from displays on how electricity was brought to the island to swimsuits. This island has it all, and depictions of the bathing beauties from the 1950s are something the museum prides itself on. Take a step back in time and enjoy the history of Kelleys Island. There is a small fee to enter the museum, which helps in maintaining the facility.
Explore Glacial Grooves
Visiting the Glacial Grooves that you will find on Kelleys Island is a truly unique experience. You can view these unique grooves, which were formed when massive sheets of ice moved during the last ice age via a trail that encompasses them. In fact, the island itself is a chunk of Columbus Limestone. These glacial grooves are 400 feet long, 35 feet wide, and up to 15 feet deep. Park your golf cart in the parking lot and take your camera with you. It's important to note that there are stairs involved in the walk around the Glacial Grooves, and in some places, the trail is not level.
Engage In Bird Watching And Get Close To Nature
There are several opportunities to enjoy nature on Kelleys Island, and bird watching, supported by the Kelleys Island Audubon Club, is one of them. Several birds can be seen throughout the year, but fall and spring are especially magical. The birds are migrating, which means opportunities for viewing that are unique to the seasons. Pack your binoculars for an outstanding experience on the numerous nature trails around the island.
Eating And Drinking On Kelleys Island
There are several eating establishments on the island. You will not find fast food here; instead, there are family-owned restaurants that roll out the red carpets for their patrons. You will find a brewery, a winery, and even a martini bar on the island.
The Village Pump
The Village Pump has been referred to as the destination watering hole for boaters and visitors alike since 1983. If you enjoy fish, this is where you need to order Lake Erie perch. The Village Pump is open March through December and provide top-notch hospitality for all diners. I had an Italian sandwich when I ate here and loved it.
Kelleys Island Wine Company
The Kelley's Island Wine Company is more than just a winery. They have abundant indoor and outdoor seating. I personally like to park my golf cart here and find a place to sit outdoors. Here is where you can enjoy wine and a meal that is composed of locally sourced ingredients. Pizza, soup, and flatbreads are some of the popular menu choices. This winery is located off the main drag at 418 Woodford Road.
Kelleys Island Brewery
This fun place where folks gather on Kelleys Island is located right on Lake Erie. Kelleys Island Brewery is where you can enjoy craft beers and indulge in a meal. Burgers, fried pickles, and a frosted chocolate brownie are highlights from their menu. This brewpub is seasonal, as many places are on Kelleys Island.
Where To Shop On Kelleys Island
One of my favorite places to shop around Lake Erie Shores and Islands is the General Store on Kelleys Island. They have some of the finest souvenirs and a building full of history. It's one of those places that you cannot walk by without stopping in. Find a place to park your golf cart on the main street and get shopping. This is also the perfect place to pick up sunscreen, insect repellant, and any other items you may have forgotten back on the mainland.
Where To Stay On Kelleys Island
Kelleys Island is home to many different options when it comes to lodging. The many different types of lodging available make it an inviting island for people with all sorts of tastes and needs when it comes to a place to stay.
A Water's Edge Retreat
This award-winning luxury inn is a bed and breakfast and a beautiful place to enjoy island life. A Water's Edge Retreat is a charming three-story lakefront Queen Anne Victorian that has a beach and beach decks. All guests will enjoy a one-of-a-kind gourmet breakfast in the dining room. Each room has its own unique decor and a private bath. Complimentary bicycles are also available for all guests. An important thing to note is that this destination is for adults only; all guests must be 18 years of age or older.
Kelleys Island State Park Campground
This campground is located in a beautiful natural setting with 100 feet of beach for swimming. Boat enthusiasts will find a boat launch close by, and the Glacial Grooves are a short walk from the campground. Highlights of the campground include 84 electric sites, 45 non-electric sites, showers, and flush toilets. The campground is closed November 1 to April 1 annually. Reservations can be made through the state park website, and I would highly recommend reserving your campsite in advance, as sites fill up fast during the peak season.
Traveling To The Kelleys Island Area
The closest airport to Kelleys Island is the Cleveland Hopkins International Airport, which is approximately one hour away. A train is also available to Sandusky, Ohio. I would suggest renting a car at the airport, as you will want to have a car to explore the area around Kelleys Island.
Lake Erie Shores and Islands are also home to a fantastic Merry-Go-Round Museum in Sandusky that is worth a visit. Hop on the carousel and experience the nostalgia that goes with it.
Kelleys Island is full of beauty unlike any place else in the Midwest. Once you set foot on the island, take a look back at where you came from. The Marblehead Lighthouse will most likely be in your view, as well as the beautiful blue expanse of water. The beaches on Kelleys Island will welcome your toes and make for a fun day in the sun. I have been on many Caribbean islands, and Kelleys Island offers the solitude that you can find in the Caribbean, right in the heart of America.
Plan your visit sometime between May and September, as the weather is the best during that time of the year. There are also many places to enjoy a picnic on the island if you so desire. Pack a picnic lunch, along with the other things you will need for the day, before you board the ferry. Dress in layers, as mornings can start out cool before the sun begins to heat things up.
Once you visit, you will be hooked. Kelley's Island will lure you in and it could easily become an annual getaway.