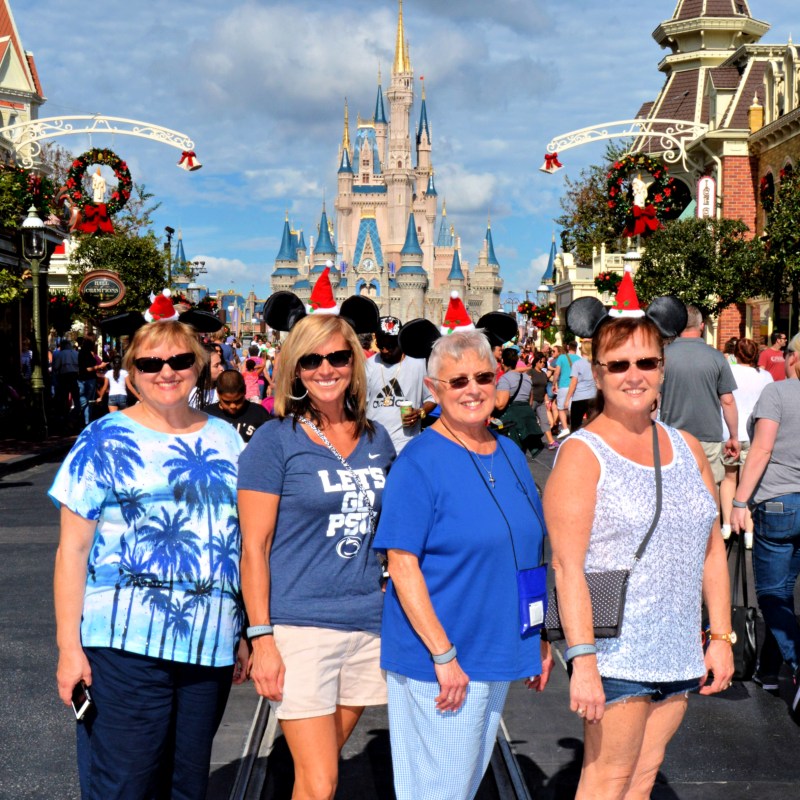 Have you ever considered a girls' trip to Disneyworld? Disney World is the perfect girls' trip destination for women 50+.
The home of Mickey Mouse may seem like a vacation destination just for kids, but it's the perfect place for adult fun as well!
I speak from experience as a group of us traveled together for a girls' Disney trip during the Christmas season. It was a great time to visit with all the holiday decorations, Christmas music playing, and everyone in a festive mood. The decorations go up right after Halloween and remain until mid-January. We found Disney World to be an exhilarating experience for the over-50 crowd. Here's what you have to look forward to.
1. The Rides
Yes, you can feel and act like a kid again! You're in Disney World! Not everything has to be grown-up fun.
Feel like a kid as you ride the various rides. Splash Mountain was our favorite. We also enjoyed Pirates of the Caribbean in Adventureland and Tomorrowland Transit Authority PeopleMover. It gives you a great overview of the park in the Magic Kingdom. Of course we rode the traditional "It's a Small World" ride and heard the song in our heads for the rest of the day.
Soarin' Around the World
Our favorite ride in EPCOT was Soarin' Around the World in The Land pavilion. It is a hang glider simulator that "flies" over various locations across the world. The IMAX digital projection dome, with its spectacular aerial footage, pleasant scents, and graceful motion, makes you feel like you are actually gliding over the sites. We rode it numerous times. While waiting in line for the ride, you and your over 50 girlfriends can enjoy a travel-themed trivia game using your mobile device. It is fun and makes the time pass quickly.
Spaceship Earth
A close second in EPCOT was Spaceship Earth. It is an 18-story-tall geodesic sphere located at the front entrance of EPCOT. You can't miss it when you enter. The 16-minute ride tells the history of human communication with a focus on the development of cultures and the future of technologies. At the end, you can send a picture of yourself home to friends and family.
Rides For Thrill-Seekers
Remember no ride is off-limits when you vacation with the girls. If you are a more adventurous thrill seeker, you and your girlfriends can climb the mountains while running from the Abominable Snowman on Expedition Everest in Disney's Animal Kingdom. Zoom through the darkness of outer space on the Magic Kingdom's Space Mountain. You could also rock out to some Steven Tyler tunes on the Rock 'n' Roller Coaster Starring Aerosmith at Hollywood Studios. These are just a few of the thrill-seeking rides perfect for adults in Disney World!
2. Channel Your Inner Child
If you really want to feel like a kid, get your picture taken with Mickey, Elsa, or Aladdin. Ride the teacups or Dumbo the Elephant. Buy mouse ears and wear them for pictures. It's the most magical place on earth, and no one will look twice when you're acting like a kid again. Have fun!
3. Travel Around The World In A Day
EPCOT is one of the best parks for adults. It is home to the World Showcase, 11 pavilions each representing a different country. You can visit each of the countries as you stroll around the World Showcase attractions. The United Kingdom, Canada, Norway, Japan, Morocco, France, America, China, Germany, Mexico, and Italy are represented. Restaurants, rides, shopping venues, and other attractions are located in each country's designated area.
We enjoyed a meal in the Mexican pavilion. We ate at San Angel Inn Restaurante. The restaurant overlooks an indoor lagoon with a themed backdrop of another pyramid and a smoldering volcano in the distance with themed lighting and smoke effects. You eat by candlelight — even during the day. To the left of the restaurant is a boarding area leading to a boat ride, Gran Fiesta Tour starring The Three Caballeros. After dinner, we enjoyed the festive and amusing ride.
4. Enjoy An Adult Beverage In 11 Countries
In EPCOT, you can have a margarita in Mexico, a green tea wine slushy in China, a pilsner in Germany, and a glass of vino (wine) in Italy — all without leaving the property.
If you're adventurous, keep up your bar crawl in Norway, America, Japan, Morocco, France, the United Kingdom, and Canada. Remember, with a Park Hopper pass, you can pace yourself, spreading the enjoyment out over multiple days!
5. Relax At The Spas
Get a massage, treat yourself to a facial, or indulge in a pedicure. These and many other services are available at Disney's premiere spas on the various resort properties. Nothing makes you forget the stresses of life like a massage. Reservations are required.
6. Dance The Night Away
Get movin' on the Boardwalk at Disney World's Atlantic Dance Hall. Open Thursday through Sunday, from 8 p.m. to 1 a.m., this is the perfect venue to dance with your girlfriends in an adults-only environment.
7. Shop 'Til You Drop
There is no shortage of places to shop in Disney World. You can find items for yourself or gifts for others in the various stores in each of the parks.
If you are a serious shopper, I recommend the Disney Marketplace Co-op at Disney Springs. Shop clothes and Mickey Mouse apparel, bath bombs, hand-decorated cookies, souvenirs, and more.
8. Carry A Tune
Enjoy dueling pianos and sing along to your favorite songs at Jellyrolls dueling piano bar. Come prepared with your requests as you watch the dazzling lights and listen to the music from masterful ivory ticklers. Jellyrolls is located on Disney World's Boardwalk.
Jellyrolls is a popular nightspot in the Orlando area for the 21+ crowd and fills up fast, so arrive early to get a table.
9. Take In A Show Or Two
Many of the shows in Disney World are great for all ages, but odds are you'll enjoy them more when you are on a girls' trip and don't have to worry about children behaving or the husband being bored. You can sit back, relax, and enjoy the show. A few of our favorites included The Hall of Presidents in the Magic Kingdom and the Festival of the Lion King live onstage in Animal Kingdom.
10. Attend A Festival
EPCOT is known for its yearly festivals. Think art, flowers, food, and wine. All ages can enjoy the festivals, but I can tell you doing them with adult friends is way more fun than the family experience. The festival sights and treats (especially the wine) are meant to be savored and appreciated, which is hard to do with younger ones in tow, especially when you're in a hurry to get to the rides.
Bonus: Tour The Christmas Decorations
If you visit Disney World over the holidays, plan an afternoon of touring the various resorts and looking at the Christmas decorations. This was a fun activity on our last day. Each resort's decor and every Christmas tree is different. All are completed to perfection. We used Disney transportation to get from place to place.
When we visited, Disney Springs had an organized tour, the Christmas Tree Trail. It included 22 themed trees and provides spectacular photo opportunities. Whether you go on your own or on the tour, it is a must-see!
The flowers and gardens at EPCOT are beautiful year-round, but they are especially gorgeous during their festival in the spring. All the festivals are well worth your time, and you can spend a full day or two just enjoying them.
Here are EPCOT's popular annual festivals and when to catch them:
Planning a trip to Disney World during one of the festivals makes your 50+ girls' trip even better.
Disney World is so much more than a children's theme park. Relive the Disney magic you felt as a child, or experience the parks for the very first time with friends in tow!