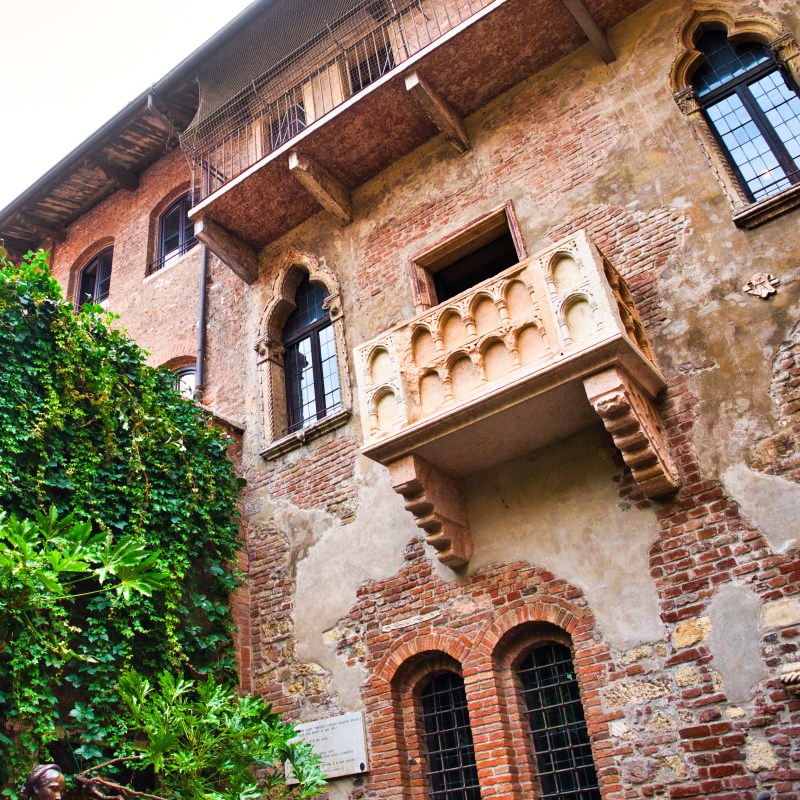 William Shakespeare apparently loved Italy, although there's no historical evidence that he ever actually visited the country. The Bard set a third of his plays in Italian cities, leading some historians to suggest that he visited the country at least once; nevertheless, he never mentioned such a trip in his correspondence.
Regardless, Shakespeare demonstrated substantial knowledge of Italian culture and history in his plays, and he borrowed from Italian novellas when constructing his stories. For fans of literature, a trip to Italy is a great excuse to dive into Shakespeare's works — and visit some of the cities referenced in his most famous plays.
If that sounds like a great time, this basic itinerary should give you the framework you need to design your own Shakespearean vacation. As the playwright wrote: "To unpath'd waters, undream'd shores."
Shakespearean Landmarks In Venice
Othello and The Merchant of Venice are set in Venice, and tourists can walk in the footsteps of those plays' characters. Start at the Basilica di Santa Maria della Salute, the home of Othello's Desdemona. If Shakespeare took inspiration from history, he may have created the title character in the image of Nicolo Contarini, a warlord frequently called "the Moorish" in historical texts.
Another key Shakespearean site is the Doge's Palace, one of the city's truly essential landmarks. The city's leaders (doges) lived here, including Cristoforo Moro, another possible inspiration for the character of Othello. Today, it's a fascinating museum and a great place to marvel at Venetian Gothic architecture.
Venice was one of the first cities in Europe to establish ghettos, neighborhoods where the city's Jewish community lived. While the term "ghetto" has a negative connotation in modern times, the areas were once refuges for Jews; while they were forcibly placed in the ghettos, they were allowed to maintain their culture, which is likely why Shakespeare set The Merchant of Venice here. Five synagogues still stand in Venice's historic ghettos, and all feature incredible architecture. To visit, you'll need to sign up for the regular tours provided by the Jewish Museum of Venice.
From Venice, you'll take a 40-minute drive or hour-long bus trip to Padua, where Shakespeare set one of his most famous comedies.
Shakespearean Landmarks In Padua
In Shakespeare's day, Padua was an important hub for academics, so setting The Taming of the Shrew in the city made sense: The play is a fairly ribald comedy, so it's somewhat ironic that much of the action happens in a city known for intellectualism.
Padua owed much of that lofty reputation to its University of Padua, founded in 1222 as a law school. One of the world's oldest universities still in operation, it has a gorgeous campus with quite a bit of historic architecture, including a wooden amphitheater built in the 16th century.
And while it doesn't really relate to the Bard, visitors will still want to stop by the Basilica of Saint Anthony of Padua, a breathtaking domed church in the town center. After viewing the basilica and exploring the quaint streets of Padua, prepare for an hour-long drive or bus ride to Verona.
Shakespearean Landmarks In Verona
Shakespeare set two plays in Verona: The Two Gentlemen of Verona and Romeo and Juliet. Most travelers will be far more familiar with the latter than the former, and Verona has embraced its characterization as a city for romantics.
In 1969, sculptor Nereo Costantini created a life-size statue of Juliet, positioned in the courtyard of Juliet's House, an older building with a stone balcony located on the Via Cappello. Of course, Juliet wasn't based on a real person, and this building has no real historic significance, but it's an interesting stop for Shakespeare fans, and a museum inside the house makes for a nice diversion.
From there, set out for San Francesco al Corso, a monastery colloquially known as "Juliet's tomb." A crypt in the monastery is said to be the inspiration behind the final scene of Romeo and Juliet, though, again, the play wasn't based on real people. Nevertheless, the monastery is fascinating, and guided tours are available.
Shakespearean Landmarks In Rome
No Shakespearean tour would be complete without a stop in Rome, the setting for parts of Titus Andronicus, Coriolanus, Julius Caesar, and Antony and Cleopatra.
Of course, working this stop into your itinerary may prove difficult. To visit Rome from Verona, you'll need to spend about 5 hours in the car, but the drive is hardly boring; on the way, you can stop by Monte San Savino, one of the oldest towns in Tuscany, or visit the 14th-century Medici castle in Sinalunga.
Once you're in Rome, head into the historic imperial city as early as possible to avoid the crowds. Here, you can visit the Colosseum and Circus Maximus while pondering the finer points of Shakespeare's histories (and snapping a few unforgettable pictures along the way).
While Shakespeare's Julius Caesar died in front of the Senate, modern evidence suggests that the historical Caesar died in Largo di Torre Argentina, an ancient square that currently serves as a stray cat sanctuary. Renovations are underway, and the square will open to the public in the second half of 2021, but tourists can stand outside the site to snap photos and admire the scenery.
Prepare For Your Trip By Revisiting Shakespeare's Works
Not all of Shakespeare's Italian plays are tragic, like Romeo and Juliet, or dramatic histories, like Julius Caesar. If you need a break from the Bard's heavy side, you've got plenty to choose from — all without leaving Italy's shores.
Start with Much Ado About Nothing, a masterful comedy of manners set in the Sicilian vacation town of Messina. The play follows the "merry war" between noble soldiers and clever gentlewomen and remains one of Shakespeare's best-loved comedies.
From there, it's an easy pivot to The Winter's Tale, a Shakespearean deep cut that's well worth a read. Half of the action takes place in Sicily, with periodic breaks for a bit of Bohemian comedy courtesy of some rustic clowns.
The Winter's Tale lands somewhere between comedy and tragedy, making it a great way to get back to some of the plays we've already mentioned in this article: Othello, The Merchant of Venice, and, of course, Romeo and Juliet.
For some reading outside the plays themselves, try The Shakespeare Guide to Italy: Retracing the Bard's Unknown Travels by Richard Paul Roe. The author describes his obsessive journey through the real-life locations where Shakespeare's incomparable works are set, which makes for nice reading if you're planning on doing the same.