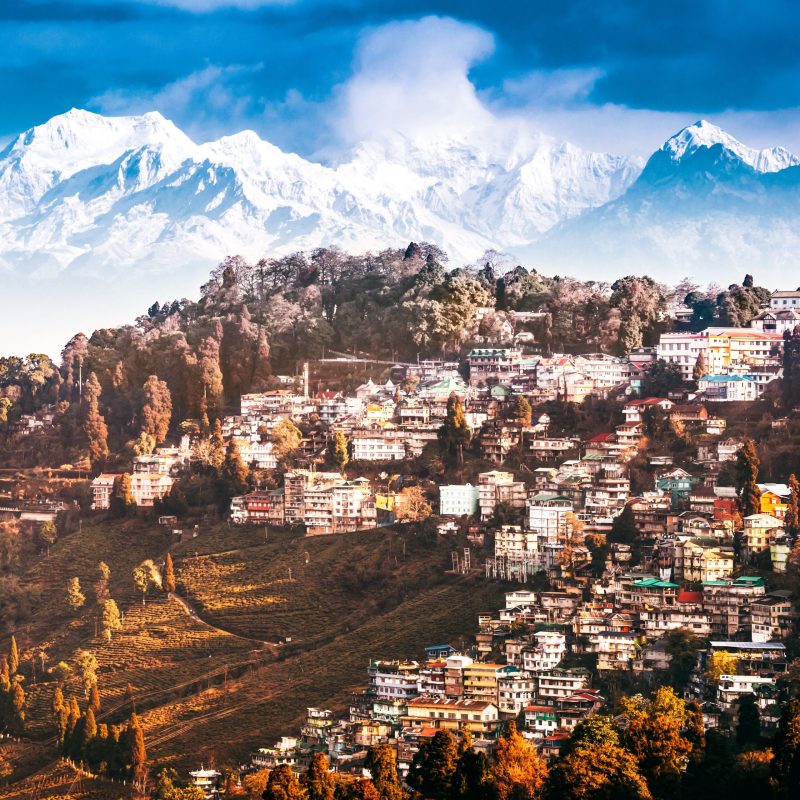 No trip to eastern India is complete without a few days in Darjeeling, West Bengal's charming outpost in the hills, and, yes, the namesake of an excellent cup of tea. And while tea gardens are certainly part of the town's appeal, there's lots more to experience. Here are a few quick facts to pique your curiosity about a visit to Darjeeling in West Bengal, India.
1. It's Located In The Himalayan Foothills
Darjeeling is located in the northern part of West Bengal, India, nestled between Nepal, Tibet, and Bhutan. Darjeeling is known as a hill station town, or a town set high up in the hills. In Darjeeling's case, the hills that make it a hill station are actually the Himalayan mountains.
2. There's Plenty Of Flora And Fauna
Over 4,000 different flowering plants, 300 varieties of ferns, and tons of wildlife can be found here. Monkeys, elephants, wild cats, and even endangered red pandas are all native to the area as well. And yes, you can see these adorable little creatures in person at the Padmaja Naidu Himalayan Zoo, a favorite Darjeeling attraction!
3. Darjeeling Takes Its Tea Very Seriously
Some of the finest teas in the world are produced in Darjeeling. Darjeeling tea is a light- to medium-bodied black tea that is highly aromatic with fruity and floral tones. And true Darjeeling tea is only grown in this specific area of West Bengal, on just 87 estates.
Each year, tea plantations produce around 11,000 tons of tea in this small region, meaning it's an important part of the economy — and the work is all done by hand. Darjeeling tea has the distinction of being grown at a higher elevation than any other tea plant, which could account for its remarkable flavor characteristics.
4. The Darjeeling Himalayan Railroad Is A UNESCO World Heritage Site
Construction on the Darjeeling Himalayan Railway, also known as the Toy Train, began in the 1880s. At the insistence of their British colonizers, local workers laid small-gauge tracks between New Jalpaiguri and Darjeeling and built small but powerful engines to traverse the extreme landscape.
The railway was added to the UNESCO Heritage site list on December 5th, 1999. The train is still functional today. You can take a ride for yourself and enjoy the scenery along the 12-stop, 54-mile route.
5. The Town Was Under British Rule For Hundreds Of Years
India has a rich, self-sustained, and well-documented history dating back almost 4,000 years. However, as trading lines became more easily traversable, Great Britain became increasingly interested in colonizing what it considered the Far East — which included India. Great Britain made the first land grab in 1757 and ruled over the area until 1948.
Architectural styles still reflect the colonial era in Darjeeling, which was coveted by colonizers for its cool climate and quickly became a summer getaway.
6. Darjeeling Is Small, But Very Diverse
Darjeeling's cultural makeup is very diverse. Here you'll find people who have come to the area from Nepal, Tibet, and elsewhere West Bengal — as well as the indigenous Lepcha people.
Because of such a diverse influx of people, it's common to hear different languages (English, Nepali, Hindi, and Bengali) around town, and to see a variety of different religious architecture, from Buddhist monasteries and Hindu temples to Christian churches.
7. The Town Has An Amazing Cable Car Ropeway
If you're looking for the perfect view of the Rangeet Valley, take a ride on the Darjeeling Ropeway. This cable car ropeway opened in 1968 with just one passenger car. It was the first ropeway built in India. Today, 16 cars travel from Singamari (7,000 feet altitude) to Singla (800 feet altitude), and the whole ride takes about 45 minutes.
From the cable cars, you can get a bird's-eye view of Darjeeling's lush vegetation, tea gardens, rivers, and forests, plus the peak of Kanchenjunga, the third highest mountain in the world. The ropeway is open year-round with modified hours depending on the season.
8. It Takes A Bit Of Planning To Reach Darjeeling
There are no airports or rail stops in Darjeeling. If you want to visit the city, you'll have to plan ahead. Most often people will use the train station in New Jalpaiguri, or fly into the Bagdogra airport in Siliguri, then take a taxi. Whatever route you choose, be prepared to piece your transportation options together to make the complete trip.
Even if it's not the easiest place in the world to reach, Darjeeling is a wonderful and popular destination for all types of travelers. Don't leave the region without a visit.
Even further east of Darjeeling, you can visit India's incredible living root bridges. Here's the story behind them.