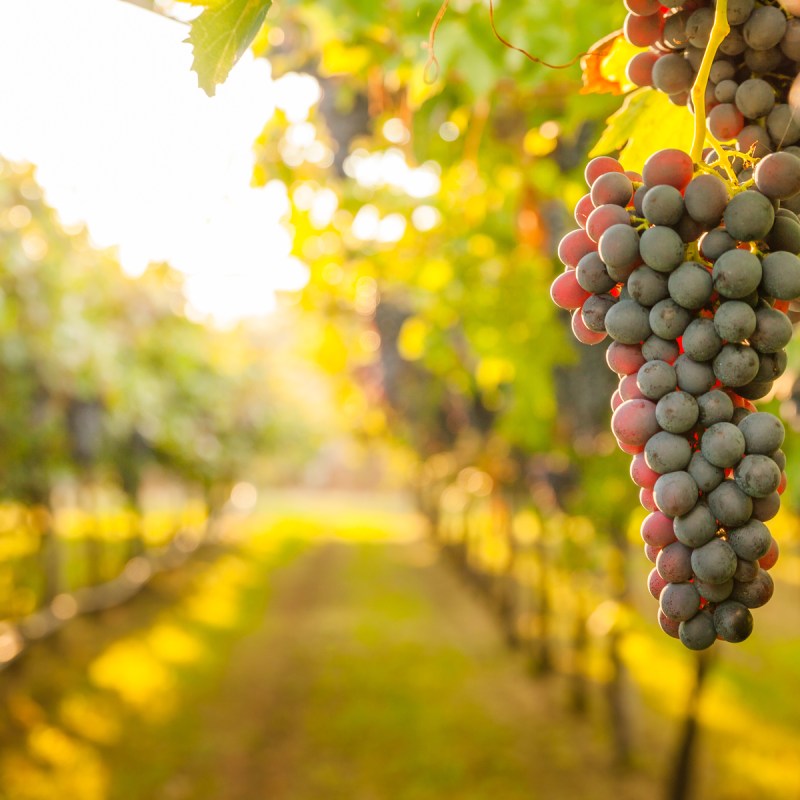 While millions of travelers head to Napa Valley each year, the wineries of Livermore, California, have remained relatively under the radar. But the word is spreading quickly that Livermore, with its 60 wineries and 96,000 acres of vineyards, is one of the best places to enjoy sunny weather and red wines like petite syrah, zinfandel, and cabernet sauvignon. The warm-to-cool climate and gravelly soil create the ideal conditions for many fantastic wines.
The Livermore Valley, 40 minutes east of San Francisco, not only produces wines on par with Napa's, but it also offers a more relaxed approach to tastings. Most Livermore Valley wineries are laid-back family-owned spots that value friendly service. Plus, they don't break the bank — many offers pours for a third of the price of those offered in the famed Napa region. For the most part, no appointments are necessary — you just walk in and receive the warm welcome you deserve.
Here are eight fantastic wineries to visit on a trip to Livermore.
1. Wente Vineyards
There's no better place to start your self-guided Livermore winery tour than at Wente Vineyards. Wente provides a peaceful escape from the hustle and bustle of the Bay Area. It's also one of the oldest vineyards in the region.
In 1883, the first generation of the Wente family bought 47 acres of land in Livermore to grow grapes. Since then, the winery has grown to include 2,000 acres of green vineyards, two tasting rooms, a golf course, and a restaurant.
Wente is noteworthy for being the first area winery to import chardonnay cuttings from France. The Wente family planted the vines in their vineyard and allowed the surrounding wineries to snip a few buds to bring back to their own farms. It's estimated that the Wente clone — or genetically identical vine grown from that original — is responsible for 75 percent of all California chardonnays today.
Wente is an ideal place to spend a day or weekend at any time of year. During the summer, you can enjoy live music concerts. And when the air turns crisp, you can walk through the pop-up Christmas market.
2. Murrieta's Well Estate Vineyard
Like Wente, Murrieta's Well has been around since the 1880s. The founder, Louis Mel, later sold his Livermore winery to Ernest Wente. The Wente family still cares for the property today. However, Murrieta's Well distinguishes itself not only from Wente, but also from other vineyards in the Livermore Valley.
Murrieta's Well's wines are made exclusively from grapes grown on the property, and the vineyard focuses on creating the perfect wine blends in small batches. The resident winemaker, Robbie Meyer, concocts creative, great-tasting combinations. When you visit, make sure to try the red blend, The Spur, and the white blend, The Whip. Reservations are required, so book your visit today, and don't miss out on the $25 wine-tasting opportunity.
3. Concannon Vineyard
Concannon Vineyard, another old Livermore winery, has been in operation for 136 years, and a beautiful Victorian home was built on the property in 1885.
One of the largest vineyards in the area, Concannon features both indoor and outdoor tasting areas. The large lawn and gorgeous house provide the perfect backdrop for a picnic featuring one of the winery's glasses of chardonnay, cabernet sauvignon, or petite syrah.
Concannon Vineyard is best known for its cabernet sauvignon. In 1893, James Concannon traveled to Bordeaux's Chateau Margaux after the roots of his vineyards were damaged by pests. He brought French cabernet vines back to Concannon Vineyard, and they ended up growing so well that they became internationally renowned. It's estimated that 80 percent of all cabernet sauvignon in California comes from the original vines planted by Concannon.
4. McGrail Vineyards
A more recent addition to the Livermore winery scene, McGrail Vineyards debuted in 2008. It's a green oasis amidst the golden rolling hills of Northern California. Instead of large-scale operations, McGrail focuses on small-batch productions.
For tasting award-winning wines, Livermore Valley is the place to be, and McGrail is no exception. The winery is best known for its cabernet sauvignon, which has won several awards. In 2019 alone, the 2015 Reserve Cabernet Sauvignon won gold, the 2014 and 2015 Reserve Cabernet Sauvignons won silver, and the 2016 Colton's Cabernet Sauvignon won bronze in the San Francisco Chronicle Wine Competition.
McGrail provides a welcoming ambiance for the whole family (including four-legged friends!), whether you go for the casual wine flight ($15), seated group tasting ($25), or 90-minute vineyard tour ($35). In addition to wine tasting, you can enjoy a round or two at the bocce ball court with a bottle or glass of your choosing ($10).
5. Retzlaff Vineyards
Retzlaff Vineyards, part of a historic estate, is a beautiful winery with a large lawn, 100-year-old pepper trees, and a garden. Retzlaff offers tours of the garden and vineyards plus a wine tasting with light snacks ($20). Otherwise, you can enjoy the cozy tasting room with a full or reserve flight of six wines ($20 to $25). The best part is that if you purchase two bottles, your wine-tasting fee is refunded. Fittingly, the tagline is, "Come for a taste, stay for a bottle!"
Established in 1985, the family-owned vineyard provides a friendly atmosphere that makes you want to visit again and again. Notably, Retzlaff Vineyards became a certified organic vineyard in 2006. This means that the vineyard doesn't use pesticides, herbicides, or fertilizers and is non-GMO. Retzlaff is best known for its 2013 and 2014 Estate Cabernet Sauvignon Merlot Blends, which won bronze in the San Francisco Chronicle Wine Competition, and its Estate Port made from organic cabernet sauvignon. The port won a silver medal in the Sunset International Wine Competition.
6. Darcie Kent Vineyards
Darcie Kent Vineyards is owned by a family that has been in the winemaking business for five generations; however, the Livermore location opened in 1996. What really stands out are the winery's vibrant wine labels that were painted by Darcie Kent herself.
The main tasting room provides a chance to enjoy Darcie Kent red blends, award-winning chardonnays, and cabernet Francs. While you're tasting, you can admire Darcie Kent's watercolor and acrylic depictions of the local landscape. It's a tasting room and an art gallery in one!
For an extra-special day, sip a full-bodied wine on the sun-drenched back deck with a trained wine guide. The hour-long tasting includes five wines, plus a primer on the estate's history and wine-tasting techniques ($30 for white and $40 for red).
7. BoaVentura Vineyards
The land BoaVentura sits upon was once a ranch owned by the Concannon family. Today, the farmhouse is the Caires family home, while the barn is used for wine tastings and events that provide visitors with a taste of life in wine country.
The 5-acre winery offers stunning views of Livermore Valley from two grass lawns, perfect for energetic pets, small children, and family picnics. To get the most out of your experience at BoaVentura, try the eight-wine tasting option for just $20. Due to the owner's Portuguese heritage, there's no doubt you'll try a few wines made from grapes usually found in Portugal. Don't leave without trying several varieties of the smooth and fruity cabernet sauvignon.
8. Cedar Mountain Winery
Just a mile down the road from BoaVentura, Cedar Mountain Winery is also a must-visit. Run by Earl and Linda Ault, Cedar Mountain started as a 20-acre farm in 1990. Their entrance into the wine market began with a cabernet sauvignon and a chardonnay. Soon after, they released a sauvignon blanc, and the rest is history!
Currently, the winery offers more than 20 wines ranging from premium and reserve to dessert wines. However, this Livermore winery is best known for its large selection of port. That's why it's one of the best ways to end a day of wine tasting in the Livermore Valley. Cedar Mountain Winery's bestsellers include two ports created in 1998: Chardonnay del Sol and Viognier Port. The Viognier Port has won a silver medal in the San Francisco Chronicle Wine Competition. Patrons have taken a liking to these two port wines, so it's not unusual for them to be sold out from time to time.
Can't get enough of California wine? Make a pilgrimage to the world-renowned Napa Valley wine region. The tours shouldn't be missed, but there are plenty of other things to do in the area.