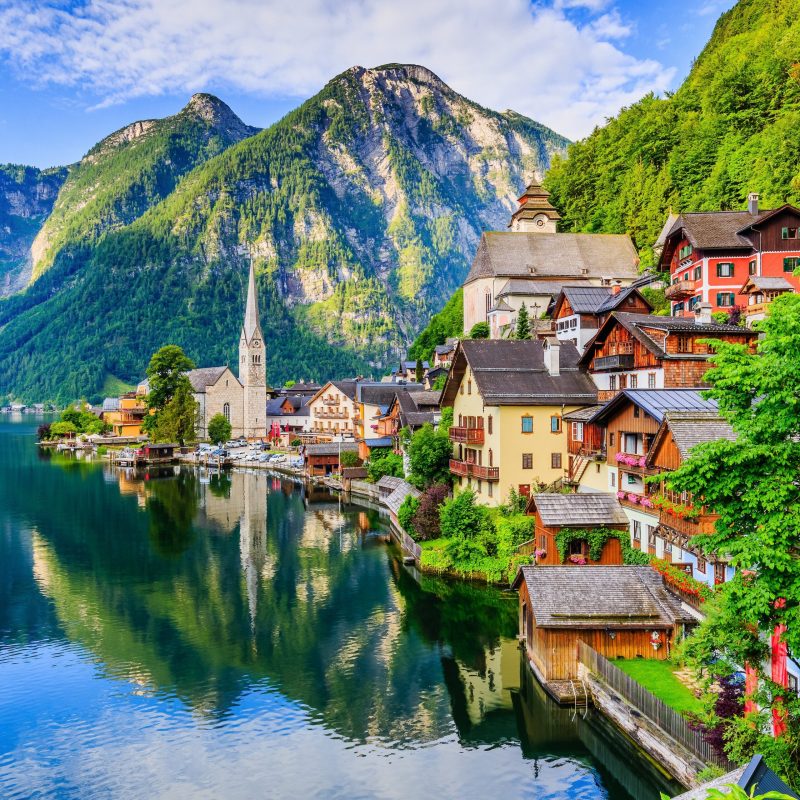 Hallstatt, one of the most beautiful places in Austria, is growing in popularity for its fairy tale-like village, dramatic landscapes, and numerous attractions.
The quaint alpine village, situated on Lake Hallstatt's western shore in the mountainous Salzkammergut region, is home to fewer than 1,000 inhabitants, an ancient salt mine, and unparalleled views of the Austrian Alps.
This small town invites visitors to get lost in its colorful streets, offering seclusion and serenity that you won't find in overcrowded hotspots in Europe.
Most visitors only stop for a single day to visit Hallstatt as a side trip from either Salzburg or Vienna which doesn't give you much time to see everything. With a little bit of planning and an early start to your day, you can really cover a lot of top things to do in Hallstatt.
Here are 10 reasons to visit Hallstatt on your next European vacation.
Best Things to Do in Hallstatt, Austria and Reasons Why
1. Accessibility
Nestled in the Alps of Upper Austria, Hallstatt makes a great day trip from Salzburg or a stop between Salzburg and Vienna.
Getting To Hallstatt From Salzburg
Two buses run from Salzburg to Hallstatt: Bus 150 and Bus 542. Each trip takes about 2 hours and 15 minutes.
Every day, several trains run from the Salzburg train station to Hallstatt, the first departing at 5:12 a.m. The trip takes less than 3 hours. If you take the train from Salzburg to Hallstatt station, you will actually be dropped off across the lake in the village of Obertraun and will need to take a short ferry ride to reach Hallstatt's town center. A one-way trip costs €2 and offers amazing views of the surrounding area. For train times, visit the ÖBB website.
Getting To Hallstatt From Vienna
While a day trip from Vienna to Hallstatt would be difficult to accomplish, the train ride only takes about 4 hours. It does, however, require a transfer at the Attnang-Puchheim Station.
Another option for getting to Hallstatt from Vienna is renting a car. The drive from Vienna to Hallstatt takes about 3 hours and 20 minutes and passes through some stunning parts of Austria. To navigate to Hallstatt, use Google Maps or GPS navigation.
2. Gorgeous Scenery
Hallstatt is one of the most scenic towns in Austria, and if you research Austria online, you'll probably stumble across numerous photos of Hallstatt and its tourist attractions.
Hallstatt is a fairytale-like town sprinkled with pastel-colored houses and winding cobblestone streets and surrounded by the striking Northern Limestone Alps. The natural beauty and picturesque and enchanting views attract visitors to the tiny town year after year. The architecture of the Catholic Church of Hallstatt is simply stunning.
3. UNESCO World Heritage Site
The region of Salzkammergut has been around since prehistoric times, and the area's salt mines were in use as early as the second millennium B.C. The Hallstatt-Dachstein/Salzkammergut was designated a UNESCO World Heritage site in 1997.
According to UNESCO, the salt mine "formed the basis of the area's prosperity up to the middle of the 20th century, a prosperity that is reflected in the fine architecture of the town of Hallstatt."
The dramatic landscapes of Salzkammergut and Hallstatt can't be missed; even UNESCO says so! Get a bird's-eye view from the Hallstatt Skywalk. Take the Salzbergbahn cable car to view the mountains, lake, and town from over 1,000 feet in the air — if you dare!
4. Hallstatt Salt Mines
In Hallstatt, you can gaze upon some of the oldest salt mines in the world. Hallstatt's salt mines date back more than 7,000 years, and today visitors to the area can learn all about Bronze Age mining.
Hallstatt's salt mine is also home to the oldest staircase in Europe. Discovered in 2002, the staircase has been the subject of scientific research for many years.
Adventure seekers can book an extended expedition of a salt mine, venturing to areas that others don't normally get to see.
Pro Tip: There's a Giant Ice Cave nearby, but you have to take the bus to Dachstein Visitor Center, ride up Stone Mountain (Dachstein) on the cable car gondola, and hike for 20 minutes to get to the ice cave. Do note that the ice caves are closed in winter (November through May), but the mountaintop views from the ice caves entrances are fantastic all year long.
5. Great In Every Season
Each season brings something different to Hallstatt, making the town a magical place to visit any time of year.
Winter brings stunning views of snow-capped mountains, while fall offers changing colors and crisp yet comfortable temperatures. In the spring, the town comes to life and the region's local flora is in full bloom, and summer offers warm temperatures ideal for swimming and boating as well as tackling the hiking trails.
6. Winding Streets And Colorful Houses
Gazing upon Hallstatt is like looking at a work of art. It's hard to turn away from the breathtaking views of the Austrian Alps, but if you take the time to wander through the town's winding cobblestone streets, you'll see that each little nook and cranny holds more charm and beauty than the last.
Hallstatt is full of pastel-colored houses and picturesque streets ideal for getting lost in. You can wander through the small village for hours on end, taking in the sounds and smells of the shops and bakeries and watching life unfold in this tiny Austrian village.
7. Historic Market Square
Colorful buildings surround Hallstatt's historic market square in the car-free center of Old Town Hallstatt. The marktplatz is home to souvenir shops, cafés, restaurants, and a bar. It also hosts several events, including the romantic Christmas market during Advent season.
8. Delightful Cafés
Hallstatt's adorable cafés are ideal for a midday snack, a quick coffee break, or a rest during a long day of sightseeing.
9. Swans At Lake Hallstatt
Some of the town's most beloved residents are the swans who have made their home in and around Lake Hallstatt.
The celebrated birds were imported in the late 19th century by Empress Elisabeth of Austria and her husband, Emperor Franz Joseph I, who once owned a summer resort in Hallstatt.
10. Basecamp For Central Austria
Situated as it is in central Austria, once you decide to visit Hallstatt, it becomes a great base for exploring the area. It's conveniently located near the popular tourist destination of Salzburg, and it is within driving distance of major European cities like Munich and Vienna.
Saint Gilgen is a traditional Austrian village that you can visit when taking the 150 Bus from Hallstatt to Salzburg. The area isn't well known to tourists, and visitors can take a peaceful stroll through the town or enjoy views of Lake Wolfgang.
Munich, one of Germany's most popular tourist destinations, is only a 3-hour train ride from Hallstatt. The capital of Bavaria is known for its annual Oktoberfest celebration and its popular glockenspiel show that tells stories from the 16th century.
FAQs
Where Can I Find Out More About Hallstatt's History?
Visit Hallstatt Museum. If you are a history buff, add the museum to your list of things to do in Hallstatt. You'll learn about the 7000-year history of the small alpine village. Rare relics, artifacts, and artworks give insight into the distant past of this area – from prehistoric times to today's Green Austria. So make sure to take some time to explore Hallstatt Museum – it's worth your while.
Where To Stay In Hallstatt?
From luxury hotels to cheap accommodations like youth hostels and B&Bs, there is something for everyone. The best area to stay in is the historic center to get easy access to most attractions and to stick to your itinerary. Other good accommodation options are near the Hallstatt's marketplace or at the shores of Lake Hallstatter. If you want peace and solitude, there are great options with balconies and views of the lake a bit further from the center.
At What Time Does Hallstatt Shut Down?
Most restaurants and shops close at around 8 pm. Unlike other European cities where dinner time is usually around 10 pm, Austrians dine earlier in the evening. You will even have a hard time finding a spot for an after-dinner drink. Also, in Austria, shops are normally closed on Sundays and public holidays, but restaurants, groceries, and bakeries should be open for at least part of the day on Sunday.
Are There Any Festivals in Hallstatt?
Yes, the biggest festival is the Corpus Christi Boat Procession on Lake Hallstatt in summer which has been going on since 1623. You can get up close and personal with the beautiful religious procession as tour boats weave throughout the lake. Our favorite winter festivals in Hallstatt are the Krampus Run and the Hallstatt Christmas Market. Any of these festivals could secure a spot in the top 10 things to do in Hallstatt.
What Not to Do When in Hallstatt?
Don't disturb the residents! Hallstatt is well worth the visit, but it's important to bear in mind that the village and its residents have been affected by the influx of tourists. Many tourists believe that all of Hallstatt is a museum and thus invade the yards and gardens of residents to take a closer look at their homes. This has led to the installation of "no drones" and "no photography" signs on many of the houses.