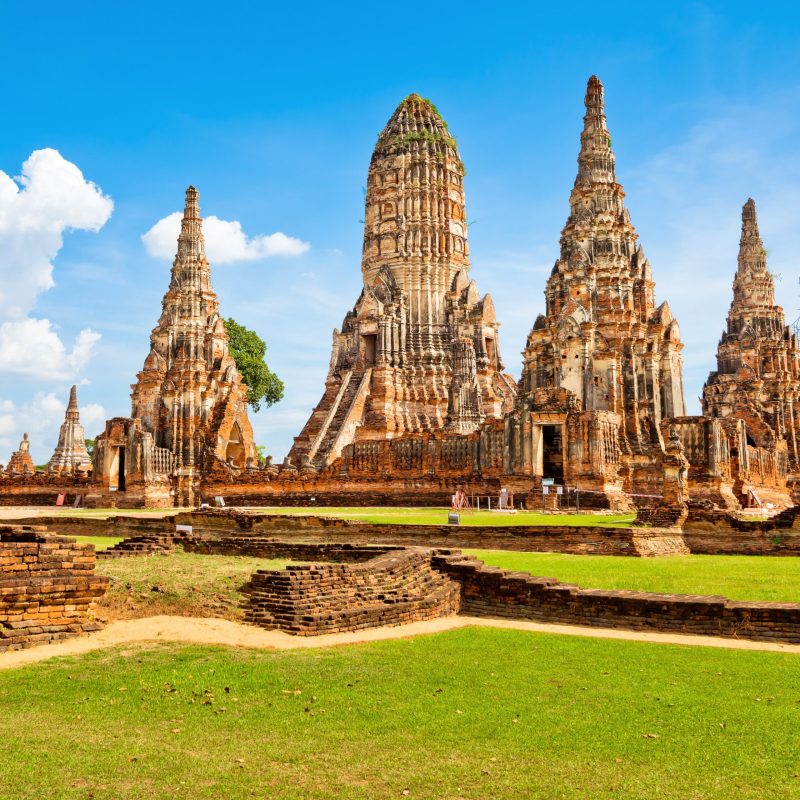 A mere hour north of Bangkok's sleek ultra-modern streets is Ayutthaya, a fascinating historic city frozen in time.
In 1350, Ayutthaya became the second Siamese capital in the kingdom. The metropolis remained an influential seat of Thai power until the Burmese invaded it. Today, it's a UNESCO World Heritage site and a captivating collection of antiquated chedis, pagodas, and temples.
Here are eight reasons to make time for Ayutthaya on your vacation to Thailand.
1. You Can Take A Bike Tour Back In Time
The best way to see Ayutthaya's iconic ruins is by bicycle. There are plenty of places that will rent you a bike by the day and give you a map of the old city so that you won't miss any highlights. Wear comfortable sneakers and plenty of sunscreen, since Ayutthaya can be scorching during April, May, and June.
Ayutthaya has a stray dog problem, and while these homeless pups may look like pets, they are often feral animals that may have had negative encounters with humans. They tend to cluster around the temples, especially at dusk. Do not approach them. If a street dog becomes aggressive, don't run. Instead, speak to it in an authoritative voice and back slowly out of its territory. If the absolute worst-case scenario happens and a stray bites you, get to the hospital immediately for a rabies vaccination.
Stray dogs are less of an issue during the day, and exploring Ayutthaya by bicycle is a perfectly safe option if you don't approach packs of animals. Plan to spend several hours touring the ruins. All of the ruins of Ayutthaya are phenomenal, but the highlight reel is especially remarkable.
Wat Chaiwatthanaram is a massive temple that contains an impressive array of Buddhas and some of the finest examples of Khmer architecture in Thailand. Wat Ratchaburana was erected in 1424 in honor of King Borommarachathirat's brothers, who both died vying for the throne. Wat Mahathat is easily the most famous temple in Ayutthaya, due to its unique Buddha relic. Nobody knows quite how the stone Buddha head got entangled in tree branches, but it's a beautiful and mysterious image that you won't soon forget.
2. You Can Stroll Through A Floating Market
The Floating Market of Ayutthaya is a celebration of Thai culture and regional food. Bursting with well over 200 shops and food stalls, it's open every day from 9 a.m. to 7 p.m. except on public holidays. You can get there by motorbike taxi or auto rickshaw for roughly 100 baht ($3.27), and you'll pay 200 baht ($6.55) to enter.
The experience is well worth the fee, since you'll spend hours wandering through the food boats and specialty shops. You might even catch a free reenactment of the Burmese sack of Ayutthaya. The reenactment is in Thai, but it's still worth viewing for the costumes and special effects.
There's an excellent chance that you'll run across some elephants while strolling through the shops and stalls, and you'll undoubtedly be able to pick up some unusual and inexpensive souvenirs as well.
3. The Street Food Is Fantastic
It's possible to eat like a king in Ayutthaya without ever setting foot inside a brick-and-mortar restaurant. This city of ruins is home to plenty of fragrant boat-noodle stalls, sweet steamed coconut puddings, and prawns the size of your hand. You can sample authentic homemade dishes for as little as 50 baht, or less than $2.
Although you can find fabulous street food at any time of day or night in Ayutthaya, if you want to sample local favorites in one spot, you'll need to visit the Bang Ian Night Market. Thailand's steamy daytime heat makes night markets the ideal place to cool off, browse for souvenirs, and eat delicious food.
From bowls of noodle soup to flavorful mango and sticky rice, you can sample it all at Bang Ian Night Market. Get there right when the sun sets for the best selection.
4. The Public Park Is Like Paradise
The center of Ayutthaya is dominated by a verdant oasis full of huge trees and beautiful structures, new and old, that give visitors a respite from the sizzling Thai sun. Rama Public Park is a rambling green space with plenty of shade and smaller temples, chedis, and pagodas.
Grab a Thai iced tea and pass a relaxing hour or two in Rama Public Park. It's a haven for local birds and other small animals, so you might have some curious creature company on your stroll. If you visit the park at dusk, watch out for stray dogs.
5. You Can Interact With Elephants
The history of Ayutthaya has always involved elephants, and you can see many references to the majestic beasts all over the city. The Elephantstay at the Royal Elephant Kraal Village offers a way to volunteer with these animals in a controlled setting.
The Royal Elephant Kraal Village does offer elephant riding, a practice that has been criticized by humane groups. Still, it's possible to avoid this activity altogether when volunteering at Elephantstay. Instead, you can focus on the other aspects of elephant husbandry, including feeding, watering, and interacting with the gentle giants.
Pricing information and details about how the Elephantstay operates are available online. Peak season is between November and May, so if you're planning on visiting during that time, be sure to book several months in advance.
6. You Can Enjoy An Evening Sail Around The Island
Ayutthaya is an island surrounded by three rivers — the Chao Phraya, the Pa Sak, and the Lopburi — and you can see plenty of the city's ruins from a long-tail boat at sunset.
Even if you've already explored Ayutthaya by bicycle during the day, an evening boat ride will give you a whole new perspective. Temples like Wat Phanan Choeng Worawihan are only accessible from the water and should not be missed. Many temples on the boat-tour route charge an entrance fee of roughly 50 baht, or a little less than $2. Be sure to carry a few hundred baht with you for fees and street-food snacks.
The boat tours end at Wat Chaiwatthanaram, a fabulous place to enjoy the sunset and serenity of the ruins.
Plenty of companies offer these evening boat tours, so don't be afraid to haggle. You shouldn't pay more than 200 baht, or roughly $7, for the trip.
7. You Can Experience A Traditional Thai Massage
While you're in Thailand, you'll want to pamper yourself with a traditional Thai massage. Thai massage relies on a specific method of compression and deep-muscle massage; it might leave you sore, but it will iron out all of your knots and leave you feeling limber.
Sala Ayutthaya is a phenomenal place to get a classic Thai massage, as well as other spa services, but adventurous souls should wander off the beaten path and in the direction of the Ayutthaya Train Station. There you'll find a nondescript row of massage parlors that specialize in Thai massage and will give you an hour-long session for between 200 and 300 baht, or less than $10.
8. It's Near The Beautiful Bang Pa-In Palace
Bang Pa-In Royal Palace isn't technically in Ayutthaya, but it's a comfortable 20-minute train ride south from the old city, and you can easily stop there on your way to or from Bangkok.
Open daily from 8 a.m. to 4 p.m., the palace is a colorful celebration of Thai culture with beautiful elephant-themed topiary. For 100 baht, or a little less than $4, you can wander the grounds and pastel buildings to your heart's content. The Bang Pa-In Palace is a charming and modern complex.
Despite its UNESCO status, Ayutthaya hasn't hit the tourist radar just yet. Why not visit this city before its popularity skyrockets? Put this old capital city on your Thailand bucket list!