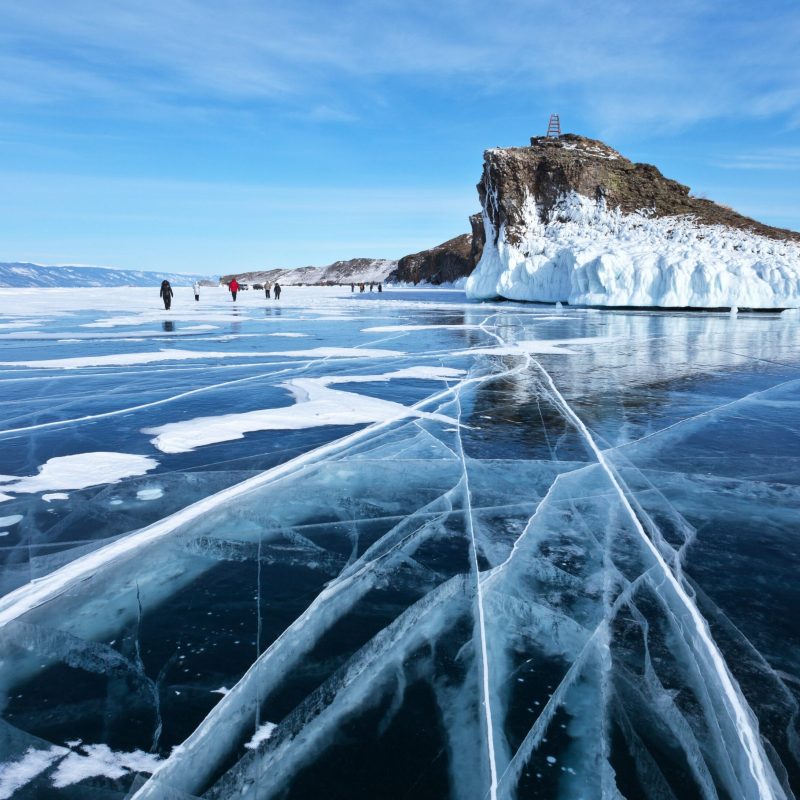 When you think of perfect winter and early spring vacation destinations, Siberia is probably not what comes to mind, but it should. Lake Baikal is a game changer, luring tourists away from balmy tropical beaches to marvel at its bright ice formations that gleam like tanzanite in the sun.
A vast, deep, ancient freshwater body, Lake Baikal, is known for its clear waters, winter sports, and brilliantly blue ice hummocks that make its frozen surface look like it's studded with precious gemstones. It's also important from a conservation perspective. This UNESCO World Heritage site contains 20 percent of the world's fresh water and upward of 1,500 different types of animals, 80 percent of which are unique to the lake.
March Is The Month To Visit Lake Baikal
Although summer is a nice time to do some hiking around the calm shores of Lake Baikal, March is the ideal month to visit. Temperatures in March hover around 16 degrees Fahrenheit, a pleasant break from the below-zero temperatures of earlier winter months. Although you'll still need a parka, gloves, and a thick scarf in March, you'll be able to check out the spectacular ice formations in relative comfort.
Most of the ice is still visible until May, when the average temperature climbs to 48 degrees Fahrenheit. Warmer lake and air temperatures mean that the hummocks are less prominent and spectacular. During the summer months, the hummocks vanish altogether as the lake ice melts.
Visiting Beautiful Lake Baikal
The closest city to Lake Baikal is Irkutsk, Siberia. You can fly into the city's international airport and be on the shores of Lake Baikal within a matter of hours. You have the option of arranging your own travels, which would involve taking the bus, or signing up for a tour from Irkutsk. If you want to spend more time marveling at Lake Baikal's fantastic formations or partake in some of the lake's winter sports, you can find accommodation right on its shores.
Although Lake Baikal isn't on the international tourist map yet, it's still advisable to book ahead. This is especially true if you're planning on traveling there between March and May, or are interested in spending New Year's or Christmas at the lake.
Things To Keep In Mind
The ice on Lake Baikal is tremendously thick, so you can technically venture out onto it if you visit during the winter months. If you want to walk amongst the turquoise-colored ice, make sure you consult a local guide ahead of time and adhere to any safety precautions. If you have any doubts, stay on the shore.
Frostbite is a health concern for those visiting Lake Baikal during the winter months. Try not to leave your skin exposed for too long, and get to a warm place right away if you experience any numbness or tingling in your extremities. There are hospitals in Irkutsk if you need them, but why spoil your vacation? Wear those extra-toasty wool socks and pack a good pair of mittens.
All ice has extraordinary reflective properties, and the vast expanse that covers Lake Baikal is no exception. Wear heavy-duty sunscreen, even if it seems counterintuitive in a cold climate.
Lake Baikal is truly one of the most remarkable places on the planet, from its amazing collection of animal life to its stunning ice hummocks. Don't miss this unparalleled natural wonder.