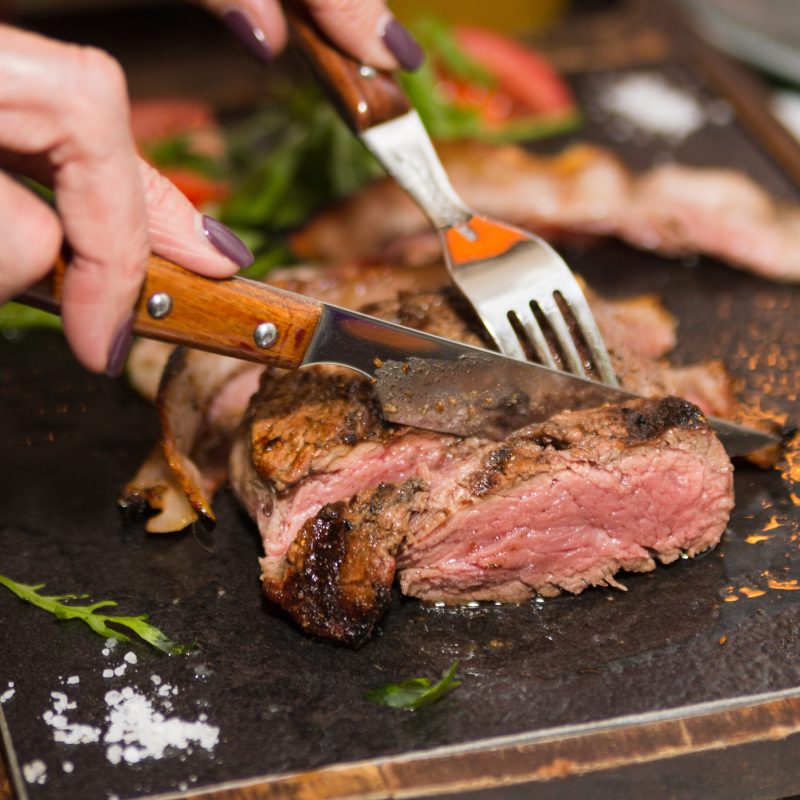 It's no surprise that beefy Omaha is an ideal spot to get a steak. What is surprising is just how many unbelievable steakhouses there are in Nebraska's largest city. Whether you're in the area on a quick business trip or you're catching a world-famous sporting event, Omaha steak will not disappoint.
Here are the best Omaha steakhouses, including classic favorites, modern iterations, and everything in between.
Omaha Prime
Omaha Prime is located in Omaha's main entertainment district, the historic Old Market. The restaurant is a white-tablecloth type of place, perfect for a special night out. Be prepared for a hefty bill and a nice dress code, since this is quite an upscale spot.
The service is impeccable, and USDA Prime steaks and chops are the only kinds of beef served (hence the name). Don't miss the extensive wine list and the four most popular main dishes: the bone-in New York strip, the tomahawk, the bone-in ribeye, and the bone-in filet. There are plenty of fish and poultry options available as well.
Omaha Prime offers a selection of side dishes, vegetables, appetizers, soups, and salads. Some knockouts are the blue cheese potatoes, the lobster bisque served in a puff pastry, the bacon sprouts, the bone marrow, and the sliced tomato and onion salad.
You can make reservations on Open Table or by calling the establishment.
The Drover
A longtime Omaha favorite, The Drover has inspired a cult-like devotion among its large following. Managers Buddy Goodman and Spike Sabin have expertly steered the establishment for decades and continue to do so with aplomb.
This central Omaha legend is best known for its marinated whiskey steaks. First-time visitors should be sure to try this classic menu item. The surf-and-turf steak and lobster is another excellent choice, as is the teriyaki tenderloin kabob with wild rice. For those who don't love red meat, options like crab legs, halibut, chicken, and pork chops round out the menu.
All dinners at The Drover are served with bread, soup or salad, and a choice of baked potato, French fries, or vegetable. The stocked salad bar is a great precursor to a main meal, and the soup options are different every day.
Be prepared for an old-school steakhouse ambiance, complete with a dark and cave-like interior. Overall, the prices are midrange, and guests can dress casually. You can make reservations by calling the restaurant at (402) 391-7440.
Johnny's Café
Not to be confused with West Omaha's Johnny's Italian Steakhouse, South Omaha's Johnny's Café, family owned and operated since 1922, is another classic steakhouse choice.
According to its website, the establishment is known for Midwestern, hand-cut, and aged-on-site beef selections. Menu favorites include the cowboy cut prime rib, native filet mignon, and T-bone steak. The lunch menu features everything from made-from-scratch soups and sauces to a variety of chicken and fish selections, which means that every member of your party will find something to enjoy. The restaurant also offers daily rotating specials, so be sure to ask your server about these for best value.
Overall, main courses cost between $15 and $40. For a more luxe dinner out, consider the hand-carved-at-your-table chateaubriand for $73.95. Reservations can be made by calling (402) 731-4774.
Brother Sebastian's Steak House & Winery
Inspired by the legendary hospitality of Spanish monks, West Omaha's Brother Sebastian's Steak House & Winery channels old-world vibes sure to charm any visitor. Expect your servers to embrace this theme and even don monastic habits!
Brother Sebastian's ribeye has been called the best in the city by the Omaha World-Herald, but numerous other items from the large menu stand out, too. The beef stroganoff, salmon fettuccine, and chicken-rolled asparagus are all winners. With the USDA Choice Angus steaks and prime rib available, it's easy to see why Brother Sebastian's is a must-visit eatery.
Appetizers (except the large platter options) are all priced at less than $10, while main dishes cost between $20 and $50. To keep prices in that middle range, dinners are served with a salad bar, bread, and a choice of either potato or vegetable.
Call (402) 330-0300 to make reservations.
Cascio's Steak & Pizza House
Cascio's Steak & Pizza House is a storied Italian steakhouse located on 10th Street just south of the Old Market district. One of the only remaining old-school steak joints in the city, this legendary restaurant has been serving up beefy goodness since 1946.
To get the ultimate Cascio's experience, order sautéed mushrooms and onions on top of your steak. Cuts available include sirloin, prime rib, porterhouse, strip, filet mignon, tenderloin brochettes, and more. Steak, chicken, and fish dinners come with a side of pasta and a baked potato for maximum leftover potential. The spaghetti sauce is especially famous and is slow-simmered for 7 hours before it is served. Dinner also includes a salad and breadsticks. Cascio's is a family-friendly establishment and offers a children's menu for the little ones in your party.
Italian menu items cost between $16 and $19, seafood costs between $20 and $28, and steaks and chops cost between $21 and $37.
For reservations, call (402) 345-8313. Please note that this steakhouse also offers large party rooms for private gatherings.
Monarch Prime & Bar
According to the New York Times, Monarch Prime & Bar is a can't-be-missed steakhouse experience. Notably, this spot, which opened in the fall of 2017, is the only one in town that dry-ages its steaks in house. It considers itself a modern take on the classic steakhouse.
Monarch is located in the stunning Hotel Deco, a 1930s renovated space that is one of Omaha's finest hotels, perched on the edge of the Old Market. The decor is sumptuous and lovely and should inspire diners to dress up a bit.
Besides the aforementioned dry-aged steaks, guests can expect a lively and inventive cocktail program, unexpectedly creative appetizers, and funky steakhouse sides. Menu standouts include the French onion dip, Wagyu prime rib, 60-day-aged tomahawk chop, baby red potatoes, beet salad, and pork shoulder.
For the ultimate, tailored Monarch experience, spring for the $75 chef's tasting menu with an optional $35 wine pairing; a reserve wine pairing may be added for $65. Please note that full-table participation is mandatory for the tasting menu.
You can make reservations online on Open Table.
Gorat's
Located in Midtown Crossing, Gorat's is best known for its most famous patron, Omaha's own Warren Buffett. But even ordinary visitors can experience this lovely steakhouse with its midrange price point.
Notable appetizers include the hand-battered onion rings, Midwestern tater tots, and creamy spinach dip. Menu favorites include the whiskey steak topped with crispy onion straws, the prime rib au jus, and the Omaha T-bone. Numerous Italian, seafood, and poultry options are also available and are cheaper than the red meat choices. Weekly specials are generally served with garlic roasted carrots with cranberry balsamic glaze and a house salad or soup.
Oftentimes on the weekends, you can enjoy your classic steak dinner with live music.
Make reservations on Open Table or on the app.
Anthony's Steakhouse
Next up is a family-owned spot, Anthony's Steakhouse. For more than 50 years, this old-school restaurant has been pleasing the palates of locals and visitors alike. And with its hand-cut, dry-aged beef, it's easy to see why.
Anthony's has all the elements of a classic steakhouse but with modern touches that help keep it relevant in today's dining scene. Appetizers like the burrata-stuffed meatballs and fig-and-prosciutto flatbread are winners. Entrées that shine include the tomahawk pork chop, prime rib, Wagyu short ribs, filet mignon, and veal Parmesan. The Atlantic salmon is delivered fresh daily, and favorite pastas include the rigatoni sausage and peppers and the baked lasagna. You can choose a soup, salad, or both, since they are offered à la carte on this midrange menu.
Reserve your spot on Open Table, or call (402) 331-7575.
Other Options
If you would like to experience a chain steakhouse while in Omaha, numerous favorites can be found sprinkled throughout the city. The Old Market area is home to Sullivan's Steakhouse, regional chain 801 Chophouse, and Spencer's For Steak & Chops. The Village Pointe area in West Omaha provides a Japanese twist with Kobe Steakhouse, while Regency Mall hosts Fleming's Prime Steakhouse & Wine Bar.
Can't make it to Omaha but still want to enjoy some world-famous steak? Look into delivery options at Omaha Steaks.
Planning a visit to Omaha? Start your day off right with a delicious brunch.