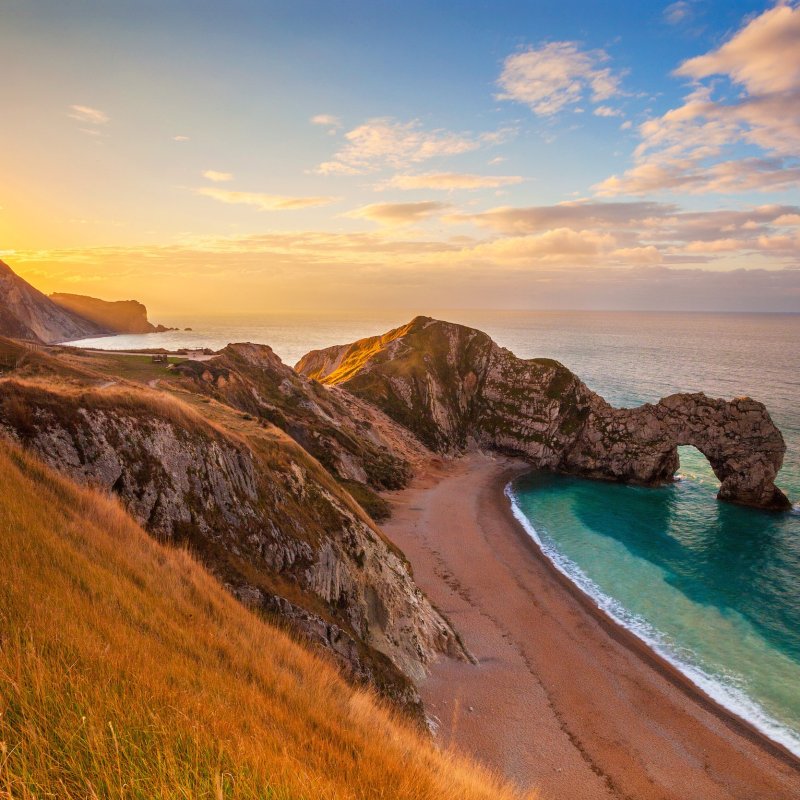 While London might be the seat of royalty and the crown jewel of the United Kingdom, there are plenty of other places to visit that are just as worth your time.
Here are some places where you can get the best of what England has to offer while avoiding the sky-high hotel rates and throngs of tourists. Brighton, Bath, and these other delightful destinations will show you that England is much more than Big Ben and Buckingham Palace.
Bath
From its creamy-complexioned Royal Crescent townhouses to the famed Roman baths from which it takes its name, Bath is a blockbuster of a stop. About 100 miles west of London and easily accessible by coach or train, the entire city is designated a UNESCO World Heritage site. Bath was built to be beautiful by Georgian-era architects and planners in order to attract spa-goers from all over Europe seeking restorative thermal waters. While no longer in use, the baths are a top tourist spot, with Roman ruins and artifacts on display. The nearby Bath Abbey is absolutely stunning and worth a visit, as is the Pulteney Bridge across the River Avon. Our best advice: Grab a scone or a pastry to go, and simply wander this walkable town, enjoying its many wonders.
Oxford
Oxford has been England's center of learning since the University of Oxford was founded in the 12th century. It is a city full of history and beauty, and you'll find something amazing around every corner. On campus, look out for the Bodleian Library and Radcliffe Camera, the Bridge of Sighs, and the Oxford Botanic Garden & Arboretum on the River Cherwell. Pack a picnic and rent a punt (a flat-bottomed boat) for a Cherwell cruise. When you've wrapped that up, stop into The Eagle and Child — the watering hole where J. R. R. Tolkien and C. S. Lewis once traded stories — and grab a pint to top off the quintessential Oxford day.
Cambridge
England's other famous university town, Cambridge, is a terrific city to add to your England itinerary. Stroll campus and stop into King's College Chapel, a 16th-century Gothic gem with stunning stained glass windows. Be sure to walk through The Backs, the gardens and parks behind Cambridge's colleges along the River Cam. A newer addition worth a peek is the hauntingly beautiful Corpus Clock, installed on campus in 2008. Of course, you'll want to grab a pint, too. Consider a pub stop at the Eagle, the spot where Nobel Prize winners Francis Crick and James Watson discussed their research on DNA.
Manchester
Located in North West England, Manchester has a lot of offer. The city is known for its industrial past, its lively music scene, and its rabid football (soccer) fans. Of course, rooting for Man City or Man U — the two big teams in town — is a great way to spend a few hours if you're into sports.
Manchester is also home to a variety of free museums, including the Imperial War Museum North, which traces the UK's involvement in conflicts from World War I through the present day; the Science and Industry Museum; and the Manchester Art Gallery. Bibliophiles must not miss the John Rylands Library on the campus of the University of Manchester — it houses a collection of rare books and papers, and the Gothic structure is simply gorgeous.
Halifax
Fans of the HBO series Gentleman Jack might consider visiting Halifax while they are in England. Located about 20 miles from Manchester, Halifax is the town where the show's real-life heroine, Anne Lister, lived in the early 1800s. You can still see her family's ancestral home, Shibden Hall, which is located in a public park, and even tour the inside. Admission costs £5 for adults, and the site is easily accessible via public transportation.
The wool trade and clothmaking were once top industries in Halifax; The Piece Hall was constructed in 1779 and served as a place where weavers could sell their goods. Now it plays host to an array of special events, including festivals and concerts. It also features a mix of independent resident shops, cafés, restaurants, and bars.
For the best view of the city and surrounding area, head to the Wainhouse Tower and get ready to climb. It was originally built as a chimney for a dyeworks factory, but it was never actually used for that purpose. During World War II, the 253-foot tower was used as an observation post. Today, you can take the 403 steps all the way to the top for some stunning views!
Jurassic Coast
Fancy yourself an Indiana Jones type? Channel your inner archeologist and head south to the Jurassic Coast. This UNESCO World Heritage site stretches nearly 100 miles from Dorset to Devon, and thanks to its geology and constant erosion, it has become one of the best places in the world to find fossils of all sorts. It's a gorgeous, rugged coast, dotted with rock arches and pinnacles.
Museums and visitor centers are located across the coast and provide fascinating and educational ways to break up your drive. Small towns along the Jurassic Coast, including Lyme Regis, Weymouth, and West Lulworth, offer holiday homes, cottages, and inns, all with breathtaking views.
This is a road trip most people haven't heard of, but it is absolutely worth taking.
The Cotswolds
If, when you think of England, you picture a charming village with stone cottages, traditional gardens, and a small river running through it all, you'll love the Cotswolds. The region, a popular weekend getaway located west of London, emcompasses several counties and rolling, gorgeous farmland. The tiny towns there are ideal places to escape the city and enjoy the quiet.
Tourists flock to Bourton on the Water, with the idyllic River Windrush cutting through it. It is well known for its green spaces, cafés, and ancient pubs. The Slaughters (Upper and Lower) are both ancient mill towns and also lovely. Accommodations include bed and breakfasts and self-catering cottages; even glamping options abound here.
Spend a day or two — or your entire holiday — in the Cotswolds to really get away from it all.
The Lake District
Tucked away in the far northwestern corner of England is one of the country's most scenic and rugged regions. The Lake District refers to both the national park and the UNESCO World Heritage site, where you'll find England's tallest peak, the often-hiked Scafell Pike (3,209 feet), and the country's deepest lake, Wastwater (243 feet). The Lake District National Park consists of more than a dozen lakes and is the perfect place to hike, kayak, and bike. There are plenty of accommodations available inside the park.
Coniston is one of the more popular villages within the district and is a great place to set up camp during your trip. The town was built around Coniston Hall, a 16th-century farmhouse, and today, you can grab a cocktail at the Black Bull Inn, a 400-year-old coaching inn.
The entire area is steeped in history and offers unmatched natural beauty: It's a win-win!
York
This walled city in North East England has ancient roots. The Romans who founded it called it Eboracum; Saxons and Vikings eventually passed through, and all left their distinct imprints behind. The city's medieval streets and buildings are well preserved and marvelous. First constructed in the 7th century, the York Minster is one of the globe's most magnificent cathedrals. The current edifice was completed in 1472, and it contains one of the largest collections of medieval stained glass in the world, including a breathtaking rose window. Built by William the Conqueror, Clifford's Tower provides a spectacular view of the city. And the National Railway Museum gives visitors a chance to see how the royal family once traveled the rails.
If you'll be staying a few days, consider a York Pass, which allows entrance into nearly 50 of the city's top sights for a fixed price (starting at £60 for adults).
Brighton
For a beachy English excursion, head to the southern coastal city of Brighton. This delightful seaside spot has been a favorite of royals; stop by the Royal Pavilion to get your history in and see why King George IV loved this spot so much. Then head to the Brighton Palace Pier for a bit of boardwalk fun before rolling up your cuffs and heading to the pebbly beaches that surround the city. Be sure to keep your sandals on, and check the temperature before you go. The Channel waters might be too chilly to swim in, but Brighton is the perfect place for an oceanfront stroll.
Planning a trip to London, but want to see what else England has to offer? Take one of these eight amazing day trips from the capital city, and be sure to check out our tips for renting a car in England.