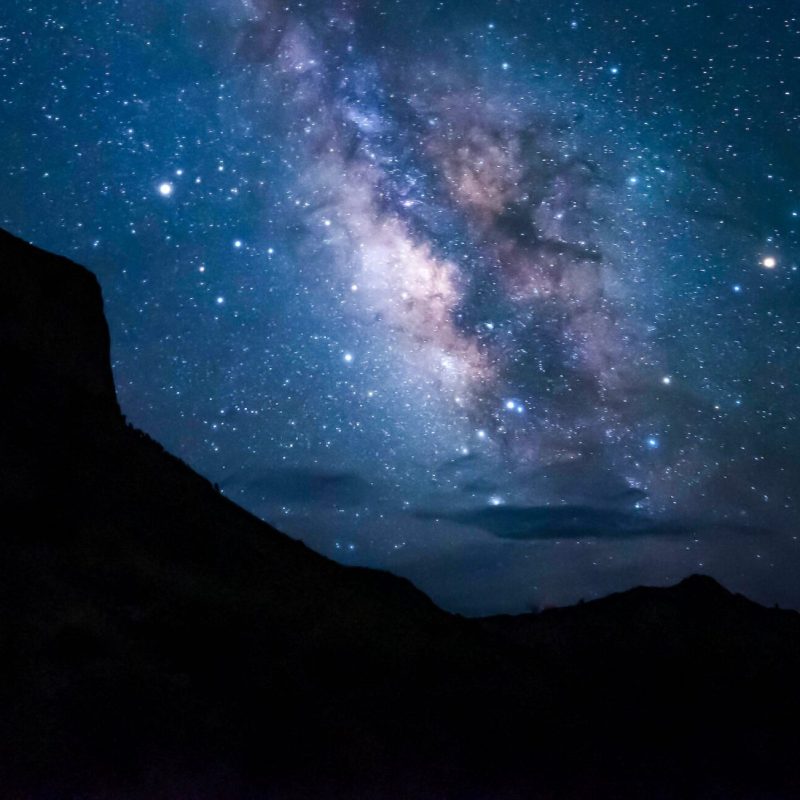 Sometimes it's the city lights that prevent us from seeing the stars that hang above in their dazzling wonder. Sometimes it's tree lines that keep you from enjoying the natural sparkle of those other suns so many millions of miles away.
Wherever you live, if you experience lackluster nighttime views, you can plan to travel to these stunning Dark Sky parks, reserves, and sanctuaries to bask in the glorious glow of the stars.
1. Death Valley, California
This already famous national park is ranked as an official Gold Tier Dark Sky Park — meaning that you'll get some of the clearest, brightest views of starry splendor accessible in the United States. The park is far enough away from the city lights of the Southwest to provide a near-pristine night sky. The rugged wilderness lends a stunning backdrop to various viewing spots, while the absence of artificial light sources around the park provides visitors with the opportunity to watch meteor showers, falling stars, and other wonders of the darkness without obstruction.
Peak seasons for stargazing here are winter and spring months and park rangers offer stargazing events you may want to join in on.
2. Breckenridge, Colorado
If you're considering a Colorado vacation spot, put Breckinridge at the top of your list. You'll find more outdoor activities than you could ever do in a month and one of the best stargazing spots in the country.
According to locals, Sapphire Point in White River National Forest is one of the absolute best places for stargazing in Summit County. The low light pollution — despite being so close to town — makes this beautiful spot what it is. Head to the top of Swan Mountain; it's an easily accessible location for night sky views.
300 days a year of at least partial sunshine in the area means clear skies most nights, too, and that means a nearly guaranteed clear view of the Milky Way almost every night of the year. To make your evening even better, arrive early to catch the stunning sunsets over the Gore Range.
3. Big Bend National Park, Texas
Near the Mexican border in the far western stretch of Texas, you'll find Big Bend National Park, one of the Dark Sky Parks in the U.S. that can claim low-light pollution and skies so clear you can see stars for miles. The harsh desert, river valleys, and mountains of the national park mean the location has some of the most stunning views in the nation and make it a Gold Tier-certified stargazing spot. In fact, according to the National Park Services, the park has the lowest light pollution in the nation — and that means the darkest skies.
The park offers a huge range of flora, fauna, and birds within its 800,000 acres, with ancient rocks to scramble across and incredible vantage points for stargazing after a long day's hike along the many mountain, river, and desert hiking trails. Ranger programs including stargazing events are available.
4. Blue Ridge Observatory And Star Park, North Carolina
Those looking for a stunning night sky in the eastern U.S. will want to head to North Carolina and the Mayland Earth to Sky Park and Bare Dark Sky Observatory. The park was named the first southeastern International Dark-Sky Association destination thanks to the efforts of the Blue Ridge Astronomy Group and others who support the park.
The park is operated by Mayland Community College and has been specifically crafted for visitors' nighttime viewing pleasure. The observatory is lit with specially designed, fully shielded, low-color-temperature lights to improve lighting conditions for astronomical viewings.
You'll be able to view the planets, moon, and stars through the 34-inch-in-diameter Sam Scope and a smaller planetary telescope for up to two hours. You need to purchase tickets in advance through the Observatory and Star Park's Eventbrite page. All viewings are scheduled around the moon cycle in blocks of two hours at times that ensure the best viewing experience possible.
5. Chaco Culture National Historical Park, New Mexico
Chaco Culture National Historical Park has made a solid commitment to reducing light pollution, which, combined with the park's natural nighttime darkness, landed it on the Dark Sky Park list in 2013. The park has been working with the Albuquerque Astronomical Society since 1991 to provide the darkest environment possible for astronomical viewings. The park even boasts a domed observatory that maximizes night sky viewability.
Night skies aren't all the park has to offer. Ancient Chacoan monumental sites include a scattering of pottery, painted and pecked images on canyon walls, and other archeological remnants that invite you to develop an understanding of the ancient world of the Pueblo people.
The park offers a range of astronomy programs for tourists to enjoy on Friday and Saturday nights between April and October. There are also star parties and special events centered around the solstices and equinoxes each year. Check the park's calendar and plan your visit accordingly.
6. Headlands International Dark Sky Park, Michigan
If you can't make it to Alaska or Russia this year but are dying to see the Northern Lights, you'll want to book a trip to Michigan, where you'll find clear skies and Northern Lights aplenty. Headlands International Dark Sky Park offers stunning, clear views of the Northern Lights (it's one of the best aurora borealis viewing points in the contiguous United States) and dazzling stars.
Like other Dark Sky Parks, Headlands has a protected light zone that prevents new light pollution from being introduced in a given radius. It's hard to predict when you'll catch the Northern Lights here as they're a natural phenomenon that does its merry thing, but there are some websites you can use to semi-predict when to make your way out for the evening. And even if the aurora borealis escapes you, the amazing star-spangled skies are always a thrill.
The park is close to Mackinaw City, Michigan, and the charming Mackinac Island just offshore. If you plan to stay there, be sure to check schedules before planning your adventures in the area as the island's horses — the primary transportation on the car-free island — start to leave for the winter in October.
7. Natural Bridges National Monument, Utah
If you want to visit the world's first Dark Sky Park, you're in luck. Natural Bridges National Monument in Utah earned this award in 2007, thanks to its clear, dark skies. The preserved Pueblo site, its three natural bridge formations, and the intriguing solar panel field all add to the interest of the park and hiking trails by day, while gorgeous views of the Milky Way galaxy will keep you inspired by night.
Quick Tips For Improving Your Dark Sky Experience
There are a few things to consider as you prepare for your stargazing trip. First, be sure to plan your trip around the new moon to ensure the darkest skies possible. Second, when you get to your viewing point, be sure to give your eyes about 30 minutes — without turning on any lights, including screens — to adjust. This will help ensure you have the best views of the stars. Finally, always use a red flashlight instead of standard white light when you're making your way around your Dark Sky destination.
Headed to a national park to see the stars? Here's how to get a National Parks Senior Pass, plus the five things tour guides, vets, and park rangers wish visitors would stop doing at national parks.