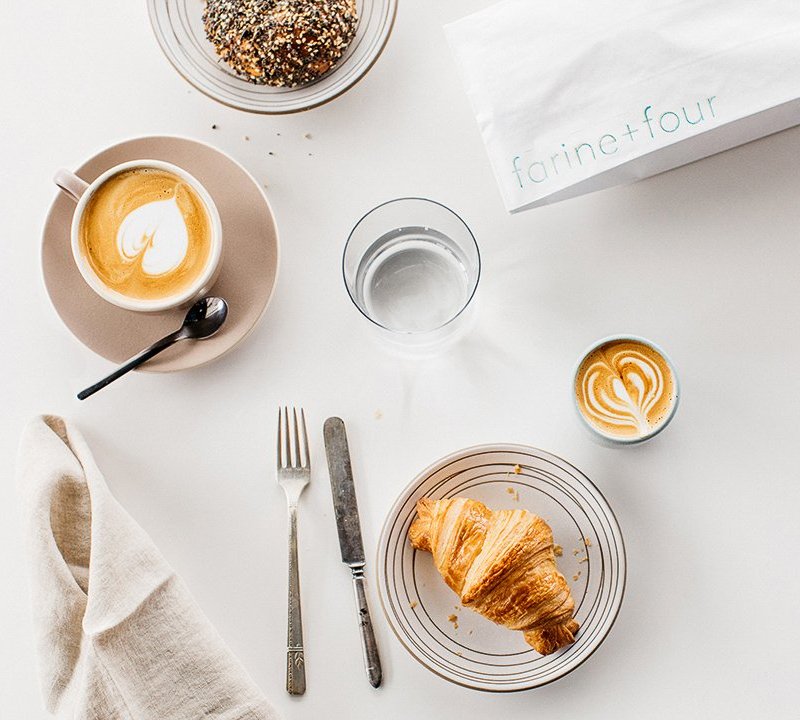 Brunch is always a good idea, and there's nothing like a solid brunch experience to complete a weekend getaway. Omaha, Nebraska's largest metropolitan area and economic hub, offers plenty of delectable brunch options for visitors and locals alike. This under-the-radar gem of a small Midwestern city is home to a surprisingly elevated food scene. For the first meal of the day, your options include a hipster café in a renovated gas station, Nebraska's only all-organic bakery, a Midtown greasy spoon, a trendy West Omaha spot offering homemade toaster pastries, and more.
Here are the best of the best brunch eateries in Omaha in no particular order.
1. Saddle Creek Breakfast Club
This Midtown restaurant has been making waves in the breakfast scene since its 2017 debut. Saddle Creek Breakfast Club is a hip restaurant with an inventive menu and locally roasted coffee. It makes use of seasonal produce, so its offerings change regularly, but visitors can expect a couple heavy-hitter favorites to always be on hand. These include the popular chorizo gravy with crème fraîche biscuits and the eggs Benedict with braised short ribs, soft poached eggs, traditional Hollandaise sauce, and sweet-and-spicy jalapeño jam. For a plant-based delight, try the tofu rancheros with barbecue jackfruit or the yummy chickpea omelet. These items are well worth the hour-long wait, and they all cost approximately $10.
2. Pitch Pizzeria
Don't discount this restaurant simply because it's also famous for its pizza. Pitch, with locations in both Dundee and West Omaha, has recently expanded its breakfast menu full of mouthwatering selections. From the charming mini-bottle-service mimosa to the funky fig marsala waffle, this establishment really has it all. Plus, for those more in a lunch mood, the best items from the lunch menu are also available, so fans of the Calabrese meatballs and roasted Brussels sprouts won't be disappointed. Pitch conveniently accepts both reservations and walk-ins at both Omaha locations.
3. Over Easy
Another favorite that's newer to the scene is Millard's Over Easy. This West Omaha haunt is perhaps best known for its homemade toaster pastries. The available flavors rotate seasonally and generally include a decadent Nutella option. Other favorites from the large menu include the cast-iron-crafted Dutch baby pancake, loaded breakfast naan, and vegetarian-friendly rosemary biscuits with gravy. A bonus? This spot boasts a drive-through for maximum convenience.
4. Carter & Rye
This brunch spot is actually a pop-up operation that is regularly available at the Omaha Farmers Market in Aksarben Village. Carter & Rye is a female-owned venture that offers both sweet and savory pastry items as well as specialty cold-brew coffee. The hot pockets are unreal, especially the creative kimchi, sausage, egg, and cheese combination. Other options rotate weekly and have included a Reuben as well as cheesy hash browns and dill. Carter & Rye also offers traditional fruit hand pies in flavors like blueberry, raspberry, and strawberry rhubarb. Catch them on Sunday between 9 a.m. and noon from May through October.
5. Leo's Diner
While elevated, fancy brunch is now the norm, there's nothing quite like a classic diner breakfast experience. Enter Leo's Diner in the Benson enclave, the best greasy spoon in Omaha. The specials rotate daily, but longtime favorites like the loaded hash browns never disappoint. The portion sizes are gigantic, the coffee is weak, and the ambiance is dilapidated charm at its finest. Give Leo's a look for a no-frills breakfast adventure. Just be aware that this restaurant accepts walk-ins only, so you can expect a bit of a wait.
6. Farine + Four
This airy bakery is the brainchild of Nebraska-born Ellie Pegler. She trained and worked in New York for years before moving closer to home to open her organic bakery. Her small, curated menu doesn't disappoint when it comes to breakfast offerings. There's an Insta-worthy matcha croissant, vibrant beet toast, a lox-topped bagel, and a luscious egg breakfast sandie. Other options rotate weekly based on the fresh produce that's available, but Farine + Four really shines when it comes to baked items, particularly the baguette. You'll also love the full coffee bar and the sweet-treat options.
7. Early Bird
The trendy Blackstone District is home to another great brunch spot in Omaha, Early Bird. This eatery offers a retro vibe alongside its large and satisfying menu. Favorites include the tater-tot breakfast nachos, pancake flight, and breakfast burger. Early Bird also nails it with its a.m. cocktail list. There are traditional picks like mimosas, bellinis, and Bloody Marys as well as spiked coffee beverages and a slew of inventive drinks. Plus, with its cute tagline, "The early bird gets the pancake," it's easy to see why this spot is so well liked.
Tip: Reserve your spot in line using Yelp's waitlist tool. It will significantly decrease the time you spend waiting outside the restaurant.
8. Lisa's Radial Café
Lisa's, nestled on the edge of the historic neighborhoods of Bemis Park and Josyln Castle, is a divine brunch establishment in Midtown Omaha. It offers another old-school diner-type experience with tons of regular customers, heaping portion sizes, a low price point, and the standard weak coffee. The large menu can be a bit overwhelming, so consider trying the Radial Breakfast Sandwich or build-your-own-omelet option. Another sure winner is the aptly named The Heavy, which consists of homemade sausage gravy drizzled over biscuits or hash browns. Like any good breakfast dive, Lisa's Radial Café will leave you full and satisfied for roughly $10.
9. Louie M's Burger Lust
Despite what its name suggests, this eatery excels at more than just patties. Louie M's is a longtime South Omaha favorite. As a nod to the immigrant populations that have historically called the neighborhood home, the spot turns out excellent Mexican entrées. The chorizo scramble, huevos rancheros, and burrito are all excellent. Other favorites include the sweet strawberry French toast and savory spinach and feta omelet. Diners can expect to spend $12 or less on a larger-than-usual-size dish.
10. Railcar Modern American Kitchen
Another West Omaha pick, Railcar takes brunch to the next level. The $15 unlimited mimosas or Bloody Marys make it a popular destination for Sunday Funday. And the food is not to be missed, either. Favorites include the sausage and egg melt, the croque madame (French grilled cheese on steroids), and the fried chicken and waffles. For best results, share an à la carte lemon ricotta pancake with your table. It offers just enough sweetness to balance out a savory main brunch dish.
11. Culprit Café
This spot has both a downtown Omaha and a Midtown Crossing location. The focused but delicious menu features artisanal coffee, baked goods, breakfast classics, and brunch cocktails. Be sure to try the Sunday Morning Sidewalk beverage, which combines espresso and tequila. For meals, the biscuits and gravy or MXT breakfast sandwich won't disappoint. At Culprit, expect the quiche flavor to rotate daily, and consider an order of housemade beignets for your table to split. The lunch menu is available at the same time as the breakfast options.
It's easy to see that Omaha's brunch scene is a well-developed culinary treasure, offering trendy spots to classic diners and everything in between. Travelers and locals alike can expect to be satisfied with their breakfast experience in Nebraska's largest city.