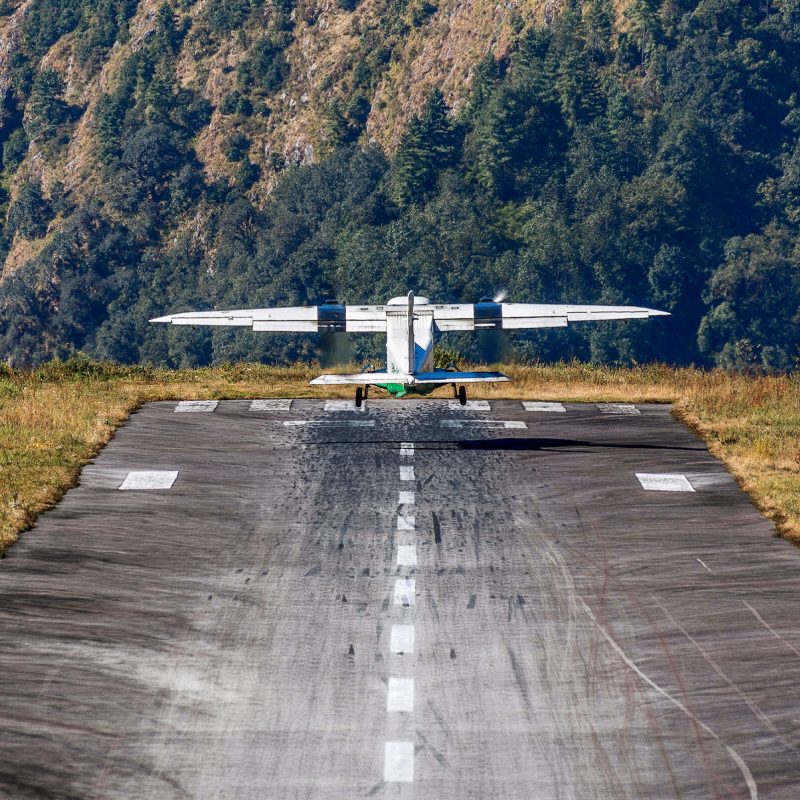 Whether you are thrill seeking, risk averse, or simply airport curious, here's a list that will put you on the edge of your seat. All of these airports share the characteristic of a shorter-than-average runway (a typical runway for a commercial jet is between 8,000 and 13,000 feet), but also have unique quirks that make them their own brand of scary. And while many of these airports have an unfortunate history of accidents, some actually have great safety records.
Read on to see which places you will be adding to (or removing from) your upcoming travel plans.
Low-price guaranteed on Viator
1. Tenzing-Hillary Airport
Lukla, Nepal
Flying into this Mount Everest-region gateway airport in Lukla, Nepal, may require more bravery than actually climbing Mount Everest. Perched at an elevation of over 9,300 feet, this airport's single runway is just 1,729 feet long. One edge of the runway terminates into a sheer cliff that planes must clear during takeoff, and the other end is capped by a stone wall set against a mountainside that landing planes must brake quickly to avoid.
Add this to strong winds and heavy clouds that consistently plague the airport, and you've eliminated all room for error. Unfortunately, the Lukla airport has an accident record that reflects its risk factors. The Aviation Safety Network reports seven incidents at or near the airport since 1973, including a 2008 crash that killed 18 people. In April 2019, three people died when a plane veered off the runway and hit a parked helicopter.
2. Toncontin International Airport
Tegucigalpa, Honduras
A short runway (7,096 feet) and mountainous terrain are also responsible for white-knuckle approaches and departures at the Honduran capital's Toncontin International Airport. The mountains surrounding this airport make direct approaches impossible, so planes must make a sharp 45-degree turn and then descend rapidly to land on the mountain valley runway.
Departures require a super-speedy ascent to clear the mountains. The 1989 crash of a Boeing commercial plane at Toncontin killed 132 people, and the Aviation Safety Network reports 10 accidents at or near the airport since 1962. The good news is that the CAPA Center for Aviation reports that nearby Palmerola International Airport, which will be better equipped to handle large international flights, is slated to open later this year, and will serve as Honduras's new international airport.
3. Paro International Airport
Paro, Bhutan
While many consider Paro Airport the world's most difficult airport to land a plane, the dramatic views of mountain peaks and hillsides dotted with idyllic mountain villages also make it one of the most beautiful. This small airport sits in a narrow valley among the Himalayas and the 6,500-foot runway is blocked from sight by a steep ridge during the majority of the approach.
The airport only operates during daylight hours because landing requires pilots to turn off autopilot and rely on visual landmarks to navigate the terrain. Fewer than 20 pilots are trained to land here, and the rigorous training seems to be paying off, as this airport has a squeaky clean accident record.
4. Telluride Regional Airport
Telluride, Colorado
Flying into the highest airport in the United States used to require booking a charter flight or flying a personal aircraft, but in the past year, the Telluride Regional Airport, which is perched at a 9,078-feet elevation, has added daily 30-seat commercial jet flights to and from Denver.
Folks who can stomach the strong turbulence on the descent to this airport's short 6,911-foot runway — which is flanked on both ends by sheer cliff drop-offs — will be rewarded with convenient access to this Colorado playground for ski enthusiasts and summer festival lovers. Despite the dramatic landing conditions, Telluride Regional has no reports of fatal accidents.
5. Cristiano Ronaldo Airport
Santa Cruz, Portugal
Every successful landing at this oceanfront airport on Portugal's island getaway deserves a toast — with Madeira wine of course. The original runway at Cristiano Ronaldo Airport was just 5,249 feet long, but through impressive feats of engineering the runway now extends beyond the island's shores via a platform supported by 180 columns, and measures 9,124 feet.
However, the real challenges at this airport are the strong winds coming off the Atlantic Ocean on one side of the runway, coupled with the rocky volcanic terrain on the other, which can make for some truly hair-raising turbulence during landing. Pilots who fly into the Madeira airport must complete advanced training on a simulator. The last fatal accident at the Madeira airport was in 1977, long before the runway was extended.
6. Gibraltar International Airport
Gibraltar, British Overseas Territory
The runway at the airport in Gibraltar, a tiny British territory located on the southern tip of Spain, has all the makings for a scary landing. The single runway is just over 5,500 feet and is flanked on either end by the sea. Strong winds, particularly in the winter, add to the challenge of landing. But the most unique risk factor of this runway is that one of Gibraltar's major streets runs right through it, forcing vehicles to wait at a red light whenever a plane flies in or out. Luckily, the citizens of Gibraltar seem to take yellow lights seriously at this intersection, as the airport has had no recent major accidents.
7. Congonhas Airport
Sao Paulo, Brazil
Flying into this domestic hub in Sao Paulo is a good way to live out Superman fantasies of flying among tall buildings. Nestled between skyscrapers in a heavily populated area of this sprawling city, Congonhas airport is also known for slippery conditions that are the result of drainage challenges on its two relatively short runways (which are 6,365 and 4,708 feet long). In 2007, a flight overran a runway at Congohas during rainy conditions, killing all 187 passengers and crew as well as 12 people on the ground. Drainage and surface improvements have been added since then and have prevented any more fatal accidents since then.
8. Princess Juliana Airport
San Maarten
This Caribbean island airport provides endless, and sometimes hazardous, entertainment for beachgoers at San Maarten's Maho Beach, which sits at the end of the airport's 7,546-foot runway. Approaching aircraft fly right over the beach, making for great photo opportunities, but it's the planes preparing for takeoff that create the real risk. Thrill seekers like to stand along a fence that separates the beach from the airport to catch the strong engine blast from departing jets, which has led to numerous minor injuries. In 2017 a woman was killed after being thrown in to a retaining wall by a jet engine blast.
Seeking less risky thrills on your next vacation? Check out our tips for first-time zip liners, plus nine adventurous things to do on Kauai.