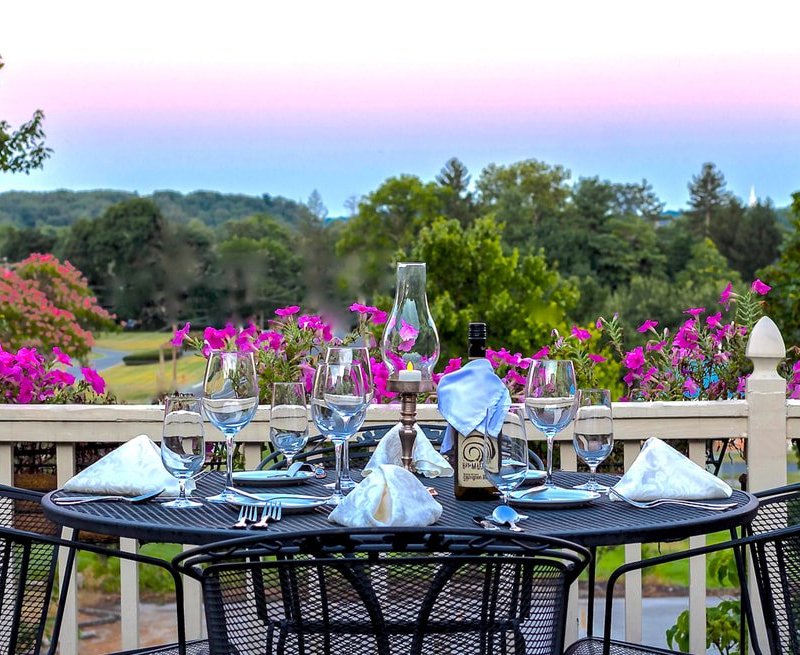 Though Gettysburg is only a small town, its food scene packs a powerful punch. There are cute coffee shops dedicated to roasting only the finest beans; funky pubs; quirky retro pit stops serving up fries, cheesesteaks, and cheap pancakes; pizza joints; cool breweries; farm-to-table restaurants; worth-the-line ice cream counters; and historic inns serving up old-fashioned fare and ghost stories at the same time. Whether you're in the area for a serious academic pilgrimage or just passing through the famous town as part of a bigger road trip, you'll be sure to find something there to satisfy your taste buds and your wallet.
A word of warning: The word has long been out about Gettysburg as a tourist attraction, and its reputation as a foodie destination has been steadily growing. Lines for tables are common during peak dining times in the spring, summer, and early fall. Arriving a bit early or — even better — calling ahead for a reservation will help you make the most of your time.
1. Gettysburg Baking Company
Vanilla lattes, old-fashioned hand pies, creamy café au laits, and extra-gooey pecan sticky buns are some of the delectable treats you'll find at Gettysburg Baking Company. The company also offers a small selection of lunch items, including sandwiches, soups, and salads.
2. Eighty Two Café
Eighty Two Café is another tempting destination for coffee lovers — the store roasts all of its coffee in house. People take their java VERY seriously here! But there's still plenty of fun to be had, especially on Thursday trivia nights. Strawberry shortcake muffins, peanut butter brownies, and orange cranberry bread round out the offerings.
3. Hunt's Battlefield Fries
Well known for its fries (surprise, surprise!), messy sandwiches (messy in a good way, that is), and burgers, Hunt's Battlefield Fries is a great greasy-spoon breakfast joint. The French toast is great, as is the little-bit-of-everything retro-style decor.
4. Dunlap's Restaurant
Open as early as 6:30 a.m. to serve the early birds, Dunlap's Restaurant is a great stop for classic breakfast platters in Gettysburg. Nearly everything on the menu is under $12 (most breakfast selections are under $6). A stack of pancakes with coffee costs just $4! Be sure to pick up a slice of shoofly pie before you go.
5. Garryowen Irish Pub
There's an Irish pub in every corner of the world, and Gettysburg is no exception. Shepherd's pie, bangers and mash, Ulster fry-ups, traditional beef stew, and chicken in an Irish cheddar and whiskey sauce are all good choices at Garryowen Irish Pub. Live music is available most Friday and Saturday nights, plus the first and third Sundays of each month.
6. Gettysburg Eddie's
A fun sports bar, Gettysburg Eddie's is the place to go for loaded nachos, deep-fried pickles, cheesesteaks, burgers, and hero sandwiches. Happy hour is every day from 4 p.m. to 6 p.m. and includes discounted appetizers and mixed drinks. The low-key atmosphere and children's menu make it great for families.
7. Tommy's Pizza
Families have been heading to Tommy's Pizza since the 1970s for inexpensive pizzas, subs, gyros, and salads. The store offers delivery as well, so if you're eager to relax in your hotel after a long day of exploring, all the yummy treats will come to you. The sauce-free Greek pizza with feta, spinach, tomatoes, oregano, garlic, and olive oil is the house specialty.
8. Appalachian Brewing Company
This hugely popular location (translation: Show up early!) is 10 minutes outside of town. It's famous for its locally brewed beer and huge servings. The beer-battered fish and chips, yurt burger, and stout-infused s'mores pie are all delicious.
9. The Pub & Restaurant
Located in the center of Gettysburg, The Pub & Restaurant is a bit on the touristy side of things, but it makes up for that with a lengthy menu and a prime location. The restaurant offers everything you can imagine: flatbreads and stuffed pretzels, hot and cold sandwich platters, made-to-order pizzas, and lavender-blueberry cheesecake. It's definitely a spot to hit up when you're part of a large group of people with different food preferences.
10. Food 101
Focusing on local food, Food 101 sells fresh salads, artisan pizzas (including fennel, sausage, and broccolini pizza with roasted garlic oil — yum!), and a good assortment of sandwiches and burgers. This is a great spot for vegetarians, both for the selection of meat-free dishes and also because the flexible staff members are more than happy to come up with veggie dishes on the spot if you have a hankering for specific ingredients.
11. Hickory Bridge Farm
On Fridays, Saturdays, and Sundays, this 165-year-old barn outside of Gettysburg serves up family-style meals including fried chicken, baked ham, corn on the cob, and apple crisp. Reservations are essential. If you're lucky enough to be staying at the property's bed and breakfast, you'll get a full breakfast each day of the week except Sunday — when a basket of breakfast goodies will be delivered directly to your room!
12. Dobbin House (Springhouse Tavern)
For serious history buffs, Dobbin House, located in the oldest building in Gettysburg, is the most important foodie stop in town. It played a role in the battle itself (as a makeshift field hospital), and before that, it was a clandestine stop on the Underground Railroad. It's also an inn, and the staff members offer free tours of the building so that you can absorb all the unique stories that the house has accumulated over the centuries.
Inside, foodies can choose to dine at the casual Springhouse Tavern (go for the onion soup, the spit-roasted chicken, and the apple pie) or in the formality of the Alexander Dobbin Dining Room.
13. The Inn At Herr Ridge
Directly across the street from a Gettysburg battlefield, The Inn at Herr Ridge is one of the most historic restaurants in town. In fact, it served as a Confederate hospital during the Civil War. Reservations and smart dress are a good idea at this fine-dining establishment. Braised lamb, pan-seared scallops, grilled pork chops, and filet mignon (nearly all of it local) are prominent on the menu, but the real star of the show is the spectacular wine cellar. It's considered to be one of the best in the United States. Introduce yourself to the sommelier and get ready to try some exciting wines with your dinner.
14. Farnsworth House Inn (Sweney's Tavern)
More than 100 bullet holes scar the stone walls of the Farnsworth House Inn. The building served as a stronghold for Confederate sharpshooters and as a hospital after the battle. Perhaps these are the factors that have contributed to it being named one of the most haunted inns in America! Sweney's Tavern on-site features old-fashioned eats (goober peanut soup, homemade meatloaf, and game pie) as well as wraps, sandwiches, and salads and a delicious selection of desserts. A meal there is a good way to enjoy the spirit of the property without actually having to encounter any spirits!
15. Mr. G's Ice Cream
Who says you can't eat a full meal at an ice cream joint? They've got dairy. They've got fruit. And isn't the cocoa bean practically a legume? This is the kind of "I'm all in!" thinking you need to have at Mr. G's Ice Cream. The chocolate peanut butter soft-serve sundaes, the root beer floats, and the butter pecan ice cream (in a waffle cone, of course) are especially good. Note that the store closes just before Christmas and generally reopens the first week of March.
Photo Credit: HAKINMHAN / Shutterstock