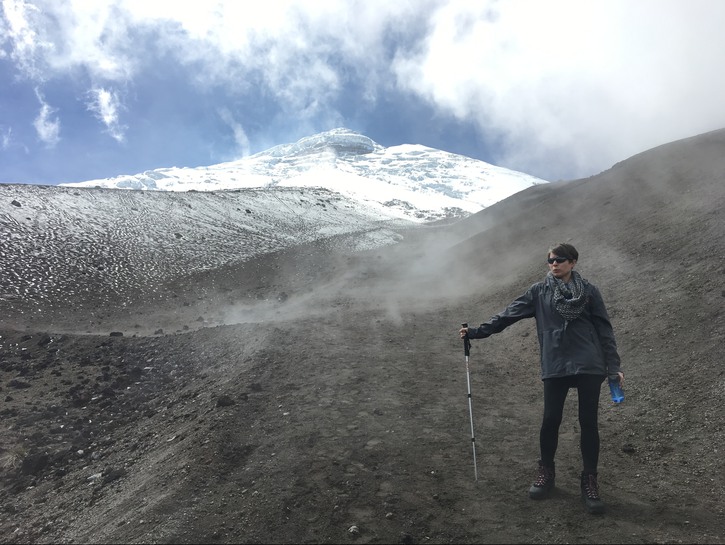 Quito, Ecuador, is a high-altitude, high-energy city. Ecuador's capital sits nestled in the Andes Mountains, and is a popular stopping point for tourists on their way to the Galapagos. Its historic center, heavily influenced by both Catholicism and colonialism, is a UNESCO World Heritage site. There's plenty to see and do in the world's second-highest capital city.
That said, a visit to Quito just isn't complete without one more thing: an epic volcano adventure. It can be done in a single day, it isn't too taxing, and it will leave you with memories (and photos) that will rival any from your previous travels.
Here's how to conquer Cotopaxi, one of the world's tallest and still-active volcanoes.
How To Climb Cotopaxi: Go With A Guide
Cotopaxi is located about 50 miles south of Quito. While it is accessible by bus, we do not recommend a DIY trip. The area around the volcano is quite rural and you'll be left to negotiate guide rates at the base of the volcano park. To minimize stress and hassle, we strongly suggest booking a day trip to experience this amazing spot.
It isn't expensive: We reached out to CarpeDM Adventures and were happy to see they offered a one-day Cotopaxi trek that included a guide, transportation, meals, park fees, equipment, and a bike ride down the mountain. We were all set to pay $90 per person for a private day tour, but were informed the week before that another couple had also been booked and would be happy to share the tour. We jumped at the chance to make new friends, and instead shelled out just $50 per person for the entire day's adventure. Talk about a bargain!
Our guide Andreas picked us up from our hotel early in the morning. We hopped in the Jeep and introduced ourselves to the other couple traveling with us, Germans who were on a 6-month around-the-world trek. Then, we were off!
We drove for about half an hour, clearing Quito's suburbs, and stopped at a small café just off the highway. There, we had a hearty breakfast of eggs, pastries, fruit, and wonderful Ecuadorian coffee, then continued on toward Cotopaxi.
Cotopaxi's Claim To Fame
Cotopaxi is one of the most popular climbing sites in Ecuador, towering above Quito at over 19,000 feet. We were not going to summit; that would require more gear, time, and lung power than any of us had. Our plan: Drive to about 15,000 feet, then trek up to base camp, where the mountaineers rest prior to summiting. We were warned it would be a slog as the air is thin and the trail is a switchback. However, Andreas was confident we could all make it up to just shy of 16,000 feet.
As we came around a sharp curve in the highway, we caught our first glimpse of Cotopaxi. It looked gorgeous and pristine, with a perfect cap of snow and ice. It made an immediate impression as the road thus far had been rocky but flat.
The entrance to the park was only slightly wooded with pine trees and scrub scattered here and there. It was a tangible reminder that Cotopaxi is an active volcano; when it belches molten lava and ash, it can and has destroyed everything around it. The real danger is lahar: the mix of mud, melted snow, and volcanic rocks that can slide down the summit with deadly force and speed.
Cotopaxi last erupted in 2015, with small earthquakes and a minor plume of ash that didn't cause any significant damage. That was enough, however, to close the park to visitors for months. It's important when visiting to treat this site with the respect it deserves.
Our Ascent
Our guide slowly but deftly drove up the side of the volcano, across rough, rocky roads and an occasional ravine. Along the way, we passed the gorgeous Limpiopungo Lake, tucked into the alpine meadows and scrub. From here, we also spotted a few of the park's famed wild horses as they grazed on the paramo — Ecuador's unique alpine tundra.
From Limpiopungo, it took another half an hour or so to reach the parking lot to base camp. We all piled out of the pickup, grabbed our walking sticks, and glanced up at the small building that seemed light-years away. At this point, we were quite literally in the clouds. It was time to go even higher.
Climbing the 1,000 feet up was difficult, but certainly not impossible. We took it easy in the thin air, used our walking sticks, and made our way across the crumbly, gravel trail. It was easier to manage the climb switch-back style, crisscrossing rather than attempting to take the hill all at once. We kept a slow, steady pace and after about 45 minutes, we'd reached our destination: Cotopaxi's base camp.
The camp sits at 15,748 feet above sea level. It's a narrow, primitive building made of rough-hewn wood, but looked like a castle to me when we finally approached the entrance. We stumbled in, sat down to relax, and enjoyed a well-earned cup of tea. There was a small snack bar that also sold chips, granola, water, and other climbing supplies.
Climbers bunks were located in the back. The staff was friendly, and happily gave our passports a Cotopaxi stamp. We were disappointed to learn that we wouldn't be able to ascend to the glacier, another 500 feet up the trail. The cause for this ban? Scientists had recently detected seismic activity and halted climbing any further than base camp.
Riding Down The Mountain
After a short rest, it was time to descend. The trip down was far easier than the hike up the mountain face. We reached the truck in half the time. It was time to bike!
We returned our walking sticks, put on helmets, and adjusted our seats. Then, it was time for an unforgettable ride down the rest of Cotopaxi. This portion of our day was not for the faint of heart, and it's important to note that it was optional. I rode the brakes most of the way, but it was incredible to zoom down the mountain road. Thankfully, all of us managed to stay in our seats with no spills, and Andreas followed behind at a safe distance in the truck. When we reached Limpiopungo about an hour later, we dismounted, popped our bikes back on the Jeep's roof, and began our trip back to Quito. We were both exhausted and exhilarated.
What To Bring When Climbing Cotopaxi
Less is more on this epic adventure; it's smart to travel light. That said, there are a few items that you really have to have with you. Good, broken-in hiking boots are a must, as are wool socks. Warm compression gear is a great base layer, and your jacket should be waterproof as rain or snow can begin falling on Cotopaxi at any moment. Wear your sunscreen and sunglasses, and bring some lip balm. A water bottle is also absolutely necessary.
Of course, you'll want a camera or smart phone for all the terrific photo ops, plus cash for the base camp café and your guide's tip. The last, most important thing: Bring your sense of adventure! Cotopaxi is truly an incredible destination.
What To Sip During Your Trip
There's no skirting the fact that 16,000 is really, really high. Altitude sickness can, and does, happen. To give yourself the best chance of fighting off headaches and stomach upset, hydrate, hydrate, hydrate! Make sure you're drinking water before you get thirsty the day before and during your excursion.
Once you get to base camp, be sure to order coca leaf tea. Yes, it is made from the coca leaf. Yes, cocaine is also made from the coca leaf. No, you will not get high. Coca leaf tea is a mild stimulant that works wonders at high altitude; the Incas have known this for thousands of years. It has a mild taste, quite similar to green tea. Drink this miracle brew, and chances are you will be right as rain for your descent down Cotopaxi. But don't be tempted to pack any for your trip home; it's illegal in the U.S.
Things To Keep In Mind
It bears repeating: Cotopaxi is an active volcano. As you ride up and down from base camp, take a moment to look at the giant boulders that dot the paramo. These are evidence of just how powerful this place can be, and why it should be appreciated all the more.
Although a guide will drive you most of the way up Cotopaxi, you should be in decent physical shape for this daylong outdoor adventure. Take the time to tune in to how you are feeling, move slowly, and again, drink plenty of water and tea. Don't beat yourself up if you need to take a break; remember, you're there to enjoy nature and the incredible views.
And look to the ground on your way up. You'll be amazed by the tiny, gorgeous flowers that somehow manage to take root and flourish in Cotopaxi's rough volcanic soil.
Photo Credit: Erika Ebsworth-Goold