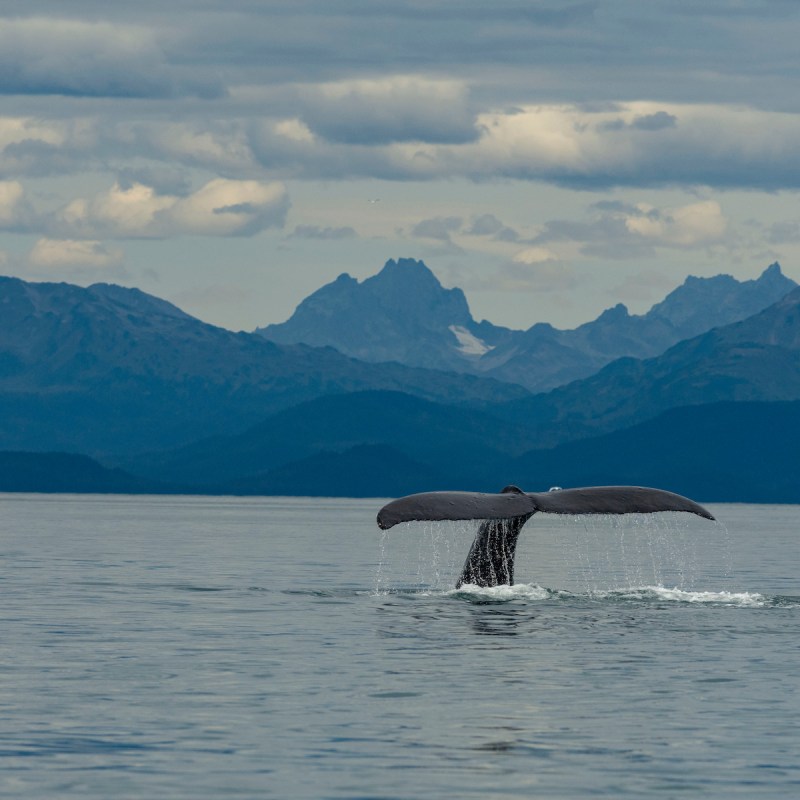 Whale watching on an Alaska cruise is nothing short of spectacular, and not just because of the magnificent wildlife. The jaw-dropping scenery, fun shore excursions, and onboard luxury make for a truly unique travel experience. In fact, it's so unique that some travelers aren't quite sure how to prepare for it.
It's a cruise unlike any other — one that people often describe as the trip of a lifetime. Here's what you should know as you start dreaming and planning.
Know When To Go
July is the peak time for wildlife watching — and Alaska whale watching cruises are priced accordingly. Whales, porpoises, bears, eagles, otters, and other animals are out in abundance. In fact, you often don't have to take a shore excursion to spot them. They'll be hanging out around the cruise ship! But that doesn't mean you won't see them during other months. It's more a case of adjusting expectations and balancing your budgetary needs.
Don't discount the perks of traveling in the shoulder season. Trips in May and September are normally less expensive and the activities less crowded. The weather can be a bit of a gamble — it will certainly be cooler than trips in mid-summer — but the subsequent savings can be significant. And there will still be animal sightings, just in more modest quantities.
Regardless of when you travel, bring an inexpensive pair of binoculars. Wildlife can be notoriously shy and you don't want to miss a thing!
Whales, along with many other animals, can be seen along the Alaska coastline. But there are a couple of special spots you won't want to miss.
Where To See The Whales
Juneau
Have you ever heard of "whale soup"? Don't be alarmed — it's not a new menu item! It's what locals like to call the waters around Juneau. The whales are so densely concentrated here, it's like the water is one giant, churning soup pot, filled with nothing but whales!
This "soup" is primarily made up of humpback whales. Humpbacks have a reputation for being rather shy and they're not as easy to see as other whales, such as minkes or belugas. The chance to see so many in one spot is not to be missed! And all that churning or bubbling water they create isn't just a sign of the whales' friskiness. They are actually working together to form a circle, blowing bubbles to bamboozle the fish, forming a net of sorts that traps their prey in place. Things don't end too well for the fish after that, but the humpbacks certainly do eat well!
Anchorage
In the colder, northern waters of Anchorage, beluga whales rule the sea. These smaller whales, about the size of a car, have beautiful white skin that helps you to see them when they're further offshore. It's not uncommon for waterfront diners in downtown Anchorage to spot them in the distance. They're noted for being especially playful, particularly the jaunty babies. Also known as canaries of the sea, belugas love to sing and lucky tourists who take a boat excursion out into their territory might just hear them.
The Bering, Beaufort, And Chukchi Seas
It's a rare tour and a rare tourist who ventures to the remote Bering, Beaufort, and Chukchi Seas. Bordering the north and northwest shores of Alaska, these frigid waters separate Alaska from Russia. The mighty gray whales call these unforgiving waters their home, but thankfully for visitors, they enjoy staying close to shore. In late spring and early summer, whale watchers might catch a glimpse of them migrating up from the Gulf of Mexico as they like to stop in the waters south of Anchorage.
Resurrection Bay
While they have stiff competition, the stately orcas with their natural black and white "tuxedos" are often the crowd favorite. Orcas love munching on the king salmon running the waters of Resurrection Bay from early May through to early June. Also known as killer whales, orcas are technically a toothed whale and member of the oceanic dolphin family.
Technicalities aside, these formidable animals are apex predators with no natural enemies, meaning they rule the ocean. They've even been known to attack adult whales. But for sightseers enjoying their awe-inspiring power from the safety of a boat, they're an unmissable part of any Alaskan cruise.
Booking Your Cruise: The Early Bird Gets The Worm
Book early — really early. Alaskan whale watching cruises go on sale up to two years in advance. Unlike other forms of travel, seeing last minute super saver fares is a rarity for this kind of in-demand cruise. Booking early and putting down a deposit means you lock in the low, early bird rate (and, if you like, you can make monthly payments toward the balance for easy budgeting). Your deposit is refundable (usually up to one to two months before the sailing date) and should the price drop, you can always call and ask for an adjustment.
You'll also want to research and book your shore excursions well in advance to guarantee your preferred activities. Be aware — you don't have to book directly with the cruise line! More on that to come…
What To Pack For Your Alaskan Whale Watching Cruise
While the promotional photos may show gorgeous sunny blue skies, an Alaskan whale watching cruise can be a decidedly chilly affair. Be prepared for some damp and drafty days by packing clothing that's easy to layer, such as coordinating tank tops, long sleeve shirts, lightweight sweaters, one heavier sweater, cozy scarves, and insulated raincoats. A lightweight stocking cap with a built-in visor much like a baseball cap will keep you warm and shield your face from any drizzling rain.
In the past thirty years, the level of formality has dropped significantly on cruise ships and there is no need to pack a ball gown or tuxedo. However, many ships host a night or two on which fancier attire would be appropriate. For women, a sparkly shirt and dressy pants or skirt are often sufficient, while men could bring along a sports coat and maybe a tie, depending on their own personal style. If you're not sure about the dress code, check out the ship's social media pages. The guest shots they post will give you an idea of what people are wearing for fancy dinners and sporty excursions.
While the lovely sunshine might mask deceptively chilly weather, the UV rays will still make their way to your skin, so don't forget to pack sunscreen. Swimsuits are also essential for the ships' heated pools and hot tubs. And don't forget to pack bug spray for your shore excursions.
Motion Sickness On The High Seas
Some people swear it's impossible to get seasick on a large, luxurious cruise ship, but there are those of us who can prove otherwise! The waters around Alaska can be choppy. A room in the middle of the ship will move less than one at the front or back, and a stash of anti-nausea medications can offer comfort and relief. You'll be especially glad you have it with you should you take a small boat excursion to see the whales up close since smaller vessels can get jostled by the waves.
Splurging on a room with a balcony is a savvy investment for travelers prone to motion-sickness. Access to the fresh air and uninterrupted coastline view can be soothing for some travelers experiencing queasiness.
Budget Tips For Whale Watchers
You'll be glad you booked early and locked in a low price, especially once you realize that Alaska cruise pricing is rarely 100 percent inclusive. Cruising is big business and the costs of souvenir photos, cozy sweaters, spa visits, tips, and Wi-Fi charges can add up fast.
Add in a few cocktails and lattes and you're looking at a bill which averages $100 a day — before excursions. To mitigate the costs, consider picking up your own bottle of wine from a supermarket while on shore and packing a travel-friendly French press-style coffee thermos and gourmet grinds.
Save On Shore Excursions (And Support Local)
You can save a bundle — and support the local economy — by booking shore excursions yourself. While it may be tempting to embrace the convenience of booking a tour through the cruise line, you can easily save 20 to 50 percent by booking directly. As an added bonus, you'll often have a much better time going through an independent provider. Sure, there are only so many ways to showcase a historic town or lead a trip to an eco-reserve, but tour providers who are independent of the cruise ships offer better prices, smaller groups, and more personalized service.
For the ultimate blend of cost savings and customizations, collaborate with folks you meet on the ship to book a semi-private tour. The price per person is economical and you'll have plenty of chances to add your own touches to the itinerary. Want to experience a trip to a funky local coffee shop or stop for photos next to a field of gorgeous wildflowers? You can easily work in extra stops along the way.
Two potential ports of call American cruisers will want to pay special attention to are Victoria and Vancouver, British Columbia. First, they're in Canada, so American guests will need their passports on hand to take advantage of shore excursions. Secondly, choosing an independent tour provider at Canadian stops can be especially advantageous as they're priced in Canadian dollars.
If shopping is high on your priority list, you'll get the best deals — and best finds — the further away you are from the port. The boutiques closest to the ship have high markups and are rarely stocked with a good assortment of local products.