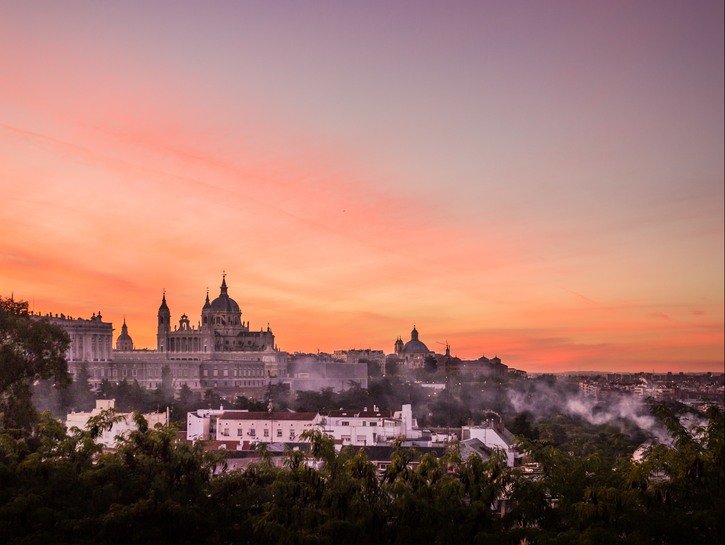 After studying abroad in Andalusia for six months, I was pretty bummed when I found out I had been placed in Madrid to teach for a year. I didn't want to be in a big city, and I feared that living in Spain's capital would, due to its size, inevitably result in a lack of authentic Spanish culture, the main reason I wanted to return to the country in the first place. Let's just say that I couldn't have been more wrong. After all, Ernest Hemingway didn't call it the "most Spanish of all cities" without reason.
Though, in my opinion, it's true that Madrid isn't as Spanish feeling as some other cities in the south such as Sevilla and Granada, it makes up for this with its diversity and animated spirit.
They say that New York is the city that never sleeps, but let me tell you, Madrid takes the cake. That's probably why it's slogan is "Madrid, me mata," translating to "Madrid, it kills me." You can party until dawn in Madrid, an activity referred to by Spaniards as la madrugada, meaning to stay out all night until the sun comes up.
There are endless things to do in Madrid, but if it's your first time traveling to the Spanish capital, be sure to try some (if not all) of the things listed below to get a true feel for this incredible city.
10. Visit the Royal Palace
One of Madrid's most majestic and historical structures, the Royal Palace, or Palacio Royal de Madrid, is the official residence of the Spanish royal family, though it is only used for state ceremonies.
The Royal Palace in Madrid is Europe's largest royal palace by floor area, stretching 135,000 square meters and containing 3,413 rooms.
On Wednesdays and Saturdays when weather permits, travelers can witness the changing of the guards. Visitors are welcomed to visit the Royal Palace from Oct. to Mar. from 10:00 a.m. to 6:00 p.m. and Apr. to Sept. from 10:00 a.m. to 8:00 p.m. The Royal Palace's nearest Metro stops are Ópera and Plaza de España.
9. Dine at the world's oldest restaurant
According to the Guinness Book of Records, Madrid's Sobrino de Botín is the world's oldest restaurant, in continuous operation since 1725.
At the beginning of the 20th century, Botín was a family-owned restaurant run by the González family, with only one operating floor and seven employees, including Amparo Martín, her husband Emilio González, and their three children. After the Spanish Civil War, the couple's sons Antonio and José assumed control of the business and made it what it is today.
When dining at Botín, be sure to try the restaurant's famed roasted suckling pig (cochinillo asado) and roasted baby lamb (cordero asado).
8. Take the Calle Cava Baja challenge
Before I even explain what it is, I must warn you that, if you decide to take on this challenge, do so at your own risk!
Madrid challenges its visitors to partake in the Calle Cava Baja "tapas crawl," an activity you'll likely only hear about through locals. The challenge dares only the bravest souls to eat one tapa and have one drink at every tapas bar on Madrid's famous Cava Baja street in La Latina neighborhood near Plaza Mayor.
Cava Baja street is known for housing Madrid's best tapas. From classic tortilla española (potato omelet) to famed Basque pintxos, Cava Baja street is Madrid's go-to tapas hub. Give yourself a big pat on the back if you're able to complete the tapas crawl without hitting the floor first!
In Europe, I think one of the most affordable and beautifully underrated cities is Madrid. For a capital city, the prices are fabulous. The streets are colorful, charming, and everything you'd expect from a European destination. The people are very friendly, and while there's not as much to see from a tourist standpoint compared to other Spanish cities like Barcelona, there is this special energy in Madrid. The restaurants are also incredible and I could spend all day walking around Retiro Park or visiting their famous museums like the Prado, Thyssen and Reina Sofia!
7. Spend a day at Retiro Park
Similar to New York's Central Park, Madrid's Retiro Park, or Parque del Buen Retiro, is a great place for a picnic, people watching, street performances, a leisurely rowboat ride in the park's pond, or a glass of sangria.
Hanging out in Retiro Park is an especially popular pastime during the city's spring and summer months, filled with locals lounging in the grass, playing music and having a midday bocadillo, or baguette sandwich.
Retiro Park is also home to the Crystal Palace, a glass structure built in 1887 on the occasion of the Exposition of the Philippines.
6. See the sunset at Templo de Debod
Madrid's Templo de Debod (Temple of Debod) is an ancient Egyptian temple dating back to the 2nd century B.C. that was dismantled and rebuilt in Spain's capital city as a thank you to the country for helping save Egypt's Abu Simbel temples.
Sunset is the best time to visit Templo de Debod, in order to see the temple's stunning reflection at dawn. Decorative motifs and the temple's history, scale models, videos, and audiovisual material is projected on the walls to help visitors understand the significance of this magnificent monument.
5. Have a fancy cocktail with a view at Círculo de Bellas Artes
A favorite local activity is to watch the sunset during the spring and summer months. The rooftop terrace at Círculo de Bellas Artes, a private, non-profit cultural organization founded in 1880, features the most spectacular 360-degree panoramic views of the city and the picturesque Sierra de Guadarrama mountain range.
Visitors can gaze upon Madrid's Gran Vía and the Metropolis Buiding down below. The rooftop terrace is open Monday through Friday from 9:00 a.m. to 9:00 p.m., and Saturdays and Sundays from 11:00 a.m. to 9:00 p.m., offering a variety of cocktails, beer, and wine. Entrance to the 7th-floor rooftop terrace is €4.
4. Gaze upon some of the world's finest art
While Madrid is home to several world-class art museums, Museo Nacional Centro de Arte Reina Sofía and Museo Nacional del Prado are its two most noteworthy.
The Prado Museum is widely recognized as having one of the world's finest collections of European art, dating from the 12th to the early 20th centuries. Visitors flock to Prado Museum specifically to catch a glimpse of Diego Velazquez's Las Meninas and El Greco's The Nobleman with his Hand on his Chest.
It comes as no surprise that the Reina Sofía Museum is best known for housing Pablo Picasso's mural Guernica.
3. Stroll through Puerta del Sol & Plaza Mayor
Sprinkled throughout Madrid are a myriad of vibrant and famous central plazas, specifically Plaza Mayor and Puerta del Sol.
Located just a few short blocks from one another, Plaza Mayor and Puerta del Sol are great for an afternoon coffee, people-watching, street performers, shopping, and restaurants.
Both plazas are particularly stunning during the holiday season, and Puerta del Sol is home to Madrid's largest lighted Christmas tree.
2. Taste test amazing Spanish food at Mercado de San Miguel
With more than 100 years in operation, Madrid's Mercado de San Miguel is located in the heart of the city and first opened its doors as a wholesale food market. Today, Mercado de San Miguel is one of the world's leading gastronomic markets, with everything from the nation's freshest Iberian ham to octopus (pulpo) from Galicia.
With more than 30 different stands throughout the market, visitors are invited to head to Daniel Sorlut to try four different types of specialty oysters, Morris for the best meats and seafood, and Horno de San Onofre for endless delectable sweet treats.
1. Watch Real Madrid play at Santiago Barnabéu Stadium
If there's one thing Spaniards love, it's a good fútbol match. Spain has a number of prominent soccer teams, namely Real Madrid C.F. and FC Barcelona. If you're really lucky, you can catch an El Clasico game between the two rival teams held a few times each year. Be ready to spend, though; El Clasico tickets can cost up to €1,000, or $1,130 U.S.
Attending a Real Madrid game at Santiago Barnabéu Stadium is one of the most exciting local experiences travelers can indulge in when visiting Madrid. Get ready for some good rival fun, friendly shouting matches, and lots of "olé, olé, olé," chanting.
We hope this piece inspired you to put Madrid on your list. Happy trails!