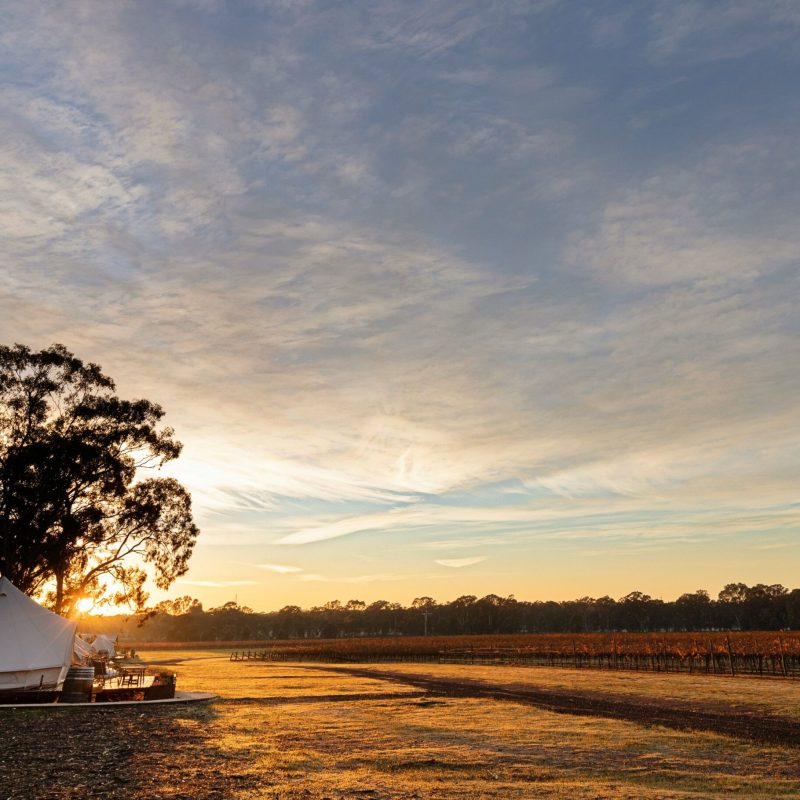 "I've had no peace of mind since we lost America. Forests, old as the world itself… meadows… plains… strange delicate flowers… immense solitudes… and all nature new to art." – George III, The Madness of King George
One of the greatest things about the U.S. is its vast wealth and diversity of natural beauty. Is it any wonder, then, that camping has become such a quintessentially American activity? Love of untouched wilderness goes back much further than the writings of Thoreau, back to the first inhabitants of this broad continent, who made themselves stewards of all things that breathe and grow.
But you don't have to rough it to get in touch with the rustic.
Glamping — glamorous camping — is a trend on the rise. These days, you can pitch your tent in style, bringing a touch of luxury into wild places.
Here are 8 great spots to go glamping in the U.S., no matter your budget.
Firelight Camps, Ithaca NY
Price: as low as $189/night
TripAdvisor rating: 4.5 (Certificate of Excellence)
If you're looking for a camping experience that makes you feel like you're on safari even while you're in the lap of luxury, look no farther than Ithaca, in New York state's Finger Lakes region. The tent furnishings are "safari-inspired", but with hardwood floors, balconies, sizeable beds, and continental breakfasts. The campsite is on the grounds of the La Tourelle Resort and Spa, so this would make a perfect girls' weekend getaway!
There's also a steakhouse on the grounds, you're surrounded by the secluded woodland trails of Buttermilk Falls State Park, and there are plenty of nearby Finger Lakes vineyards that need exploring. Chop chop! That wine isn't going to drink itself.
Conestoga Ranch, Garden City UT
Price: as low as $160/night
TripAdvisor rating: 4.5 (Certificate of Excellence)
Nestled in the Rockies, near the picturesque Bear Lake, Conestoga Ranch allows visitors to live like pioneers by sleeping in their very own luxury wagons. Except, unlike pioneers, you will have electricity. And fresh linens. And clean water. And you won't have cholera.
If sleeping in a wagon, even a fancy one, isn't your cup of tea, Conestoga also has tents that come with en suite washrooms.
This is the perfect place to stay if you want to explore the great outdoors without exactly sleeping there. Bear Lake is close at hand, with the attendant chance to swim or partake of water sports. There are also caves in the nearby mountains if you're interested in spelunking.
Then you can end your day with a campfire in the hills of Conestoga Ranch.
Want to read more about Bear Lake? Check out Bear Lake: The Caribbean Of The Rockies.
Huttopia White Mountains, Conway NH
Price: as low as $104/night
TripAdvisor rating: 4.5
Right for your budget, less well-known than some of the other glamping destinations on this list, and blissfully isloated, Huttopia White Mountains is the perfect place to get away from the hustle and/or bustle of your everyday life. In fact, cars aren't even allowed past a certain point on the site, so you don't have to worry about hooligans and/or whippersnappers revving their engines all night.
Huttopia has many locations in France plus one in Quebec, but the New Hampshire camp is their first foray into the American market. They offer both tents and chalet cabins, depending on your preference.
There is a pool, a lake, and home-made pizza on offer. There's also activity programming for both kids and adults, making this an ideal family retreat!
Sorensen's Resort, Hope Valley, CA
Price: as low as $125/night
TripAdvisor rating: 4.5 (Certificate of Excellence)
On the cusp of Hope Valley in eastern California, south of Lake Tahoe, about halfway between Sacramento and Carson City, Sorensen's is a glamping resort for all seasons. Lake Tahoe and Grover Hot Springs State Park beckon visitors in the summer, while cross-country skiing and Sorensen's wood-powered sauna draw them in come winter. There's also fishing, hiking, snowshoeing, and plain old-fashioned R&R.
Sorensen's doesn't offer tents, but a selection of historic cottages and cabins. There is a campground, however, if you want to bring your own tent or RV. There's also a restaurant onsite if you don't feel like making (or catching!) your own meal.
If you're going to book at Sorensen's, check out their deals and specials here.
Blue Bear Mountain Camp, Todd NC
Price: as low as $80/night
TripAdvisor rating: 4.5
If you're looking for space to play, North Carolina's Blue Bear Mountain Camp may be just what the doctor ordered. Traditionally a conventional campground, they have recently added glamping to their repertoire with tipis and cabins co-exisiting alongside old-school tents and RV's.
But I'm using the term "alongside" pretty loosely here: Blue Bear Mountain is low density glamping. The number of camp sites is strictly limited to protect the 150 acres, meaning you can fish, cook, play guitar, and generally be yourself in piece. You don't really have to worry about the neighbors here, making it an ideal escape for couples seeking a chance to be alone together in nature.
At an elevation of 4,000 feet, temperatures are seldom too steamy; you can count on the refreshing mountain breeze to blow all your cares away.
Shash Dine' EcoRetreat, Page AZ
Price: as low as $150/night
TripAdvisor rating: 4.5
There's no better way to experience the world of the Navajo than by visiting Shash Dine' EcoRetreat. You can stay in tents, wagons, and Navajo hogans (traditional mud houses) in this land whose history dates back beyond what written or oral tales can tell.
There's no electricity here, and no running water, but it's only a 10 minute drive to get supplies. What Shash Dine' offers in return is tranquility, history, a hearty welcome, a fire pit, and more stars at night than you've ever seen in your life.
There are herds of goats and sheep here, and also dogs to shepherd them. So if you're not keen on canines, this may not be your dream glamping destination.
Shash Dine' is close to Lake Powell and the Vermilion Cliffs National Monument.
Wee Casa, Lyons CO
Price: as low as $189/night
Yelp rating: 4.5
This is a fascinating option for those interested in unique accommodations. Wee Casa is the world's largest tiny house resort. You'll find an amazing selection of super fancy RV houses — on wheels, yes, but some of them are two stories. Every one has its own one-of-a-kind theme, including one with a circular door designed to resemble a hobbit home.
This is also an ideal place to stay if you're looking to explore Colorado's wild side. It's close to Lyons, the gateway to the Rocky Mountain National Park. Here, you'll be close to kayaking, fly-fishing, hiking, biking, and rock-climbing. Plus you'll get to sleep in the loveliest, cosiest little glamping homes imaginable.
Under Canvas Yellowstone, MT
Price: $209/night and up
TripAdvisor rating: 4 (Certificate of Excellence)
It's not as cheap as some of the other options, but you're going to love the tent selection here. There are eight different models to choose from, many of which come with private (flush) toilets, showers, separate sleeping rooms, and decks that offer spectacular views of the surrounding mountains and plains. Whether you're looking for a romantic tent for two, or a generous multi-room tipi that can sleep up to eight, Under Canvas will be able to accommodate your party.
The fact that the site is only ten minutes from Yellowstone makes it the perfect place for city folk to spend a few nights while exploring America's most famous national park. Under Canvas also has a restaurant onsite, so you won't even have to bring your pic-a-nic baskets!
Those are the 8 American glamping sites we think are most interesting. What do you think? Have you visited any of these places? Would you go back? Let us know!