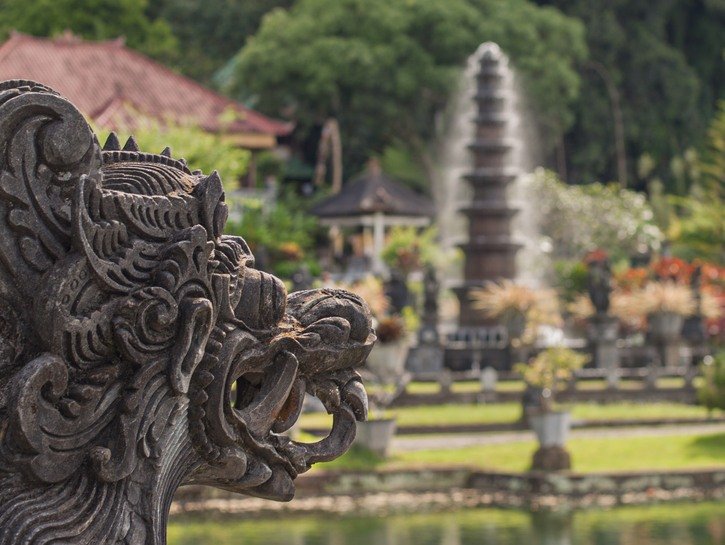 Bali is perhaps Indonesia's most famous island – and in a country comprised of more than 17,000 islands, that's saying something! Its temples, volcanic landscapes, and rice paddies are instantly recognizable the world over.
Here are our top 5 things you should consider doing if you're going to Bali!
1. Check Out Ulun Danu Temple
Bali has a number of temples that are worth exploring, but if we had to pick only one to visit, Ulun Danu would be it.
You'll find it on the edge of Baratan Lake in Bedugul. The architecture is captivating. Surrounded by calm waters, this shrine dedicated to the goddess of the lake is one of the most peaceful corners of the entire island.
Perhaps the best way to see this temple and many of the other shrines on Bali is to take one of the full-day UNESCO World Heritage Sites tours. You'll not only get to see the highlights, you'll also get an overview of the history.
2. Spend A Day Snorkeling In Amed
Not everyone wants to be surrounded by crowds when they travel, and since Bali has become an increasingly popular destination over the years, visitors will do well to explore less-frequented areas like Amed.
You don't want to spend your entire trip here, as it's not exactly a fully-developed city. It's more like an assortment of villages; perhaps that's why it's not exactly a tourist trap.
What the region does offer though is prime access to one of the best snorkeling spots in all of Bali. The water is crystal clear with great visibility so that you can see all of the aquatic life and even snap some great underwater photos. Prices can also be significantly cheaper compared to some of the busier Bali hotspots.
3. The Most Beloved Restaraunt In Bali
One of the things people are most excited for when they travel is enjoying the local cuisine, and you'll find some real treats on this Indonesian island.
Rice dishes and fried duck are common fare in Bali, and perhaps the most popular restaurant to sample them is Bebek Bengil, or the "Dirty Duck" when translated into English.
The atmosphere is excellent, as it backs on to a rice field, offering an authentic atmosphere while you dine.
One classic dish that we recommend is the bebek betutu, a fried duck that's boiled in locally-spiced broth and served with rice and vegetables.
This is the place to check out when you're feeling famished in Bali!
4. Climb A Volcano
Fancy yourself a mountain climber, but not in love with the more dangerous aspects of that hobby? Mount Batur is a peak that checks the adventure box and lets visitors say "I climbed a mountain" while still remaining pretty safe.
This volcanic mountain sits 1,700 meters above sea level, and yes, it is a volcano. But fear not: it hasn't erupted in nearly 20 years.
Regular tours are available and usually start at the crack of dawn (around 4 am) so that trekkers can get to the top in time to see the magnificent sunrise.
Mount Batur is one of the easiest climbs in Bali, so this is a great opportunity to scratch mountain climbing off your bucket list and see Bali from a one-of-a-kind view, without pushing yourself too hard.
5. Play With Primates In The Monkey Forest
I mean, we're all technically primates, so I guess you don't have to go to Bali to meet one. Still – who doesn't love monkeys? If you're a fan, you'll definitely want to visit what's become a big attraction in Ubud: Monkey Forest.
It's a Hindu temple complex with three temples dating back to the 14th century. There are also over 500 monkeys living on-site.
This beautiful nature reserve is ideal for a scenic walk, and is guaranteed to provide many photo-worthy moments.
They sell bananas too, so that visitors can engage with the monkeys. But some of the monkeys are known kleptomaniacs, so you might want to be careful with loose objects like sunglasses or water bottles. You might never see them again!
6. Hit The Beach
If you've been reading thus far and wondering, "what about all the famous Balinese beaches?" don't worry! We've got a good one for you.
Since Bali is busier than it's ever been before, some of the main beaches can get a little crowded. To escape the noise and commotion, check out Balangan Beach. It's only 40 minutes away from the resort townof Kuta, but it feels completely secluded.
Surrounded by cliffs, the beach is accessed by climbing down a set of stairs that have been carved into the rockface. Talk about off the beaten path!
Once you get to the beach, you'll understand why it was worth a little extra effort.
Don't worry about being stranded without food or drink while you're here; there are a variety of warungs, charming family-owned cafes and restaurants that are littered around the beach.
Sit back, relax, and enjoy the breathtaking views with a drink in hand, and rest assured that you've seen Bali the right way!