Cocoa Beach, located on what is often referred to as Florida's Space Coast, is another one of the multitude of gorgeous tourist destinations in the Sunshine State. The closest beach to Orlando, Cocoa Beach is busy all year round and offers plenty to do for visitors of all ages, including families!
There is plenty to do at Cocoa Beach, including a visit to the Cocoa Beach Pier, surfing in Florida's surfing capital, watching space launches from Kennedy Space Center at Cape Canaveral, or going fishing — there is no doubt you will find plenty of other options when you're not relaxing on the beach.
If you're thinking of heading to the area around Christmas, Cocoa Beach has a whole lot going on. From surfing and skydiving Santa's to a boat parade, there are plenty of reasons to give this beautiful destination a look when planning your next beach vacation.
Home of the original Ron Jon Surf Shop, there are some great insider tips available before you explore Cocoa Beach. From where to go, what to bring, where to visit, and everything in-between, these words of wisdom should help you prepare for your trip.
To help you with accommodations, we've put together a list of 10 fantastic Cocoa Beach Vrbo rentals that are right on the water with direct beach access. These options can accommodate from three to eight guests. All of them have great views, they all come highly rated, and the reviews are outstanding. Book your trip soon — there are plenty of options to choose from!
Enjoy gorgeous ocean views from your private balcony and master bedroom in this oceanfront 2-bedroom condo with space to accommodate up to six guests. The master bedroom comes with a king bed, the second bedroom with a queen and a full bed, and your kitchen is fully equipped for your convenience. Facilities available in the complex include an outdoor heated pool, hot tub, tennis court, and plenty of private parking. The living room furniture is new — including a deluxe La-Z-Boy chair!
Dreaming of Cocoa Beach – your dream vacation awaits you
Top guest reviews
The beach front view and the beach was awesome! If the jet tub worked this place is a 5 but we did go there for the jet tub. The place was clean and beautiful. Well equipped. The area and most of all the beach is beautiful. We enjoyed our stay and plan on coming back!
Great views clean unit needs new skillets and kitchen items, we really enjoyed our vacation. They did close the pool very early, 7:30 one day and they weren't very nice about it. I was very disappointed.
It was a wonderful vacation. We spent one day at Universal and one day at Disney. The drive was about an hour each way and very easy. The condo was wonderfully stocked with beach chairs for us to use. Beautiful view of the ocean 24/7. We even saw a rocket launch from our balcony! Everything thing you need is close by. The owner was kind and responsive. Booked it for next year!
The condo was spacious and had private beach access. It also had an entire closet full of beach items such as chairs, umbrellas, a cooler, beach toys, fishing poles, etc. Sunrises over the Atlantic were splendid!
Great place to stay. The owner takes exceptional care of the property and is very close to the surf.
Read Less ∧
Read More ∨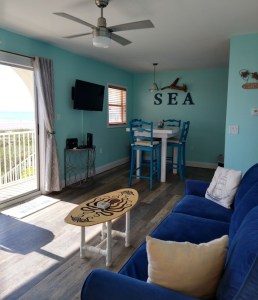 This amazing condo in the heart of Cocoa Beach is beautifully decorated and has a fully equipped kitchen and a living room with a conversion sofa. Gaze out of the glass sliding door that looks directly out to the ocean while relaxing inside this bright and fun one-bedroom condo that has a washer and dryer in the unit.
Enjoy the views of the ocean and private path to the beach from the balcony, then head to the beach with the provided beach chairs, beach towels, cooler, and more!
Dreaming of Cocoa Beach – your dream vacation awaits you
Top guest reviews
It was close to downtown, the beach and the porch area was amazing.
Beautifully updated interior and it was the perfect size for just the 2 of us. The location was fantastic, breathtaking view from the unit and lots to do within walking distance. Communication with the hosts was great, they made our planning process easy and gave great advice & recommendations.
Being originally from Maui Hawaii we wanted to stay right on the beach to celebrate our anniversary in a "surf town" atmosphere. This place was perfect! It was close to restaurants and shops. And of course beachfront view was the bonus!! We had great communication with Owners (Bill & Jean). The apartments is alittle older on the outside but the unit inside was very cute and beachy decor, I thought it was very cozy. We definitely would look forward to a future trip and we would definitely stay here again. It had everything we needed. Aloha, Wayne & Merlina
The location of this property was excellent. However there are some things that I would like to bring to the attention of. The outside of the condo was not in good shape. There was a pile of broken & scattered beach toys and chairs that was quite an eye sore. I ended up straightening up this area (so I didn't have to look at it) throwing away broken items and I even bought a new umbrella to replace the broken one as it is needed for use on the beach. If they are using a cleaning service to clean before new arrivals, I think they should fire them. The place was clean for the most part, but it was like it was quick cleaned and there was not attention to detail. The baseboards were dirty, there were previous guests leftovers in the fridge. Having left over drinks, waters commendations, is nice but I do not want to see half eaten food left in there. I also cleaned that out when we removed our own trash. Needless to say we left it in better shape than we found it. Now, lets talk about the positive.The location is excellent! having beach access was a great perk.we were able to walk to many restaurants,bars and shopping. There was even a community cat that would visit us while we sat out and had our morning coffee. I would recommend to anyone who likes convenience to stay here. It was perfect size for the 3 of us.
Perfect location. Lovely stay.
Read Less ∧
Read More ∨
You can't beat the fabulous views from this oceanfront, corner condo with a private balcony that overlooks the Atlantic Ocean. Sleep in luxury thanks to a king-size poster bed in the master, take advantage of the newly remodeled kitchen with all stainless appliances, or head out to one of the many nearby restaurants. The nicely furnished living room and dining room offer great spaces to gather — including a 50-inch television for those nights you want to kick back and relax on the leather couch. Washer, dryer, beach towels, beach chairs, umbrellas, coolers, and beach toys are all provided!
Dreaming of Cocoa Beach – your dream vacation awaits you
Top guest reviews
Having lived in Florida for many years before moving to NC, the prospect of a major hurricane aimed at Florida's west coast was a significant concern. The condo is very nice and the porch and view are fabulous. Paying for 7 days, we wanted to work through it but as the track changed, our one day at the beach changed to preparing to leave..lfinally fear of not being able to get back to NC before it hit here made our choice easy and very wise. Stephanie was helpful and a great owner. Hoping the trip insurance comes through…renters must take the risk and May end up paying the price for bad luck
Beautiful condo on a great beach. Wonderful for our 3 yr old grandson to come with us. He loved the pool too! The condo had everything we needed!
We, a family of four, stayed for a long weekend. It was great, nice views, straight to the beach. The owner/manager was really great and the communication was perfect.
The view, the location, everything was great but the amenities provided by the host were steps above what we normally find in a rental.
We really enjoyed our stay at this property. The view is amazing and we loved spending time on the deck. The condo was as described in the listing and was quite comfortable. The beach access is easy and the beach itself is great. The location provides easy access to A1A and there were several good restaurants in the area. I would recommend this place to anyone staying in Cocoa Beach.
Read Less ∧
Read More ∨
For those interested in a quintessentially cozy place to stay, this gorgeous one-bedroom unit overlooks the ocean and is right in the heart of Cocoa Beach. The full-size kitchen comes with everything you'll need, or take advantage of being within walking distance of local restaurants. You will love the balcony, which offers beautiful ocean views. There's a washer and dryer in the unit for your convenience.
Dreaming of Cocoa Beach – your dream vacation awaits you
Top guest reviews
Beach was close. Furniture nice.Walls and ceiling worn and dated.
Wow. We had had wonderful stay and will definitely be back. Great service all around, the condo is adorable and the town was really cute as well. Thank you for a wonderful stay!
It's a lovely place right on the beach. The condo has everything you need, Marcia is very helpful and communicative. A lot of great restaurants within walking distance. Thanks so much we had a good time!
My husband and I spent a long weekend here and absolutely loved it! You'll fall in love with the beach view and sunrises. The condo is spotless and fully stocked with everything you can imagine ! Communication with the owner was great and checkin was a breeze. It's located close to restaurants, shops, grocery stores, rentals for boats, kayaks, etc. We wish we could have stayed longer! If you're looking for either a quick getaway or a few weeks vacation, this is the place to go!
Clean property with a wonderful ocean view. Ocean water was bath water warm with a nice surf. Several good restaurants within walking distance. Did not miss having a car.
Read Less ∧
Read More ∨
Interested in a cozier vacation home that happens to be on the ground floor? This fully furnished unit comes with a queen-size pillow top bed and a sleeper sofa, which allows for up to three guests. The full-size kitchen has all you'll need, including pots and pans, a toaster oven, stove, microwave, and more. Just steps from the ocean, you've also got a washer and dryer in the unit. Great reviews — check it out!
Dreaming of Cocoa Beach – your dream vacation awaits you
Top guest reviews
This condo was just what I needed. Such a cute place directly on the beach. It was clean and had everything I needed for my short stay. The parking space for the condo is right by the front door. Once I parked I didn't have to drive anywhere as there are multiple restaurants within walking distance. I will stay here again!
The condo was amazing! Everything was spotless and the view was incredible just like in the description! Walking distance to everything ! We will definitely be back soon!!!
We have stayed here multiple times and have never been disappointed. It's the perfect getaway spot.
Location of property is within walking distance to everything you need. Beach access, comfortable set up and very friendly owner!
This was amazing. Perfect for three people. The room was so clean and had everything needed. The owner was absolutely wonderful and was on top of it all. The view was stunning and room was so quaint. Literally a short stroll to the beach and not crowded at all. Recommendations from the owner were spot on and we hit every eatery recommended and oh so yummy. She had beach accessories and even sunscreen in the cabinet. I needed a bandaid and yes – she had that as well. From the beach towels to the toothbrushes – just fantastic. I've never stayed in a vrbo that was this clean and had all the little things. We can not wait to return and stay again. Thanks again Marcia for the best family vacation we could have asked for.
Read Less ∧
Read More ∨
Newly refurbished, on the ground floor, oceanfront, and 1,400 square feet — what else could you want? The perfect place for a relaxing retreat, you'll love this rental. It has an amply appointed kitchen that comes complete with shaker cabinets and granite countertops, and there's even a washer and dryer. The master bedroom comes with a king bed and faces the ocean, and the swimming pool is right outside the unit! Note: This rental doesn't accommodate pets.
Dreaming of Cocoa Beach – your dream vacation awaits you
Top guest reviews
Beautiful place on the beach, clean, quiet and relaxing. David was an excellent host.
Another great visit to Spanish Main! Love the location of the unit and Dave is a great host. The condo is exactly as advertised and was perfect for our stay.
We loved the condo. It was clean and spacious enough for our family of 5. There were plenty of towels and well stocked kitchen. Love having a washer and dryer in the unit.
Read Less ∧
Read More ∨
Take a look at this bright and colorful oceanfront corner unit that offers direct access to the beach. This fourth-floor option offers amazing views of the Atlantic Ocean from both the living room balcony and the master bedroom, which comes with a king-size bed. The second bedroom has two queen beds, the kitchen is well equipped, and feel free to take advantage of the provided beach chairs, washer and dryer, and more!
Dreaming of Cocoa Beach – your dream vacation awaits you
Top guest reviews
Keith was great to deal with, he had all the extras in the condo. I will highly recommend others to stay here and will hopefully be back soon!
Very comfortable and well equipped.
The condo is just as it was shown. Had everything you would need and then some. It was great. The on-site management was good also. There was a problem with the gate going out to the beach. We made one call and it was fixed. It was good all the way around.
Keith communicated timely and with needed details The property was "as advertised". We always enjoy our stays at Sand Castles and this time was no different
We were highly impressed about the cleanliness and the condition of this home. It was absolutely beautiful inside and breathtaking views outside. Excellent communication with the owner. We are so glad we chose this home.
Read Less ∧
Read More ∨
Located in the heart of Cocoa Beach, this beachfront end unit has a 30-foot balcony, a private gate to the beach, and offers two parking spaces. With room for six guests, the master bedroom has a king size bed, a walk-in closet, and a direct view of the ocean. The dining area and living room also look out to the ocean, and the kitchen comes fully equipped with new appliances. The unit also has a washer and dryer.
Beach towels and beach equipment are provided — a nice perk! Note: This rental doesn't accommodate pets.
Dreaming of Cocoa Beach – your dream vacation awaits you
Top guest reviews
I think this is our 5th time staying at this apartment and the first time we have stayed for a month. It is such a great apartment in a perfect location for the beach and downtown bars and restaurants. Marisa and Jonathan are great hosts and always respond in a timely manner to any questions. I would recommend this apartment without hesitation.Sue and Neil
This condo was the perfect vacation spot to get so many different experiences that Cocoa Beach has to offer! The hosts are very friendly and helpful. Check in and out process is super easy. There is absolutely everything you'd need from kitchen to beach essentials! This is definitely a must place to stay at if you're vacationing in Cocoa Beach!
Property is fantastic, everything you could for from a beach condo.
We absolutely loved everything about our stay here! The check in process was super easy. The condo is in the perfect location and the view is beautiful! Everything was clean and the condo is very spacious. We have 3 small children (7 months, 3, and 5) so we brought a ton of kid gear that we really didn't need to because Marisa has a lot of things at the condo already! There was a pack n play, cot, baby feeding seat, and tons of beach toys. There's a grassy area right outside the balcony that was perfect for our kids to run and burn energy without having to pack up to go on the beach or to the park. There are carts in the parking garage and an elevator to make unloading the car incredibly easy. I highly recommend this condo for your next family vacation-you won't regret it! This condo was perfect for our young family.
Property was in great location. Unit is well kept and comfortable.
Read Less ∧
Read More ∨
This Tommy Bahama-style oceanfront condo is a Tropical Oasis! Updated with tasteful beach house decor, the living room and one bedroom have an extended balcony that overlooks the beach. Convenient to shops, cafes, restaurants, and more, this unit can accommodate up to eight guests. Amenities include a full kitchen with full-size appliances, a fully furnished balcony, a full-size washer and dryer, free parking, and more!
Dreaming of Cocoa Beach – your dream vacation awaits you
Top guest reviews
Day one the building has a strange odor and so did the condo. There was a roach crawling around the master bedroom. Shower and tubs needs replacing. The condo barely looked like the pictures. Then was construction next door so I was awaken out my sleep extremely early due to this. There was dirty towels just sitting on the washer.
Great location, condo was clean but could use a deep clean and light maintenance (bulbs out/missing, bathroom fan didn't work), I needed to buy a few items that I typically find in a condo such as hangers and cups with lids for the pool/beach. Pool was very clean and view was beautiful! Photos need updated as the ones in the listing don't match current look. Check in and check out was a breeze!!
The condo was very clean. The ocean views were amazing. The condo was stocked with towels, and anything you needed for your beach days. Location of condo was perfect and walking distance to many restaurants and stores. Personal garage parking space for the condo was perfect! We would definitely book again.
The condo's location was excellent and the building was quiet. The building is old but still functional. The only thing that really needs to improve is getting in touch with renters at least the day before. I had to send a message to get the physical address and directions on how to get into the unit.
Great location, beautiful view and very clean!
Read Less ∧
Read More ∨
How does 1,800 square feet of luxury with a panoramic ocean view from the living room or dining room sound to you? Me, too! Check out Sandcastles 611, a corner unit that comes with a 43-foot wraparound balcony with multiple sliding doors. Relax on the leather furniture, create some culinary delights in the well-equipped kitchen, then dine in the connected dining area or at the bar.
Check out the pictures of this one! Perfect for a family vacation, every room is absolutely stunning with amenities galore. You'll have use of the full-size washer and dryer. Also provided are boogie boards, coolers, beach chairs, a beach umbrella, and lots more — don't hesitate, this great location is in high demand!
Dreaming of Cocoa Beach – your dream vacation awaits you
Top guest reviews
Unit is clean and spacious. The panoramic ocean view is breathtaking! Lots of kitchen gadgets for cooking. Plenty of towels including beach towels. Owner is nice, accommodating and prompt. Definitely recommend!
From the moment we walked in, it felt perfect. Beautifully appointed, well maintained, and all the extra (beach towels, towels chairs, umbrellas, toys, etc) made this a 'settle in and have fun' kind of trip. The wrap balcony made for some amazing sunrises and relaxing evenings. Jill was easy to reach and able to handle any questions we had. Check in and out was a breeze. Thanks for making our last family trip amazing before taking my son across country to college. There are so many things to do, from renting surf boards just down the street, fantastic fishing from the jetty, night kayak tours through the banana river waters and we even saw a SPaceX launch from Cape Canaveral from the comfort of our balcony and beach!!
We had a great stay at Sandcastles 611. The condo had all the amenities to make for a great stay!
One of the most well equipped properties I have stayed at on the beach. You truly don't need anything but your swimsuit. Jill was wonderful to work with and very responsive. Great location with lots of restaurants close by.
Great communication from the property manager. Gorgeous view and looks exactly as pictures in the photos. Would highly recommend.
Read Less ∧
Read More ∨
To discover even more things to do in and around Cocoa Beach, check out: