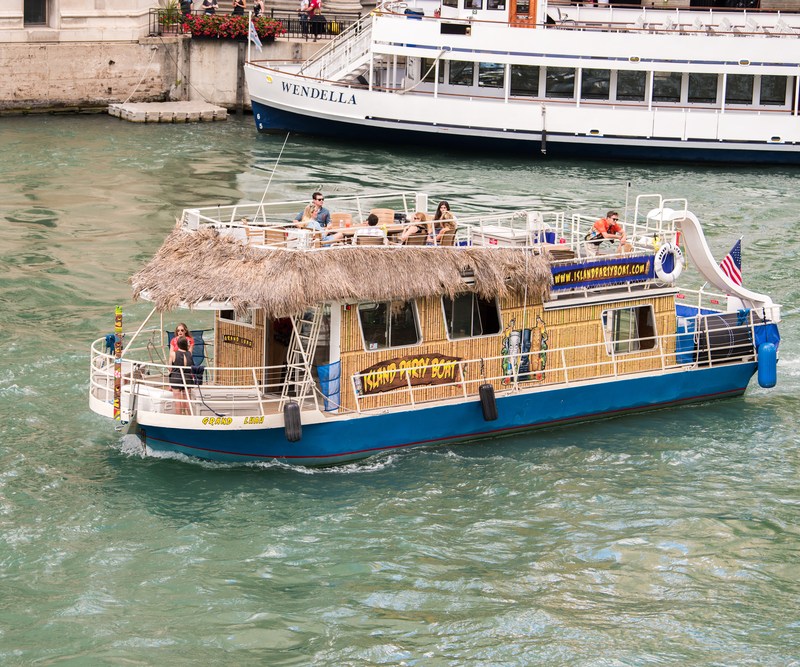 My favorite quote about boating is "A bad day on the water is better than a good day at work." Any day spent cruising on a lake or ocean should inherently be a party!
However, for a special occasion or memorable vacation activity, it is time to level up the festivities with these incredible party boats for rent. From tiki huts to floating private BBQ donuts to cycleboats, we rounded up some of the very best in the U.S., all available for private rental on GetMyBoat.com.
Rent Now
$250/hour
This tiki-style boat available for rental in Newport Beach, California, fits up to six party people for the ultimate water luau. Dubbed The Big Bamboo, the unique pontoon's decorations include authentic bamboo, two palm trees near the bow, a cozy dining area, a seated bar, and even a dance floor.
This boat is available for rent for a minimum of two hours, and cruising options include a Hawaiian happy hour, Tiki Lunch, and a sunset voyage.
Rent Now
$400/hour
This huge Bluewater Coastal Cruiser yacht charters fit up to 12 lucky guests for a memorable day on the water. The rental includes a captain, crew, fuel, and a paddleboard. Your guests will have plenty of room to party or relax, including two staterooms, a tiki bar, a salon lounge, a living room, a full kitchen, and two bathrooms. However, we bet you won't want to leave the decorated top deck, complete with a dance floor, wet bar, karaoke, and barbecue area.
Rent this tiki yacht to cruise the harbor or explore the Pacific Coast. It's perfect for a special occasion!
Rent Now
$714/hour
You may have heard of Cyclebars, the pedal-powered open-air busses that travel through popular party destinations like Nashville. But, have you ever heard of a Cycleboat?
This boat rental has multiple bike seats equipped with pedals to self-propel your group through the water. It is ideal for a large group celebration and can hold up to 26 people. All work and no play is fun for no one, so pick your favorite friend to bartend at the long bar in the middle of the cyclists. Finally, the rental comes with a captain and sound system for a carefree party day with a side of exercise!
Rent Now
$800/hour
This tiki hut houseboat, dubbed the Grand Luau, is perfect for a big group of 12-36 of your closest friends. Explore Lake Michigan on your own 50′ floating party boat with full-service open bar and food package upgrades available. The Grand Luau includes the captain and crew, plenty of covered and uncovered seating, a bathroom, and an upper deck to catch some rays — or try the built-in waterslide.
This charter is available for both day and night cruises, but swimming is only allowed during daylight hours.
Rent Now
$1,075/day
This party barge rental group has not one but THREE different barges available for daily rental on Lake Pleasant in Arizona. Each boat is decorated in its own theme and the owners are happy to match you with the best boat for your group. The beauty of barges is that they can fit large groups comfortably. How great would it be to celebrate the next 4th of July aboard this patriotic piece with a waterslide?!
Rent Now
$27/person/hour
This cute Floridian cruiser, the Liki Tiki, fits up to six people and leaves from Cocoa Beach/ Merritt Island in Florida. The boat is pet-friendly, so you can even bring your party pup along! This boat is available for cruising the Banana River, Indian River, and the canal outside of the beach.
Buy Now
$1,225/hour
We saved the best for last. This extreme party on the water is actually a floating water park atop a catamaran! The rental fee includes full access to water toys, an open bar, snacks, plus the crew. While the two-story waterslides may catch your attention first, don't miss the giant water trampoline, kayaks, stand-up paddleboards, a giant water mat, or noodles included in the rental.
This catamaran is available for up to 45 guests, and we suggest people book early due to high demand!