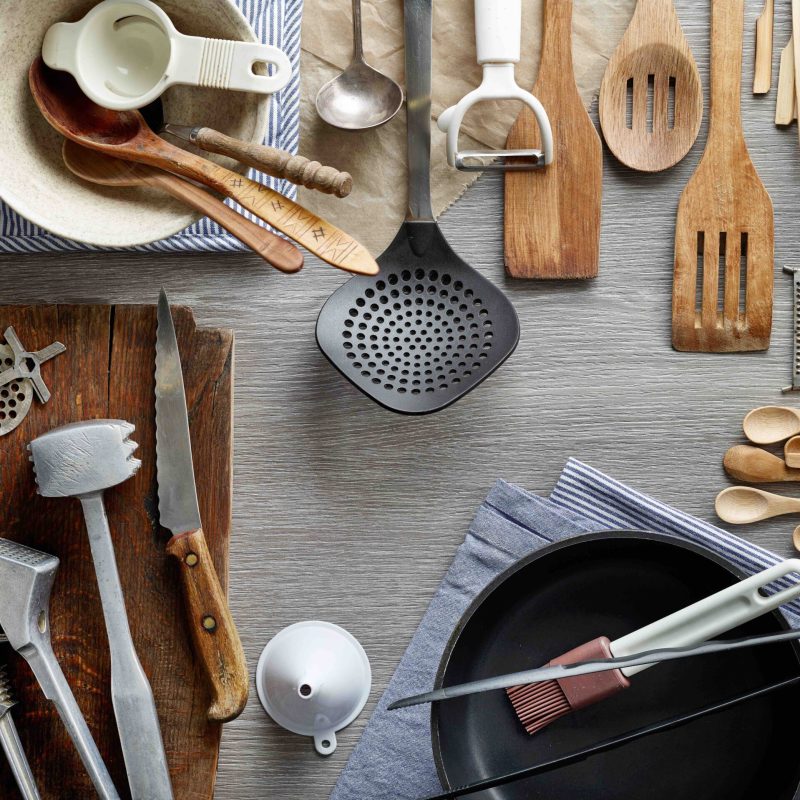 As a foodie, when I travel, I enjoy taking cooking classes that show me how to make the dishes of the region I'm visiting. That way, when I return home, I can quickly revisit the memories from my trip.
Another reason I may choose a particular cooking class is if I'm planning to visit a specific part of the world and I'd like to understand the cuisine better before I take the trip. After all, sometimes, unfamiliar foods can be intimidating. Still, if I've learned to make it ahead of time, I know what's in it and I'm more comfortable eating new authentic foods. Other times, I find myself talking to chefs from a restaurant and we sometimes discuss their favorite cooking tools. In any case, I find it helpful to purchase some of the products we use in cooking classes to make it easier to duplicate the dish.
Here are some of my favorite products I've picked up on my travels.
Shop Now
When I took a cooking class at the New Orleans School of Cooking, I learned the importance of making a dark roux for Cajun dishes like gumbo. A roux combines equal parts fat and flour while continuously stirring until the roux reaches the correct level of darkness.
One traditionally uses a wooden spoon, stirring in a figure-eight to achieve the correct color. This process can take about 20 minutes, which seems like hours when you're standing at the stove. However, the cooking school now sells a New Orleans School of Cooking Handcrafted Authentic Louisiana Roux Spoon, making the stirring more consistent. In addition, designers shaped the solid cherry-wood spoon so that you can adequately stir, resulting in a perfect roux for big-batch cooking.
Shop Now
I first learned of La Chamba Black Clay Pottery during a cooking demonstration at the Santa Fe School of Cooking. These Colombian-style black clay pots sold at the school are handmade by Michael O Pottery and signed to make them a special gift. The pots, which come as a combination of cookware and serving dishes, aren't glazed and don't contain lead.
The pots do contain mica which allows the vessel to heat evenly. Since the characteristics of the clay result in the slow evaporation of steam, the food stays moist and fresh. What I like about the cookware is that it keeps a casserole warm for hours, so if you put it on a buffet table, the food will still be warm when served without electricity.
Be aware that these pots are heavy, so when you order them online, they charge an extra fee to accommodate any additional shipping fees.
Shop Now
If you love southwestern cuisine, you'll probably know that there's nothing as delicious as fresh tortillas. I learned how to make them at the Santa Fe School of Cooking and there's no going back to the store-bought ones. But, with the right ingredients and tools, the job is quick and easy.
A tortilla press is handy to make the job quick and the tortilla a consistent size. Although manual, these cast-iron presses are about 8 inches in diameter and press out tortillas rapidly.
Shop Now
When I asked the Kilted Chef, Alain Bossé, what other kitchen tools were a must-have besides knives, he said, "Well, there's no doubt I would definitely be lost without my knives. However, I would have to say that a microplane would come in as a close second. I'm a huge fan of adding acidity to my dishes. I think it brightens up the flavors of just about everything."
A microplane zester is a stainless-steel blade about 9 inches long with sharp edges, like those found on a box grater, that you can use for fine grating. It typically has a polypropylene handle and a protective cover.
While one often uses it for zesting citrus, I use it for finely grating many more items. For example, it is perfect for mincing fresh ginger or garlic over stir fry, grating some parmigiano reggiano onto a bowl of pasta, or grating a bit of chocolate on top of tiramisu.
Shop Now
I learned the importance of using a cast-iron skillet during an online cooking demonstration with three Omaha steakhouse chefs. However, until I received specific tips, including using this piece of equipment, my steaks made inside lacked that wonderful sear that imparts so much flavor.
When purchasing a cast-iron skillet, choose one that is pre-seasoned and will hold your typical amount of steak without overcrowding it. Note that I mention steak here, as that is what I like to use my cast-iron skillet for; however, I use these pans for cooking all types of food.
I like cast iron because it provides even heating and excellent heat retention. In addition, these skillets are used on stovetops and ovens, on grills, and over campfires, so they have maximum flexibility.
The Kilted Chef, Alain Bossé, told me, "My cast-iron cookware will always have a home in my kitchen as well. Everything tastes better when it's cooked/baked in cast iron." I couldn't agree more.
First, season the steak with salt and pepper and leave it in the refrigerator for up to 12 hours. This process will infuse as much flavor as possible. Second, let the meat reach room temperature by letting it stand for about an hour and a half at room temperature. Next, remove all the extra moisture with a paper towel. The steak must be dry to sear properly. Be sure the cast-iron skillet is screaming hot using a heat-tolerant oil, as that is how the flavorful crust develops. Cook for about 2 and a half minutes on each side. Then, finish it in the oven.
Shop Now
I once took an entire cooking class at Le Chat Gourmet near my hometown of Lansing, Michigan, on stovetop smokers. We learned to smoke everything, from appetizers to desserts. Since you can use it indoors or outdoors, it is available for year-round usage. Outdoors, you can use it on a grill; while inside, you can use it on any source of heat, either a gas or electric stove, or an oven. The stainless-steel stovetop smoker is shaped like a rectangular box with a slide-on lid. It also contains a rack at the bottom to keep the food off the floor of the smoker. The one I have is about 11 inches by 7 inches by 3 inches.
I love it because it imparts a smoky flavor. The specific taste depends on the type of wood chips you use. Oak, hickory, mesquite, maple, cherry, and apple are all options. Choose a wood that enhances your ingredients. While you can smoke items for any course, I use them mostly to smoke meat, fish, and vegetables. I love pulled pork and find it particularly tasty to smoke it. The pork works in everything from barbeque sandwiches to tacos and burrito bowls. You can even make salsa from smoked vegetables.
To find out more about cooking schools throughout the world, check out these articles: