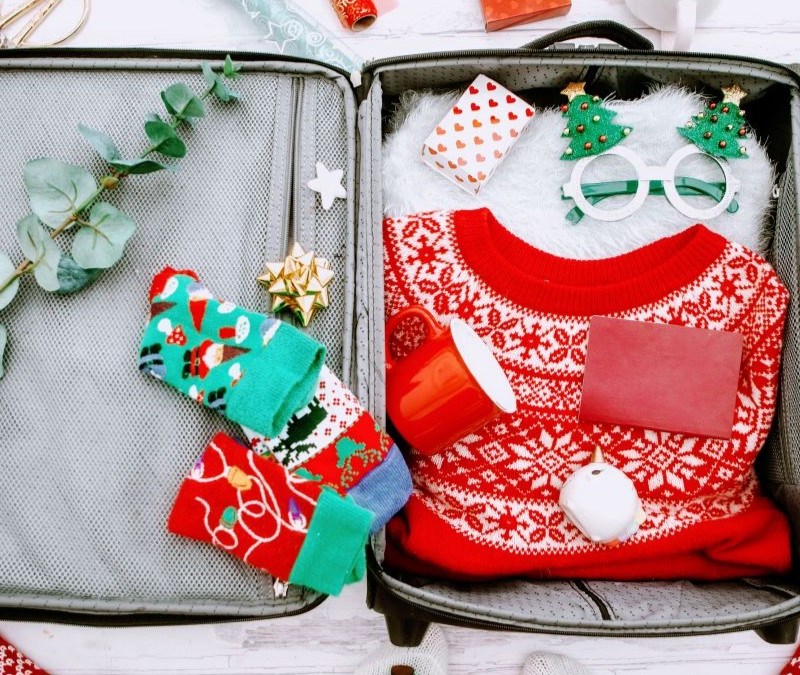 As you're making your holiday travel list and checking it twice, don't forget to add an essential but frequently overlooked item: ensuring you find ways to stay active during this bustling season.
With all the shopping, cooking, cleaning, decorating, wrapping, traveling, and visiting you likely already have on your agenda, it's easy for routines such as taking a morning jog or an after-dinner stroll to fall by the wayside. But keeping up your physical fitness routine is just as important at this time of year as any other. That's because exercise has a wide variety of benefits, according to the U.S. Centers for Disease Control and Prevention, including improving brain health, managing weight, decreasing the risk of disease, strengthening bones and muscles, and increasing your ability to do everyday activities, to say nothing of its stress-busting abilities (something we can all use a little of during the holidays).
Importance of staying active during the holidays
Between cold weather in many locations, decreased hours of daylight, and particularly busy schedules, the holidays can be a perfect storm of letting usual routines fall by the wayside. But if you'll be traveling, it's particularly important to maintain your exercise regimen so that you can feel well at your destination, maintain your energy levels, and keep an even keel through any unexpected challenges that being on the road may throw at you. Keeping up some version of your usual fitness routine can also help counterbalance those special holiday indulgences so that you avoid excess weight gain and start off the new year on the right foot. Kaiser Permanente notes that even a simple 15- to 30-minute walk can burn calories and is good for general health.
Tips for getting exercise during holiday travels
So, with all the conflicting priorities on your plate, how can you ensure you work in time for a workout? Here are some helpful strategies:
Portable fitness ideas
Airport walkways. Heading to the airport for a flight to your favorite holiday destination? Airports essentially double as climate-controlled walking tracks, offering ample space for you to clock in your steps comfortably while waiting for your flight. Carrying your suitcase instead of rolling it and holding your luggage while doing squats are additional options for getting your blood pumping while waiting for a plane, train, or bus, says FitDay.
Compact exercise equipment. Want to add some variety to your workout? Pack some portable equipment, such as a jump rope or resistance bands, to use in your hotel room or at your host's house. Jumping rope provides good cardiovascular exercise, while resistance bands are perfect for strength training on the go. Exercises such as banded push-ups, bent over rows, and split squats can provide a full-body workout in limited space such as a guest room or hotel room. Watch "Stay in Shape On the Go," from Clench Fitness for a demonstration of a resistance band routine you can do in just a few minutes. (Be sure to check with your doctor before starting any new exercise regimen and to tailor the routine to your health and fitness level.)
Exercises using just your bodyweight for resistance, such as pushup, planks, lunges, squats, and calf raises, are another option that don't require packing any additional equipment at all.
Active exploration. Eager to get out and about? Explore your home-away-from-home on foot, or rent or borrow a bike to get your blood pumping while you're sightseeing. If you'll be doing any holiday shopping at your destination, walk around the shopping center before going into any stores and opt for a more distant parking spot to get your steps in, says the CDC.
Plan active outings
Winter activities. As you're gathering with loved ones, why not make the most of the season with some fun outdoor winter activities. Hit the slopes for some skiing, plan a family hockey game at the local rink or lake, take a snowboarding lesson, try snowshoeing in your favorite park, or find the nearest hill for some sledding.
Holiday fitness events. This time of year abounds with holiday-themed fitness events. Are you an avid jogger? Enter a local turkey trot or fun run. Have a cause that's near and dear to your heart? Participate in a charity walk. Is something a bit more solitary your style? Try a virtual holiday-themed fitness challenge, which allows you to participate at a time and place that suits you while earning fun medals and, in some cases, supporting worthy causes at the same time. Or simply make a commitment to go for an after-dinner walk with a friend or relative each day at your destination to take in the neighborhood holiday decorations.
Active sightseeing. Are there any hiking trails or historical sites near your destination? Schedule a brief hike (make sure you bring sufficient cold-weather clothing, plenty of water, sunscreen, snacks, and gear for emergencies) or sign up for a walking tour.
Integrating activity into travel
As you sit down to plot out your holiday travels, create an itinerary that includes space for sightseeing, visiting with family and friends, relaxation, and physical activity. To ensure you have time blocked out for fitness, set aside a part of each day for an active undertaking — perhaps a morning stroll or an evening game of Ping-Pong with the family. If you will be selecting your own accommodations for your stay, try to choose lodgings that have onsite gym facilities or are near a park or other area where you can engage in some active outdoor recreation. And if you'll be heading to an area that's big on winter sports, consider giving one of the local mainstays a try to add a unique cultural twist to getting in your workout. Think curling or hockey in Canada or speedskating in the Netherlands.
If you'll be traveling or staying with family and friends, group activities can keep everyone engaged. Try an easy family hike (the American Hiking Society can help you find a perfect hike near you), take a group stroll to look at holiday decorations in the neighborhood, or, if you prefer to stay indoors (or the weather scuttles your outdoor plans), find a dance class nearby to get your groove on. Setting up friendly family competitions or shared goals, such as taking a certain number of steps each day or trying a certain number of new activities in a week, can help everyone reach their activity targets.
And remember to set realistic goals: Ensure people of all different fitness levels can have fun and safely participate, be prepared with alternate options in the event that the weather doesn't cooperate with any planned activities, and remain flexible. The aim is to stay active and enjoy your holiday travels, not to rigidly adhere to a workout regimen.
Mindful movement
With all the hustle and bustle of getting to and from your destination with your presents — and presence of mind — in hand, gentle, relaxing activities may be just what the doctor ordered. If you're already getting plenty of vigorous exercise running to airport gates, sprinting to your train's posted track, and lugging heavy shopping bags through the mall, try some restorative exercises. This can include the gentle movements of activities such as yoga, tai chi, or qi gong, or simply stretching for a few minutes after waking up and before going to bed. Many light routines can be found by searching YouTube for "beginner" plus the exercise you're interested in trying (e.g., "beginner yoga.")
Also, be sure to listen to your body and take downtime if you're feeling run down or tired. Knowing when to take a step back and recharge is just as essential to your health as maintaining an active routine. This approach ensures you enjoy your holiday travels to the fullest, without compromising your physical or mental wellness.
"Sleigh" your holiday workout
With a bit of advanced planning, you can make staying active during your seasonal travels a joyful part of your holiday experience. So pack your sneakers and workout gear next to your gifts and festive attire and get ready to sleigh your holiday workout!
Disclaimer of Medical Advice: This information does not constitute medical advice or recommendation of any kind, and you should not rely on any information contained in such posts or comments to replace consultations with your qualified healthcare professionals to meet your individual needs.