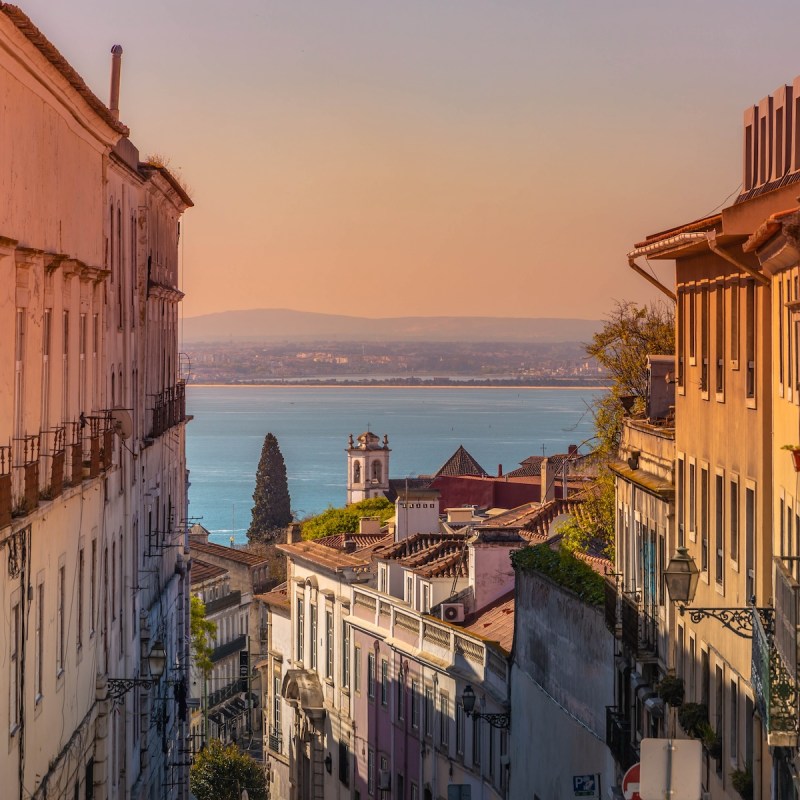 Lisbon is a city full of quaint, little neighborhoods to explore and wander. Each area has something unique to offer its visitors. I spent my 4 days in the capital city of Portugal exploring a handful of these neighborhoods to get a distinct feel for each. Here are my top three neighborhoods worthy of spending some quality time exploring on foot.
1. Alfama
If you're going to get lost, this will be the neighborhood it will happen in, but chances are, you won't even know it. One of Lisbon's oldest neighborhoods, Alfama is full of tiny and narrow streets, hills that become stairways, and locals leaning out their windows to greet you (and maybe tell you the way).
Deriving from the Arabic word for "hot fountain," the Alfama bathhouses still remain and are a popular meeting place for locals. Though now that running water is common in buildings, they are less functional and more ornamental.
If you don't happen to meet a local to show you the way, the best tip I received was from my free walking tour guide who advised us to simply follow the trolley tracks (the famous trolley 28 makes its way up here) down to wind your way out of the Alfama neighborhood.
But before you do, be sure to spend some time admiring the gorgeous view of the city and the Tagus River below at the Miradouro de Santa Luzia. I spent a lovely sunset here, complete with live music and mini Sagres beers for sale out of a cooler.
Alfama is also a great place to check out some of the famous fado music. While reservations are usually recommended, especially in high season, I found myself at a lovely little fado restaurant simply by, you guessed it, getting lost.
2. Cais Do Sodre
This neighborhood is a little more under the radar, but I suspect not for long. This once-dangerous neighborhood in central Lisbon has recently undergone a pretty miraculous transformation and visitors are catching onto its trendy riverside location.
Who knew what the addition of a brightly colored street could do to a place? That's right, Cais do Sodre is where you can find that oh-so-Instagramable street — Rua Cor de Rosa, also known as "Pink Street." This street is home to several bars and cafés. It really comes alive at night when people drink and dance until the wee hours of the morning. If late-night shenanigans aren't your thing, it's still worth a walk through in the daytime. I truly enjoyed the bar/bookstore located on Pink Street, called Menina e Moca, or the Girl and Lass Bookstore Bar. You can enjoy a white port and tonic cocktail while browsing the many books inside. If you're lucky, you might also catch an open mic or book reading.
Another fun place to check out in this neighborhood is the Time Out Market. This is a giant food court with vendors of every type of food you can imagine. If you and your traveling companions are having trouble deciding on a type of cuisine, the Time Out Market is a great choice. Everyone is sure to get exactly what they want. It can get very crowded, so expect to wait in some long lines. It is also a bit more expensive than you might expect for counter food.
My favorite thing to do in this neighborhood was to buy a can of beer from a market shop and make my way to the steps by the waterfront. There will often be music buskers, great people watching, and it's also a great place to catch the sunset as you watch sailboats gliding on the river.
3. Chiado
If you're looking for a bit more upscale and a bit more culture, Chiado is your neighborhood. Sometimes considered part of the more touristy Baixa neighborhood because of how close they are, Chiado is a bit less touristy and a lot more elegant.
This is where you want to be if you are eager to do some high-end shopping or eat at Michelin-starred restaurants. There are also plenty of churches to admire, museums to wander, and theaters to attend.
Chiado is home to the world's oldest (certified by Guinness World Records) bookstore. Bertrand Bookstore is located on Rua Garrett and is definitely worth a browse. This street will be your main drag, and along with the bookstore, you will also find one of Europe's first elevators; now conspicuously found in a United Colors of Benetton store.
Along with other upscale clothing and jewelry stores, Rua Garett also has plenty of fine dining and lovely cafés. The most famous of these cafés is A Brasileira. Its website calls it, "The beating heart of Chiado and a literary, architectural, and artistic treasure." Step inside this ornate café and take a step back in time.
Getting Around In Lisbon
There are so many ways to explore the vibrant city of Lisbon and its many neighborhoods. There's the famous trolley 28 that winds you around these three unique neighborhoods as well as several others. Get on board and hop off when you see something that catches your eye and just start roaming. The metro is another easy and inexpensive way to visit these areas.
However, my favorite way to get to know Lisbon is on foot. Put on some comfy shoes and see where you end up.