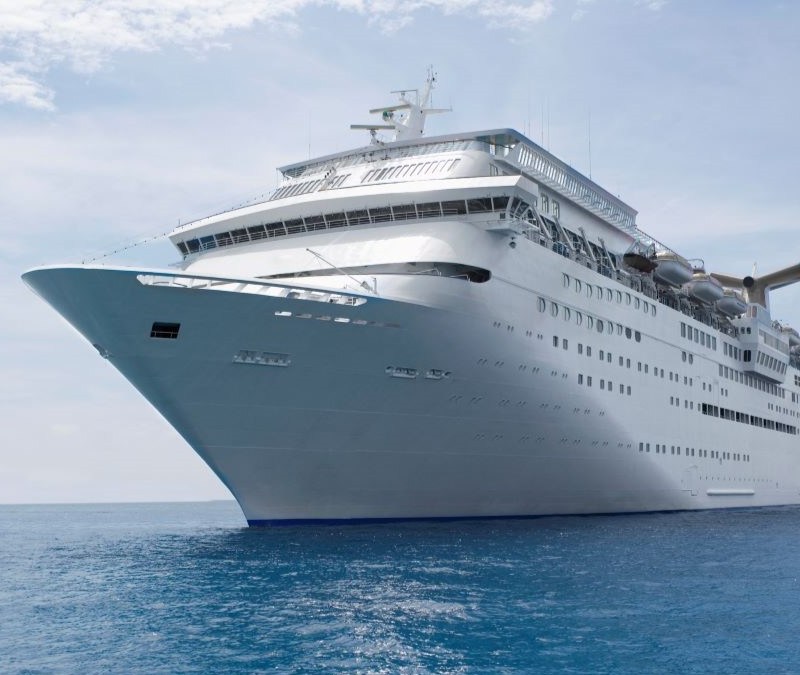 The fresh sea air, the wind in your hair, and the miles of blue ocean stretching out before you. In a way, cruises are the perfect vacation. Unpack once, settle in, and be transported from one amazing destination to the next.
With all the excitement of being welcomed aboard, it can be difficult to figure out how to maintain your usual fitness routine while sailing the high seas. But staying active during your travels is important, not only for keeping up your fitness, but for ensuring you feel physically and mentally at your best so that you can make the most of every precious second of your trip.
Just how do you get exercise on a cruise? Here are some tips from the experts.
Do cruises have gyms? Yes!
Working up a sweat on a ship can be an experience like no other. How often can you take in breathtaking views of mountains or snug harbor towns while working out on the elliptical machine? If you're seeking ways to get in your workout, the onboard gym facilities are one of the best places to start. Many are situated on upper decks and offer stunning panoramic views from floor-to-ceiling windows. According to Brian Kelly, better known as travel and loyalty program expert "The Points Guy," most cruise ships have fitness facilities that are free to use. Going during peak dining times or just before dinner can help avoid the crowds, notes Cruise Critic, while things are likely to be the busiest during mornings and on sea days.
Most cruise ship gyms will include standard pieces of exercise equipment such as treadmills, stationary bikes, elliptical machines, resistance machines, and free weights. There will typically also be space for group classes.
Cruise ship fitness classes
Many cruises will have time set aside for group classes, running the gamut from yoga to Pilates to Zumba to Spinning to tai chi. (Be aware that you may need to sign up in advance for certain more popular classes.) Dance classes are another popular option, with lessons on salsa, hip-hop, swing, cha-cha, waltz, and more being offered throughout the trip. (The rocking and rolling of the ship when the seas are rougher can make balance a bit trickier, so be ready to steady yourself or skip the classes on choppier days.) These can be a fun way to both stay active and try something new — you may even find you want to continue taking these types of classes once you're back on dry land!
Open deck activities
The gym isn't the only place to burn calories while under way. In fact, the ship itself can offer many options for working in physical activity. Many ships have open air tracks where you can accumulate some miles walking or jogging while breathing in the salty air. Basketball courts, rock-climbing walls, mini-golf, table tennis, and other similar facilities may also be available, offering additional opportunities to be active.
Taking the stairs as you explore the decks is another option for getting your blood pumping while you investigate what the ship has to offer. According to medical journalist and yoga instructor Rob Dinsmoor, "If you have a pedometer or fitness watch or any kind of walking or running app, you can keep track of your mileage. Strolling the deck also helps keep claustrophobia at bay."
Using your cabin or a quieter area of the ship to practice yoga or calisthenics (strength-training exercises that use your own body weight, such as pushups, pullups, lunges, or planks) is another option Dinsmoor suggests, along with bringing a jump rope for aerobic activity.
Dive into a workout in the cruise ship pool
Cruise ships typically have a pool on the top, or "Lido," deck, where revelers can take in the sun and sea while taking a dip. While these locations can often be crowded, visiting the pool facilities during port days or mealtimes can sometimes yield more space to move around and possibly swim some laps.
Active cruise ship excursions
It's a port day! If you've been looking for unique ways to work in your exercise while on vacation, active cruise ship excursions can offer a perfect opportunity. A lower-intensity option could include taking in a historic town on a group walking tour. For the more adventurous, activities such as bike tours, hiking, kayaking, snorkeling, and scuba diving can provide a way to get your blood pumping and get a taste of the local sights. (And remember, if your travel companions prefer something a bit lower-key, there's no reason you can't go your separate ways for a while at the port and reunite at dinnertime with stories to share about your day.)
Staying motivated to exercise on a cruise
There are plenty of great ideas for getting in your workout while cruising, but actually doing them is where the rubber meets the road. To stay motivated, try setting a daily exercise goal or getting into an activity routine early in your vacation. As mentioned earlier, using a pedometer or fitness tracking watch or app can also help keep you inspired to lace up your walking shoes each day. Working out with a buddy — either someone you're traveling with or a new friend you've made on the ship — can also help to keep you committed to your vacation exercise routine.
Mealtime considerations
Cruises are known for their indulgent meals and around-the-clock buffets. While vacation is a time to treat yourself, balance is key. Choosing healthy options at meals and avoiding endless grazing can help ensure you maintain your weight, feel good, and are well-fueled for all the fun activities you have planned. Requesting half portions, skipping courses, avoiding sauces and dressings, and limiting eating to actual mealtimes are some of the approaches suggested by Cruise Critic.
Happy sailing
On cruises, as in life, moderation is key. Be sure to balance indulgence with restraint and activity with relaxation. And above all, have a wonderful cruise. Anchors aweigh!
Disclaimer of Medical Advice: This information does not constitute medical advice or recommendation of any kind, and you should not rely on any information contained in such posts or comments to replace consultations with your qualified healthcare professionals to meet your individual needs.