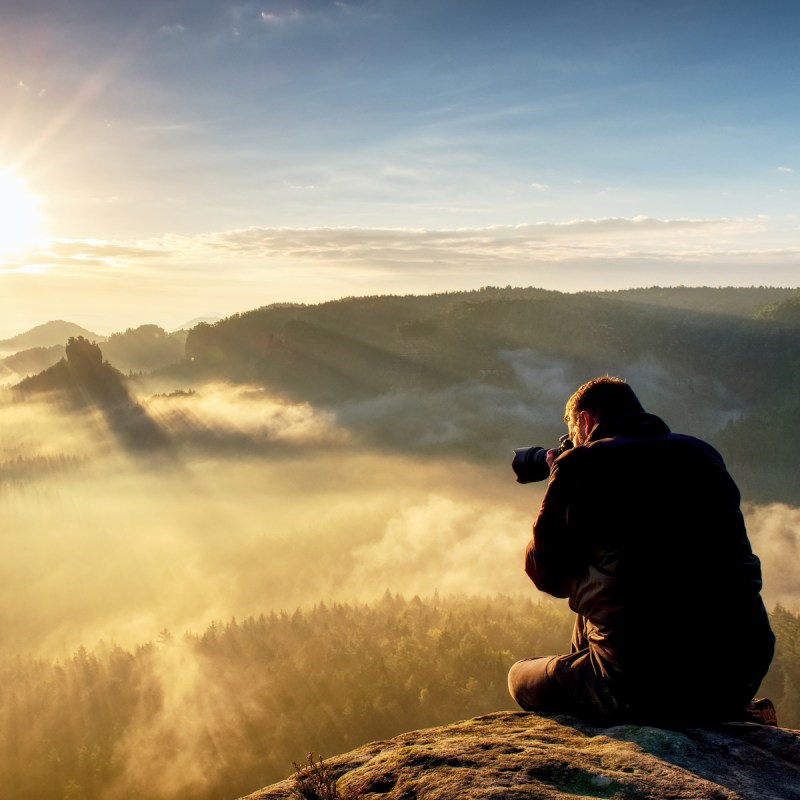 I'm a professional writer and a pretty good one. But my photography? It's just so-so. As a writer and travel enthusiast, I know the importance of capturing every moment of my vacation. I didn't want to solely trust capturing my memorable trip with my skills alone, so I opted for a little professional help.
From the picturesque landscapes to the mouth-watering local delicacies, I want to remember each detail of my trip for years to come. After all, vacations are meant to be cherished and remembered, and what better way to do that than through photographs? In this article, I will share how you can hire a local photographer who can help you capture the magic of your vacation and create lifelong memories.
What's A Vacation Photographer, Anyway?
Picture this: You're in a stunning new destination surrounded by breathtaking scenery and vibrant culture. A vacation photographer is your personal lens artist who joins you on your journey, skillfully capturing the essence of your adventure in beautifully composed photos. Think of them as your visual storyteller, freezing those moments in time that you'll cherish forever.
Why Opt For A Local Photographer?
You might be wondering, why not just rely on my own camera or trusty smartphone? Well, hiring a local photographer is a great option when you want to capture the essence of your trip. Here's why:
Imagine wandering around a new destination, stumbling upon a charming alleyway or a breathtaking sunset view. A local photographer can take you to the hidden gems you might have otherwise missed.
Locals know their turf like the back of their hand. They'll guide you to those secret spots off the beaten path that you might have missed otherwise. From cozy alleyways to stunning vistas, their familiarity with the area ensures you'll get photos with authentic local flavor and not just the usual touristy shots.
They Can Showcase Your Best Angle
We all have that "good side," right? A professional photographer has a knack for capturing your most flattering angles and expressions. They'll make you feel at ease, helping you radiate that genuine happiness that only comes during vacation. When you're enjoying the scenery or simply being yourself, they'll be there to snap those shots without you having to worry about setting up a selfie stick or asking a stranger to take your photo.
They Will Create Timeless Memories
These photos aren't just snapshots; they're windows into your cherished memories. Professional vacation photos are like a time machine that lets you relive those precious moments whenever you glance at them.
Professional-Quality Vacation Photos Make Lasting Memories
Sure, smartphone cameras have come a long way, but nothing beats the quality of images captured by a high-end camera with a skilled photographer behind it. These photos will become treasured memories that transport you back to that special vacation every time you look at them.
Booking Your Dream Photoshoot
So, you're on board with the idea. Now, how do you go about booking the perfect vacation photographer? Let's break it down:
The Right Match: How To Choose A Photographer
Just like finding the perfect travel destination, finding the right photographer is key. You can find them on professional sites, through recommendations, or on sites like Groupon or Viator. Look through their portfolios to see if their style resonates with you. Do you prefer candid shots or more posed ones? Make sure their vision aligns with yours.
Also, read reviews or testimonials from previous clients. This can give you insights into their professionalism, how comfortable they make their subjects feel, and the overall experience of working with them.
Budget And Details
Let's talk money. Discuss pricing upfront and ensure you're comfortable with the costs. Do they offer different packages? How many hours of coverage do you need? Are prints or digital copies included? Are there any additional charges, such as travel fees or extra editing? Clear communication about these details will avoid any surprises later on. Get a clear understanding of what you'll receive.
Make sure there's a written contract that outlines the agreed-upon details. This protects both of you and any misunderstandings later on.
Plan The Photoshoot With Your Photographer
Once you've found a photographer you like, the next step is to plan the photoshoot. Discuss your ideas, preferences, and expectations with them. Are there specific locations you want to visit? Do you have a particular theme or mood in mind for the photos?
Tips On Arranging A Photoshoot Deal
Now it's time to plan the shoot. Discuss your ideas, preferences, and locations. They'll be able to suggest the best times of day for optimal lighting and the perfect spots for that breathtaking backdrop.
1. Start By Sharing Your Vision With The Photographer
What kind of photos are you hoping to get? Candid moments, posed shots, a mix of both?
2. Decide On The Location And Timing Of The Photoshoot
Local photographers can suggest spots, but feel free to voice your preferences. Pick a spot that resonates with you. Whether it's a tranquil beach, a bustling market, or a historic landmark, the location sets the tone for your photos.
3. Timing Is Everything
The golden hour before sunset and the early morning light can work wonders for your photos. Consult with your photographer about the best time for that magical glow.
4. Coordinate Your Outfit With The Location And Vibe
Consider the color palette of your surroundings. Vibrant locales might call for bold, cheerful colors, while serene landscapes might be complemented by softer shades.
5. Make Suggestions
During the shoot, the photographer will likely provide some direction for posing and framing. But don't hesitate to suggest poses or locations you have in mind.
6. Establish A Rapport With The Photographer Before The Shoot
Build trust and ease any potential awkwardness. A comfortable and relaxed atmosphere is key to getting great shots.
7. Enjoy The Experience!
From capturing your best moments to creating lasting memories, these professionals are a priceless addition to your journey. Have you ever considered hiring a photographer?