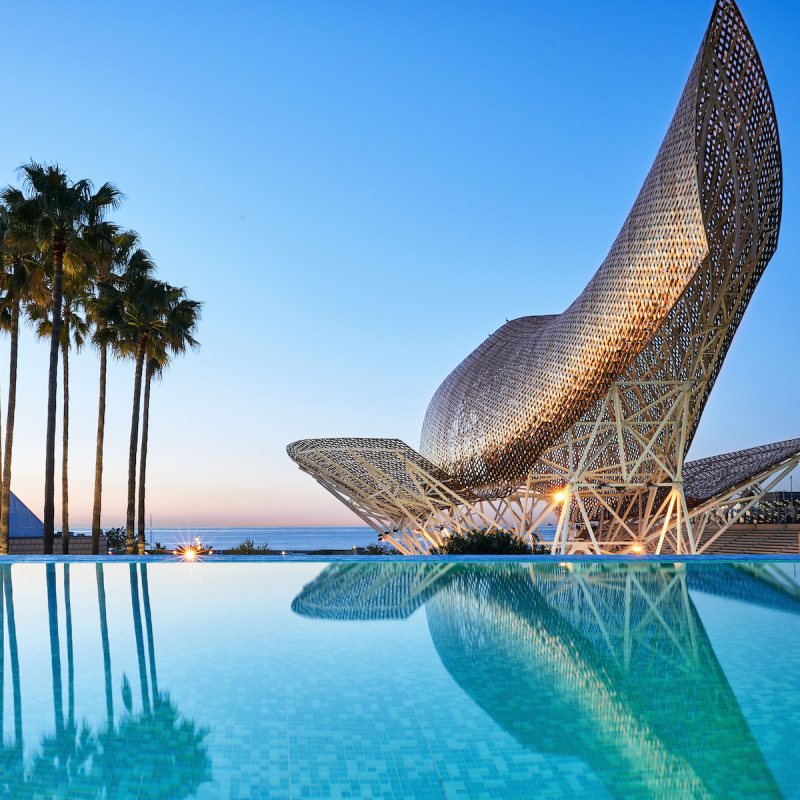 Barcelona is up there with my favorite European cities — in fact — it just about tops the list. There are many reasons to love Barcelona: the museums and art galleries, the beaches, the restaurants and shopping, the churches and architecture, and just the general laid-back vibe of the place.
When it comes to places to stay, the city continues to offer up the kind of variety only Barcelona can. Quirky, artsy, boutique, and cute are all found in the hotels and guest houses in the city, and lots of them are right in the center of the action. To get you started on where to stay in Barcelona, I've picked out my favorite places to stay, plus some that are on my wish list.
1. Via Sants Hotel
Via Sants Hotel is a Hilton propery that's newly opened for 2023. It's close to the train station; just a street away so it's ideal for anyone traveling here by train. It is a little ways away from the main attractions and the center of town, but there are plenty of taxis around and it is close to the metro, which is easy to use. The hotel is located on a quiet street, which is ideal at nighttime for a city hotel and perfect for anyone who struggles with city center street noises at night. It's a simple but stylish hotel. Many people use the hotel for a night before a cruise or for a weekend away, as the amenities are limited to a bar, restaurant, and a small gym. There are plans for a rooftop pool which will make the hotel a lot more enticing. It's a great hotel for exploring the city while not being in the busy center.
Dining And Drinks
The Lobby Restaurant at the hotel serves Mediterranean dishes, including Spanish and local Catalan cuisine. It's a nice informal restaurant, but I didn't see many people there. There are some really good local restaurants in this area that are authentic and used by locals, which most guests seemed to prefer. However, the breakfast here is really good, so I'm sure dinner is too. I can say that the cocktails at the bar are very good as well.
2. Hotel Arts
Hotel Arts is a Ritz Carlton Hotel that caters to cruise ship customers looking for a layover. That's not to say it isn't a great hotel for anyone looking for a weekend, or a week, away in Barcelona. There are two pools here and the hotel is a tall building that stretches into the sky. The pools are lovely, but they do get very busy in the high season. Surprisingly, there are no balconies for any of the rooms, but there are some incredible views over the beach and out to sea from the windows. It's a large hotel, so expect a lot of people — especially in high season — but the amenities are very good.
Dining And Drinks
There are four incredible restaurants on site: a Japanese restaurant, the Marina Club offering exclusively outdoor dining, a Mediterranean restaurant, and The Pantry — which is a speakeasy-style restaurant that offers local cuisine and a great wine list. Honestly, it is difficult to choose between these restaurants as they all offer superb dining options, but The Pantry has the kind of atmosphere I love and the food is more unique and local than the others. The roasted eggplant and vermouth is a must, and the crusty choux pastry with Catalan creams for dessert is just divine. Breakfast at the hotel is also extremely good and offers some good vegan options.
3. Hotel Jazz
Situated right at the top of La Rambla, Hotel Jazz is in a great location for seeing all the main sights of Barcelona. There's also a metro station just by the hotel, making it a great base for exploring further away from the city center. You can stay here for easy access to all the city's attractions and also head off to the beach. The hotel itself is somewhere between a boutique and a larger hotel. The rooftop pool and terrace is a lovely spot for sunbathing and you can also get food and drinks up there. The rooms are all fairly spacious and they have patio-style doors that open onto small city balconies.
Dining And Drinks
You can order tapas from the bar menu at any time after 11 a.m., which is when breakfast ends, and you can also get some lovely sourdough pizzas and burgers. It's not so much a restaurant as an informal snack bar, but the food is really good and there's a good choice of wines and cocktails. The breakfasts are extremely good and there's a wide choice in pastries and hot food. Perfect for lunch or a light bite by the pool, the snack menu is good enough to act as dinner if you don't mind the limited choice in dishes.
4. Hotel Granvia
Just off the Plaza Catalunya, Hotel Granvia is perfectly located for exploring the city. If you're flying to Barcelona, there's a bus service that runs from the airport right to the hotel and back again. The building itself is beautiful and was built as a private home for a wealthy family in 1870. It's been a hotel since the 1930s and there's been a lot of effort put forth into keeping the hotel's history and atmosphere apparent. The rooftop terrace is a lovely spot for enjoying a drink on a sunny day, though there isn't a pool. The rooms are spacious and all have lovely old stone balconies. Unusual these days, you can get a single occupancy room, which contains a single bed.
Dining And Drinks
I was surprised to find a grand old hotel like this doesn't have a restaurant. There's a lovely lounge area and bar, but no dining room. I think a lot of Barcelona city center hotels don't offer dinner because the restaurants in the city are so good and there are so many of them. However, the breakfast is really good here. It's a buffet with a really great choice of pasties, and hot foods, plus it's continental. Up on the terrace is a lovely place to relax and enjoy a leisurely breakfast.
5. Hotel 1898
Hotel 1898 is a luxurious hotel close to La Rambla and all the city's attractions. The building wraps itself around a corner street and you can immediately see how grand it is before you even get inside. Once inside, it's very plush and evokes the spirit of the 19th century perfectly. But the highlight by far is the basement spa. It doesn't seem to be overused by guests, even in busy times, and it's a lovely haven for relaxing and de-stressing. There's also a rooftop terrace with a pool, which is equally lovely for sitting out in the sun and having a drink. The two options mean you have everything you could want for relaxing right there at the hotel.
Dining And Drinks
You can book a room on a bed-and-breakfast basis, or half-board; but if you book half-board, you might have to make it clear to all members of staff that this is what you have, as many of them don't seem to be familiar with guests doing this. You might also find that you won't have a table reserved as you would expect. However, the food is very good and I'd recommend the stewed lentils with Iberian rib and pumpkin, with the crunchy chocolate and hazelnut tart. A bottle of the Anna de Codorniu Blanc de Blancs Cava is really reasonably priced and goes well with anything.