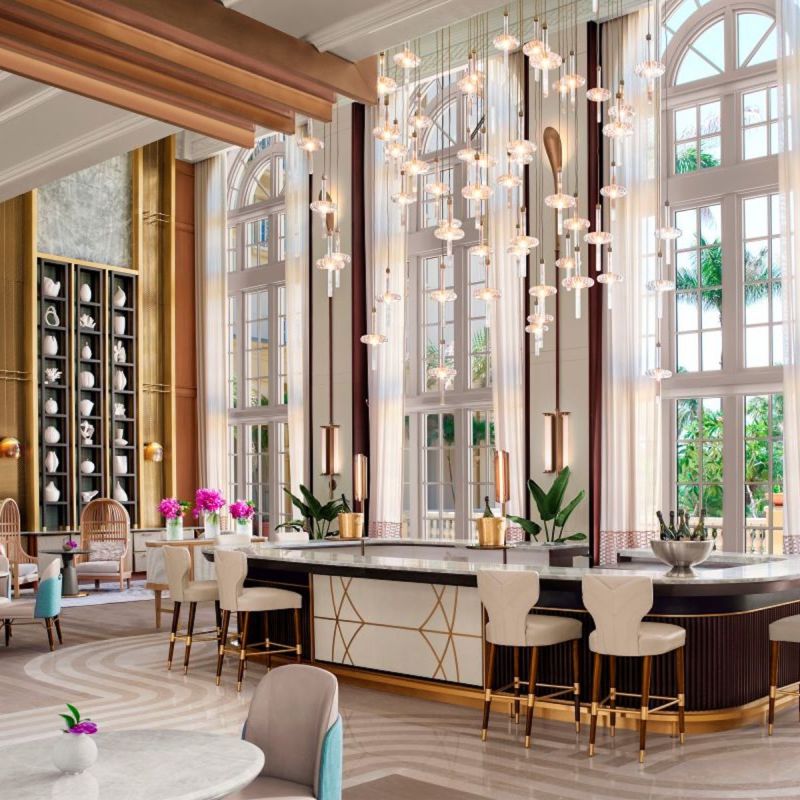 The Capri Inn opened in downtown Naples in November 2022. The first new hotel in years, it moved in where the circa-1996 Euro-style Trianon Old Naples moved out. It was just the beginning of the Naples accommodation scene's reshaping. On July 6, The Ritz-Carlton Naples reemerged after a year-long makeover with major impacts, including a new club-level tower. The town's oldest hospitality property, Naples Beach Resort, went in a Four Seasons direction.
Despite the damage Hurricane Ian wrought in southwestern Florida in September 2022, other impressive new hotels and resorts loom on the horizon — from a Margaritaville product to a grand destination resort with its own indoor water park.
Some of the resorts highlighted have hosted me as a travel journalist, but all opinions remain my own.
1. The Capri Inn
Live rose buds in the breakfast room, a flute of champagne upon welcome, and a curated beach day package: The details and service at The Capri Inn build on a reputation for the finer things in life that its predecessor, The Trianon, had set in the 1990s. Its greatest asset? You'll feel boutiqued and sequestered while only a couple of blocks away from Naples's most well-known, bustling, and adored address — 5th Avenue South.
Party and dine downtown or hide away from it all in one of The Capri Inn's 59 chic rooms or its gated historic cottage, originally renovated by Bob Vila in 2012 on his This Old House show and again in 2023. Anyone familiar with the Naples food scene will appreciate the fresh Mickelson's pastries at breakfast. Lounge privately poolside or take advantage of beach transportation, complete with beach chairs and a cooler, to the nearby storied sands of old Naples. Part of the exclusive Opal Collection, its sister property, Edgewater Beach Resort, offers more amenities, including restaurants, bars, and a spa. Guests staying at The Capri Inn's cottage have beach and pool privileges there.
Pro Tip: With so many drink-and-dine options on legendary 5th Avenue South, how do you choose? My favorite is closest to the hotel; Bha! Bha! Persian Bistro serves authentic ethnicity in an exotic setting. For fine, intimate Italian dining, Alberto's on Fifth wins awards, including a recent TripAdvisor top ranking. Hit happy hour at Truluck's or Bar Tulia.
2. The Ritz-Carlton, Naples
The Ritz-Carlton, Naples, was a game-changer back when it opened in 1985 on a stretch of pure, white beach in North Naples. It turned a quiet fishing town into a world-class destination, and it continues to write history with its latest remastering, branded "The Evolution of an Icon."
After closing its doors in September 2021 and a hurricane that delayed its new rollout by 7 months, The Ritz made its return worth the wait. The star of the show, the new Vanderbilt Tower holds the 70-plus-suite Ritz-Carlton Club with a 4,000-square-foot lounge. The already elegant lobby saw a magical transformation; all light and white, three new dining experiences join the amenities. Relish the champagne bar in the lobby and what the Ritz describes as "vegetable-forward" eastern Mediterranean cuisine in the open-air Sofra restaurant.
All 382 pre-existing guest rooms and suites underwent a facelift. Guests still can take advantage of amenities at The Ritz-Carlton Naples, Tiburon, a golf resort with a water park that will undergo its own renovation in 2024.
3. AC Hotel By Marriott Naples 5th Avenue
The momentum continues, despite Hurricane Ian's interference. AC Hotel by Marriott Naples 5th Avenue was expected to open in the fall 2023, but has now been pushed to December. With properties all over the world, the AC Hotel brand promises thoughtful, ultra-modern design. Its first hotel between Miami and Tampa will become the 150-room hospitality component to the Naples Square mixed-use residential development downtown, to where Gulfshore Playhouse is relocating.
Its crowning glory, AC Hotel's third-story rooftop promises to become downtown Naples's newest hotspot. In its indoor-outdoor space, it will encompass a swimming pool and a destination restaurant and bar named Limón. Another dining venue will occupy the hotel's dramatic ground-floor lobby.
4. Compass Hotel By Margaritaville
Having taken over an existing extended-stay property in midtown Naples, Compass Hotel by Margaritaville has an edge over new builds in getting its doors open expediently. It too plans a December 2023 opening, this one along Tamiami Trail, or Highway 41, Naples historic arterial. The hotel began its transformation in July to become Jimmy Buffett's third in the Compass brand, second in Florida, and first of its all-suite hotels.
In keeping with the Margaritaville nomenclature, it will exude a tropical, party air but with a more boutique feel than other products in the resort company's massive portfolio. There will be the signature "It's 5 O'clock Somewhere Bar," named for a popular Buffett tune, in the hotel's back courtyard. And, of course, the margaritas will flow. Lawn games around the pool, the Welcome Cabana, and complimentary breakfast will complete this perfect vacation cocktail rimmed with salt. The 120 suites will range from studios to two bedrooms with full kitchens, appropriately attired in coastal tones and appointments.
Pro Tip: At Compass Hotel by Margaritaville, you will be perfectly poised to take advantage of one of Naples's greatest pleasures: shopping. Within a short drive, you can reach Mercato, Waterside Shops, and The Village Shops on Venetian Bay — all refined destinations for retail therapy and top-shelf dining.
5. Great Wolf Lodge South Florida
Great Wolf Lodge broke ground in July 2022 on 20 acres east of Naples, where 500 suites and a 100,000-square-foot, heated, indoor water park best describe its breadth. It is headed to become the brand's 21st property; its first in Florida when it opens in summer 2024.
In addition to the water park, a 62,000-square-foot family entertainment center known as the Great Wolf Adventure Park will offer attractions like MagiQuest — Great Wolf Lodge's exclusive live-action adventure game where players use interactive magic wands to battle goblins and dragons.
Great Wolf's properties are also known for their scheduled activities, such as dance parties and story time. The guest suites will offer a variety of options including themed units where the kids can sleep in separate quarters resembling a log cabin or wolf den. Dining options promise just as much variety.
Pro Tip: With so much going on at the lodge, you might be tempted to never leave the building. That would be your loss, because Great Wolf lies close to the real-life adventure and wildlife of the Florida Everglades. Build a kayaking or airboat adventure into your vacation, or visit one of the Big Cypress National Preserve's welcome centers to learn more about this unique environment.
6. Naples Beach Club
Naples Beach Hotel led Naples's current reputation for upscale resorts more than 70 years ago, when guests like Rose Cleveland (the president's sister) arrived by rail or boat. It has withstood the ages and times as an icon of Naples beach vacationing, until a couple of years ago when it was sold — to almost everyone's surprise and dismay. Locals and loyal patrons held their breath as the fate of the 125-acre golf and gulf property spun out in boardrooms and the local press.
News has come in dribbles and the most I could learn is that it will be developed as a resort and residential project with a 216-room Four Seasons Resort as its centerpiece. Along with golf and tennis facilities, 58 beachside residences are in the immediate plans, with no set ETA. Golf-side residences are projected to come in the next phase.
Related Reading: