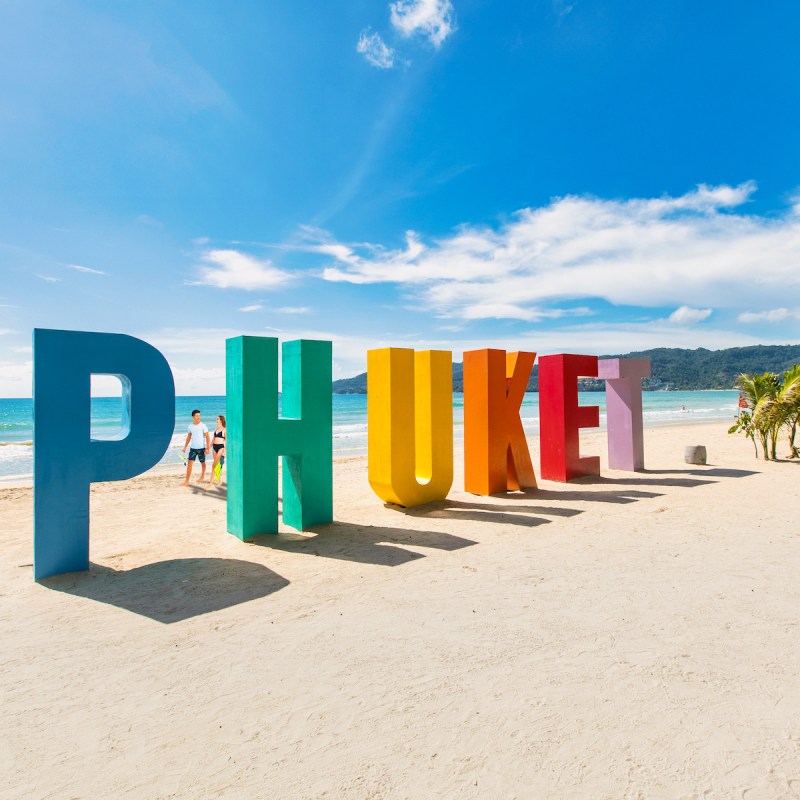 Dubbed the "Pearl of the Andamans," Thailand's largest island, Phuket, has an abundance of gorgeous coastlines and spectacular beaches to enjoy. The island is, after all, Thailand's top holiday destination.
Phuket has over 30 beaches, each with something different to offer, with the best on the Andaman Sea-facing west coast. Many have accommodations, activities, and entertainment in their immediate vicinity, making them one-stop holiday destinations. Starting in the southwest corner, this best beach guide for Phuket includes a few personal favorites.
1. Nai Harn
Nai Harn has become a popular beach destination on the southern end of Phuket's west coast. With feather-soft sand and shallow clear blue waters, it's no wonder visitors and locals head to this beach haven. Finding a comfy spot to spread your towel is easy and the small stalls beyond the beach's casuarina tree line mean refreshments, tasty snacks, and street food are on hand. Another plus is the on-duty lifeguards during the high season.
With only a handful of hotels dotting the surrounding green hills, Nai Harn retains its authentic local atmosphere. As a sheltered bay, yachts and fishing boats anchor here in the high season's calm waters. The nearby Nai Harn Lake, another shady respite, is popular with locals during Thai festival celebrations like Loi Krathong in November.
Pro Tip: Before returning to your hotel at the end of the day, take a 2-mile detour up to nearby Cape Phrom Thep — Phuket's most famous sunset viewpoint.
2. Kata Beach
Kata Beach is the next major beach destination heading north from Nai Harn. There are two Kata beaches: the smaller and less congested Kata Noi to the south and the pandanus and tropical almond-tree-lined Kata Yai to the north, where most of the action can be found. Both beaches are outstanding.
The shallow seas off Kata Yai allow more accessible, safer snorkeling in the nearby coral reefs off the northern and southern ends of the beach. You can also enjoy surfing, stand-up paddle boarding, diving, and swimming. Pu Island sits just offshore of Kata Yai, adding another element to your sunset viewing and photography. Parallel to the beach, Kata Road hosts most of Kata Yai's bars, restaurants, hotels, and resort offerings. Everything you need is in the immediate vicinity.
Pro Tip: Some of Phuket's most spectacular viewpoints are along the winding hilltop road between Nai Harn and Kata Beach. Above Kata Noi, several hillside bars and restaurants with spellbinding Andaman Sea views offer excellent Thai food and refreshing beverages.
3. Karon Beach
Positioned between Kata and Patong Beaches, Karon Beach is almost perfectly straight, with 2 miles of the typical soft, golden sand this region is famous for. The overall vibe is easygoing, with long stretches of beach free of crowds.
A popular venue for watersports like windsurfing, parasailing, wakeboarding, and waterskiing, Karon's compact sands are also well-suited for beach volleyball and it's often used for international championship matches. The "sport" of relaxing is similarly easy on Karon.
Karon has a great selection of hotels and resorts to suit most budgets. The beach road adjacent to the southern and central sections offers a good selection of Thai eateries and seafood restaurants. Everything you need is in the neighborhood, making Karon particularly appealing to families.
4. Freedom Beach
Rated as one of Phuket's most beautiful beaches, Freedom Beach is a hidden gem. It is only accessible via a 10-minute, long-tail boat ride from neighboring Patong or Karon, or a hike along a rough forest trail across private land.
Given the extra effort required to access the 330-yard-long secluded cove, this little touch of heaven is relatively quiet — crowd and noise-wise. People come to Freedom to swim, snorkel, and laze on the soft white sand, away from the bustle of the main beaches. You can eat on the sand at one of the street food stalls or drop into the third-generation Barefoot Bistro and organic farm at the end of the beach.
Pro Tip: The return long-tail boat rides typically cost 200 THB (less than 6 USD). Simply tell the boat driver a pickup time and he will return. Sea access is only available during the high season.
5. Patong Beach
Patong is Phuket's most famous beach, and at 1.77 miles long, there is room for everyone. With a distinct party vibe, it's the place to see and be seen. Bustling Patong Beach is activity central with jet skiing, surfing, or parasailing available off the beach. Roving vendors sell snacks, drinks, and sarongs, or you can get a massage in Salas under the trees separating the beach and Thaweewong Road.
As well as the water activities, Patong is Phuket's number-one party zone with multiple attractions, restaurants and bars, and the famous (or infamous) busy night scene on Bangla Road. An abundance of accommodation options can be found in the streets around the beach, from budget to all-inclusive hotels and luxury resorts.
Pro Tip: While consistently busy, Patong can be even more crowded in the late afternoon as visitors from around the island descend to watch the Sun sink below the horizon. For a quieter and equally spectacular sunset spot, pop over to nearby Kamala.
6. Kamala Beach
Head north from Patong along the cliff-edged millionaire's row to the long (just under 2 miles), wide, and soft pale sands of Kamala Beach. Fringed by casuarina and coconut trees, the beach offers plenty of space for those seeking a more low-key beach experience. And as the sea is clear and shallow, with no sudden drop-off, it is popular with couples and families. For surfers, Kamala also boasts beginner and intermediate surf breaks.
Kamala has excellent Thai and international restaurants on the beach's edge; ideal for daytime grazing or dinner under the stars. The beach road at Kamala's southern end hosts budget hotels plus a busy bar and restaurant scene. Novotel Kamala and the upmarket InterContinental Phuket Resort have prime beachfront locations at the beach's northern end.
Pro Tip: Those seeking an Ibiza-style beach club experience will find Café Del Mar on Kamala Beach the ideal spot. Just steps from the sand, comfortable lounge chairs surround a stunning swimming pool with onsite dining and the opportunity to party well into the night.
7. Surin Beach
Surin Beach's exceptional water clarity makes it popular for swimming and snorkeling in the high season. This once-famous party beach was cleared of illegally erected restaurants, bars, and beach clubs almost 10 years ago. Surin's natural beauty now shines with turquoise water, impeccable sand, and palm trees, complemented by just a handful of restaurants and massage salons.
Motorized watersports are rare around Surin Beach, with kayaks and surfboards more common. People watching and celebrity spotting is a new beach sport, thanks to nearby high-end resorts like Amanpuri and The Surin.
8. Nai Yang Beach
Further north, near Phuket International Airport, is the beachside Sirinath National Park. Bordering this park on the southern side is Nai Yang Beach — one of my favorites in Phuket. The casuarina-shaded beach gives a glimpse of what Phuket may have been before mass tourism — and there's a lot to like.
Safe, shallow, clean water is ideal for families, plus the quiet green of the national park beachfront campgrounds adds to the restive nature of Nai Yang Beach. This 1.5-mile sandy crescent also offers toes-in-the-sand restaurants and bars, plus the usual complement of beach massage and other vendors.
The Slate and Marriott Nai Yang are luxury resort accommodation options, along with a good selection of affordable hotels and resorts a little further from the beach. Nai Yang is a beautiful hideaway but with enough to do to not feel isolated.
When To Visit
Phuket is open to visitors year-round. You will never be cold in its tropical climate, with the coolest nights dropping a very comfortable 77 degrees Fahrenheit and the hottest days peaking around 93 degrees Fahrenheit.
May to October are monsoon seasons, and although accommodation and other holiday-related prices are very enticing, the ocean can be rough with currents and undertows, plus poor water visibility.
The best time to visit Phuket is the high season between November and April when weather conditions are ideal for beach activities like swimming, water sports, and boating. Notably, the island is big enough to not feel overly crowded during the high season. I recommend visiting when your beach experience is at its best.
Related Reading: