I woke early on our first day in New York City on a recent trip. I ran to the window, opened the curtains on the morning sunrise, and looked right next door at the iconic Grand Central Station with its notable clock and sculptures. Below, orange taxis vied with cars darting down the street. Early risers rushed along the sidewalks. From the comfort of my hotel room, I stood filled with excitement to begin a memorable time in one of my favorite cities. And I smiled knowing that our five nights in the Grand Hyatt were paid by points. This trip was just one of many rewards I've enjoyed by collecting travel points.
When you use credit cards strategically to collect travel points, you are setting up a system that will take you places. Literally, this is a legitimate way to travel more for less money. Not only can you take more trips and fly to more places, but you can also stay in more expensive hotels than your budget usually can handle.
Points and miles have whisked me to Europe several times, to or from Paris, London, and Switzerland. I've flown on points to New York City, Boston, San Francisco, and Washington, D.C. My next flight booked with miles is to Houston, to visit family. And I added on a night at a hotel right on the lake in Austin, using points. That will be a fun little getaway with the grandkids at a fancy place, no charge.

Getting Started
You can make collecting travel points as easy or as complicated as you like. If you want to just dip a toe in, start with one credit card that comes with a sign-up bonus of points or miles. Try out using the benefits. If it works well for you, apply for another card. And another. ALWAYS make sure to pay your credit card bills in full each month. No exceptions. Apply for what you can manage. No debt is involved. It's simply a matter of buying what you likely were going to buy anyway (groceries!) or paying bills but having a plan for which card to use each time.
Find The Best Travel Rewards Credit Card For You
With your first credit card, the question will come up about whether you want to add your spouse as an authorized user. While you may have many questions about maximizing your travel points in general, let's focus on this one issue for now.
The Pesky 5/24 Rule Makes Sharing Not So Good
As long as both you and your spouse have healthy credit and are able to apply for a new card, my answer to sharing cards is a blanket no. My primary reason for this is the Chase 5/24 rule that states you can open only five credit cards within any 24-month period. Chase issues many credit card options, and you will want to be able to add Chase cards to your holdings. So, you want to choose those five carefully. And if you are an authorized user on your spouse's card, that counts.
Chase offers its own Chase Sapphire Preferred® Card, Chase Sapphire Reserve®, and Chase Freedom Unlimited®, as well as the Chase Ink Business® Cards. It also runs cards by Southwest, United, Marriott, IHG, and Hyatt. With so many credit card options, Chase can be your friend when it comes to opening credit cards. But you need to know the rules and play by them.
It's also important to note that Chase looks at all credit cards you open, including those run by other companies, such as Bank Of America's Alaska Airlines Visa Signature® credit card or Citi's American Airlines AAdvantage MileUp℠ Card. And don't be tempted by store cards or online merchant cards that will give you an instant discount on your purchase. The reward is generally a small dollar amount, but that new card will count toward your limit of five.
So, you will want to keep close tabs on your five cards and the dates you open them. And sharing a card with a spouse takes up one of those precious five options.
Double Sign-up Bonuses Can Double The Fun
While credit cards offer several different travel perks, such as access to airport lounges, the major draw for me is the large amount of travel points you get when you sign up. This is often called the sign-up bonus or SUB. You can rake in airline miles (points), hotel credit points, or general points that can be converted to hotel points or airline miles. And simple math shows if both you and your spouse apply, your separate cards will result in double the points.
The sign-up bonuses are awarded after you spend a certain amount in a certain time. By each of you applying for cards at different times, you can spread out the spending required. You can time your applications to come before a major trip, a purchase of furniture, or putting a new roof on your home, for example. Big-ticket items will help you reach the minimum spend. Sometimes the spending amount is low enough that you will reach it just by buying groceries and gas. There are many ways to meet the minimum spend, so be encouraged that you can do it — and do it twice if you both want to apply for the same card.
See How Two Cards Are Better Than One
Here's a recent example of how having separate cards turned out well. Last year my husband applied for an IHG® Rewards Premier Credit Card. IHG includes Kimpton, Holiday Inn, InterContinental, and Ritz Carlton hotels, among others. After 3 months, we met the sign-up bonus* spending and got Curt's points in our account. Then I applied. After another 3 months, I got my points*.
*Earn 140,000 bonus points after spending $3,000 on purchases in the first 3 months from account opening.
We used Curt's for a stay at the Kimpton in Santa Barbara. For no cost other than the valet parking, we spent two nights in this elegant downtown hotel. The room was spacious with classy décor. And the rooftop patio and pool provided a view of the red tile roofs of Santa Barbara and the harbor. This prime hotel would have set us back more than $1,000 if we had paid cash.
Then, in October, we flew to Washington, D.C., and used my IHG® points to stay at the stately Intercontinental Willard Hotel, two blocks from the White House. We walked to the Mall and museums. We loved the posh yet friendly atmosphere of the Willard. And knowing this hotel is steeped in history going back to the Civil War made it even more fun for me. Sitting on the patio eating dinner here, we took in a view of the Washington Monument and the Capitol and pinched ourselves that we could stay in the middle of our country's history — free of charge.
Our two IHG® cards made it possible to elevate our trips to stay where we wouldn't if we had to pay. Due to a bit of effort put into planning our credit card strategy — including not sharing cards — now we have treasured memories of both these trips.
Often in marriage, it's best to share. But not when it comes to credit cards. The possibilities double when you keep your cards separate. So, here's a question to ponder when you get into planning with points: Where do you want to go on your next adventure? And that's a really fun question to answer!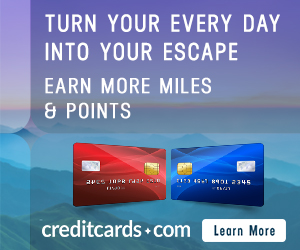 Editorial Disclosure: Opinions expressed here are the author's alone, not those of any bank, credit card issuer, hotel, airline, or other entity. This content has not been reviewed, approved, or otherwise endorsed by any of the entities included within the post.