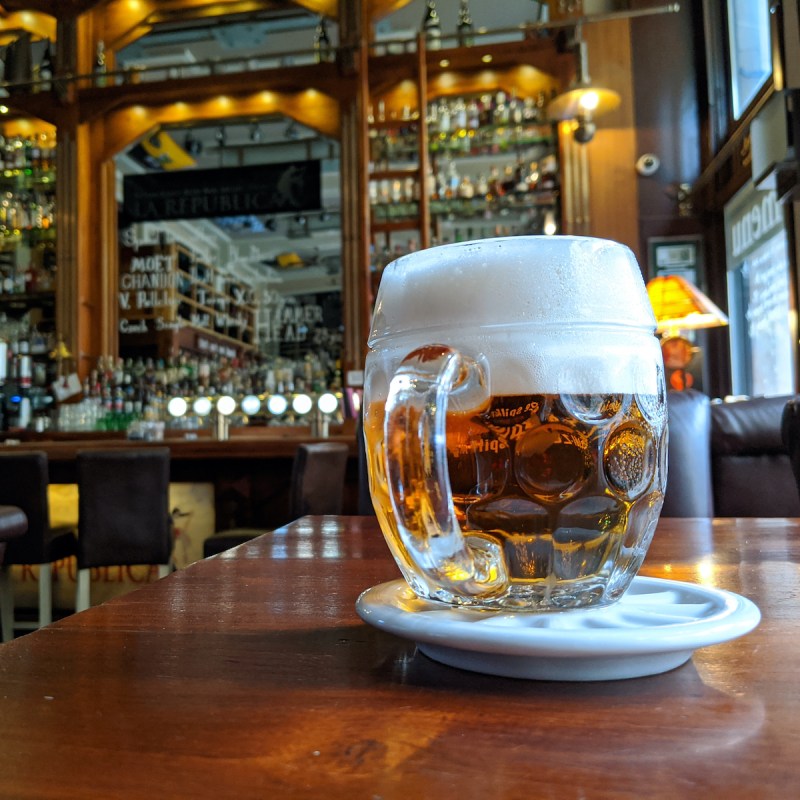 The beautiful city of Prague is a playground for beer lovers. Whether you are a pilsner fan or love a light lager or even a heady dark beer, you will find a perfect stein waiting for your arrival. There is a wonderful opportunity to enjoy great Czech beer in Prague, and below are some of my favorite places to raise a pint in celebration of the storied history and amazing city of Prague.
After a day of touring historic Old Town, strolling across the Vltava River on the famous Charles Bridge, and marveling at the medieval Astronomical Clock, you will need the perfect spot to enjoy a beer in Prague. Whether you prefer a craft beer in a rowdy beer garden, a pilsner in a charming gastropub, or even a beautifully crafted cocktail at a fancy bar, there are a wide variety of options to suit everyone's style. I'm sure you will find a few favorites in the list below. I can't wait to visit Prague again to enjoy another round.
The spots to enjoy a great Czech beer and other fabulous libations are listed below in no particular order.
How To Drink Pilsner In The Czech Republic
When you order a Pilsner Urquell in the Czech Republic, you are faced with three unique pour options: a Mliko, a Šnyt, and a Hladinka. Who knew there were so many ways to enjoy a draft.
Drinking Pilsner Urquell
Pilsner Urquell has been brewing this fine craft beer since 1842. Brewed in Plzeň, it is the grandfather of all pilsner-style beers. This ubiquitous brew is easy to find anywhere in Prague and throughout the Czech Republic.
For true pilsner aficionados, the train ride from Prague to Plzeň is approximately 2 hours. You can tour the brewery and sip a perfectly pulled pint any way you like it.
The Mliko
Not your classic draft pour, the Mliko (the Milk), is one of those unique pours that celebrates the foamy head. Smooth, sweet, and silky, you need to down this pint quickly to consume the milky head before it disappears.
The Šnyt
The Šnyt is two fingers of beer and three fingers of foam. It's the beer the barkeeper pours when you are on the edge of one too many or they are closing for last call. "Have a Šnyt for the road…"
The Hladinka
Of course, you will enjoy the classic Pilsner pour, the Hladinka. This is the traditional beer pour known around the world. No need to worry about the name, if you order a beer, this is the pour you will get in Prague.
1. Hemingway Bar
The Hemingway Bar, named in honor of the infamous Ernest Hemingway, celebrates his love of a great bar serving fine spirits. The bartenders will surprise you with their attention to the finer details of cocktail creation. The expert mixologists will deliver the perfect cocktail creation. Provide them with a few of your favorite libation choices and they will concoct a potion that even Ernest himself would be writing home about.
The bar's collection of Absinthe, the fennel, and anise-flavored libation, is all the rage. Additionally, there are over 200 varieties of rum offering guests an unparalleled selection. You will find Pilsner Urquell on the bar list, this is certainly the fanciest spot to enjoy a Czech beer.
You will need to make a reservation at this very popular spot. With the option to make your online reservation for 1, 2, or 3 hours, you can pop in for a cocktail and a peek or sit and sip for several hours.
Pro Tip: Hemingway Bar has a list of house rules, including no standing, no computers, no photography, and a request to not bother other patrons. This is a spot to have a romantic rendezvous or quiet interlude. What happens at Hemingway's, stays at Hemingway.
2. Lokal
Long tables crowded with friends chatting about the events of the day, lined with plates of delicious pub grub, and pints of fresh Pilsner. There are several Lokal gastro pubs across the city tucked away in hip neighborhoods where generations of friends frequent who love to gather for a night of beer and conversation.
This is a fun spot to make new friends, chat with a local about the best spots to visit while you are in Prague, and enjoy a perfect Pilsner.
Pro Tip: Finding a seat at the Local later in the evening can be a challenge. Pub patrons will sit at their table and enjoy the evening for hours. Come early and stay late, the best way to enjoy an evening with friends.
3. Bankers Bar
When you wander away from the crowded Old Town center, you encounter winding streets with interesting ancient buildings that house a wide collection of shops, restaurants, hotels, and bars. One such fascinating place is The Bankers Bar.
Located in the Haštal Hotel, the Banker's Bar interior is decorated like a Republic bank of the 20s and 30s where the architecture is based on functionalist style. This updated version of an old bank offers signature period cocktails and an expansive collection of whiskey from around the globe.
Pop in to sip on a perfect pour of Kilchoman or a palate expanding, guided tasting. Add a fun nosh for a wonderful adventure into the fascinating world of whiskey.
Pro Tip: Book a private tasting inside the vault for a unique libation adventure.
4. Cafe Italia
When you are in Prague's Old Town and want to find a spot where you will encounter a mix of tourists and locals, try Cafe Italia. Wedged in behind The Church of our Lady before Týn, the outdoor patio is a favorite hangout for local college students.
Italian restaurants and bars dot the Prague landscape offering comfort food enjoyed by Czechs and visitors alike. With the two countries in close proximity, it is no wonder tasty Italian fare has made its way into the hearts and stomachs of the people of the Czech Republic.
Offering delicious pizza and the Krušovice, a beloved Czech beer, you can enjoy a peaceful meal just steps away from the frenzy of the city center. Krušovice is a lager with a gold color, a deliciously bitter taste, and an excellent foamy head.
Pro Tip: The dining room is charming and offers a variety of international cuisine. For a relaxing quick bite, snag a seat on the outdoor patio where you can dine alfresco and people watch.
5. Cervene Jele
Pro Tip: Situated down an alley next to the Marriott Hotel, Cervene Jele may be a challenge to find, but you will love the journey.
6. Kro Bistro And Bar
When you are on the hunt for the best hangout in a new city, check with a local in the know. My go-to local in Prague is Markéta Podrabská, a tour guide for a Taste of Prague. This amazing foodie company offers amazing tours of Prague and the beautiful culinary and libation offerings around the city. The guides like Podrabská love their city, the foodie culture, and sharing it with their guests.
Podrabská's favorite bar is Kro Bistro and Bar in Karlin, a suburb of Prague. "Amazing delivery in the cocktail department, great local wines, and micro-brewery beers" are some of the highlights at Kro Bistro and Bar. Kro Bistro and Bar delivers that favorite neighborhood-spot feel with bright modern decor and a cozy atmosphere.
Grab a seat on the patio and order one of its curated cocktails like a Prosecco Colada or a Miso Old Fashion and immerse yourself in the urban culture of Prague.
Pro Tip: Kro has several spots across the city, but the Bistro Bar is in the suburbs of Karlin. Public transit is a safe and easy way to get around the city. You will find Karlin on the yellow line.
Enjoying Great Craft Beer In Prague, Czech Republic
Prague is a fascinating city built on generations of difficult history. As the Czech Republic blossoms into an integral part of Western culture while keeping its roots and traditions intact, visitors are the lucky recipients of this metamorphosis. There are so many great bars and pubs to enjoy a great beer in Prague, I have only begun to scratch the surface of the hop-driven Czech culture.
The next time you find yourself in this grand city, be sure to take time and savor the beer and libation culture across Prague. You will find some great places to enjoy authentic Prague cuisine in our Czech cuisine guide.