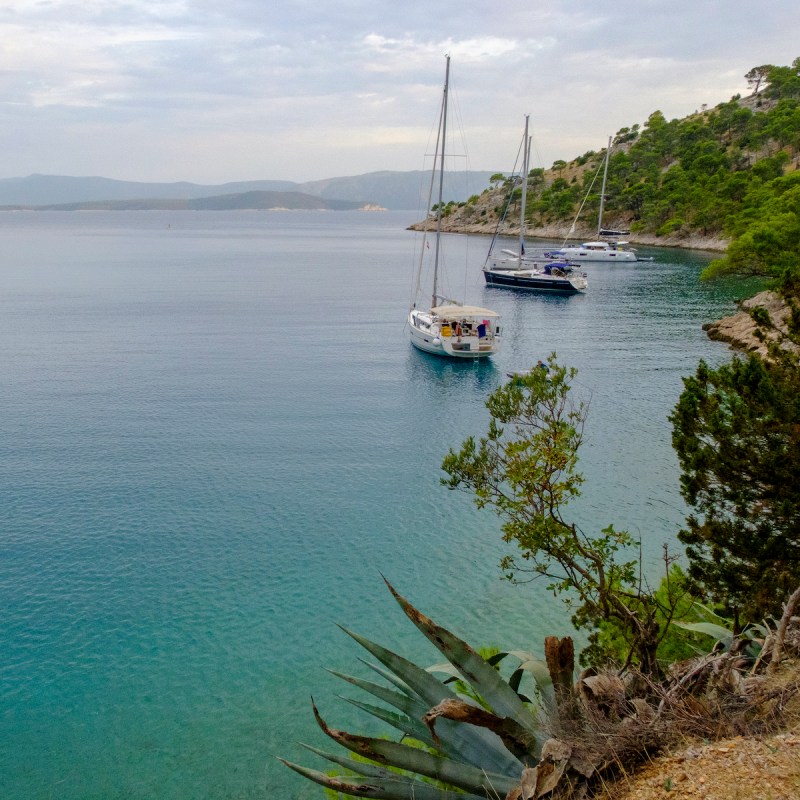 It's imperative to feel comfortable and safe while traveling.
Medjet
provides premier air medical transport, travel security, and crisis response memberships, providing peace of mind for an affordable price.
By the third day of sailing between the dry, rocky islands of Croatia's Dalmatian Coast, we'd learned three important things: the sailing is sublime, everything you need is on the Riva, and it's always a good time for gelato.
It was our family's first trip since COVID started, and we couldn't wait to get our crew back together and on the water again. After more than a year of being landbound, we would have gone just about anywhere. But Croatia, with its abundance of islands, historical sites, fresh seafood, and clear, cerulean waters, tempted us from the start. And then there were the practical considerations: In late August and early September, it's warm — 70 to 80 degrees Fahrenheit — but not hot, there's reliable wind (essential for sailboats), and the Adriatic Sea is outside the Hurricane Belt.
We chartered a 43-foot sailboat from Black Pearl Charter, one of more than six charter companies based in Marina Baotic, 10 miles west of Split. A cruising boat is essentially a floating RV. You unpack once, wander freely on your own schedule, and have all you need wherever you go. Finding the boat was simple; photos and details are on the charter companies' websites. The sailboat we reserved online featured enough beds for our eight-person crew, two heads (bathrooms), and a corner galley (kitchen).
Our crew ranged in age from 19 to 82 and included friends and family. They've all sailed with us in the San Juan Islands of Washington state and the neighboring Gulf Islands in British Columbia. In many ways, sailing the Dalmatian Coast proved easier than the Northwest, but my first sailing charter in Croatia still provided challenges and surprises. Here's what I learned.
Chartering In Croatia
If you're not a sailor or would rather skip some of the paperwork, you can hire a captain along with the boat. If you are a sailor, the same charter captain certifications (see page 17 of the PDF) that you need in the U.S. also qualify you to charter a boat in Croatia. You'll also need an FCC Restricted Radiotelephone Operator License so you can legally operate the VHS radio onboard. Getting the license is simple: fill out the online form, pay the fee, and you're done. Charter companies may also require a sailing resumé or other documentation.
Pro Tip: At the time of this writing, Croatia requires proof of COVID vaccination and the U.S. requires a negative COVID test before returning. The larger towns have testing centers, but we did the necessary test on the boat using eMed. You'll need to register with eMed before you leave the U.S. and perform the test during a video call. Results take about 15 minutes.
Food And Provisioning
As soon as the charter company gave us access to our boat, we hailed an Uber to get to a large grocery store near Trogir and stock up on provisions. All the charter boats in the area were on the same schedule, so sailors swarmed the store and rushed to fill multiple carts with everything from pasta to cases of vodka. Adding to the chaos was the fact that none of the packaging was in English. When the food wasn't visible in the package, we chose items based on the picture on the front. This led to a few surprises, such as a jar of something we thought might be mayonnaise, but wasn't. Mostly, however, this approach proved successful. In hindsight, Google Translate would have been helpful.
The rest of the food we picked up at fruit stands and small grocery stores along the way. We found Konzum markets have the best selection in island towns. Regardless of the store, the staff at the deli counters rarely speak English, so you may return with mystery cheese (as we did).
Bakeries are everywhere, and they offer far more than just bread and pastries. We quickly learned they were the best place for slices of pizza, sandwiches, and other grab-and-go food. Coffee to go is difficult to find, but "caffe" bars are plentiful. These establishments typically serve food and drinks all day, starting with coffee and ending with cocktails. Every place we ate had menus translated to English, and many featured large signs with photos of the various dishes. The water is safe to drink.
Pro Tip: Cash is frequently preferred in smaller towns on the islands. The local currency is the kuna (rhymes with tuna). ATMs are plentiful along the Rivas (the promenades around the harbor).
Sailing, Anchoring, And Mooring
With 79 islands in relatively close proximity, few reefs or rocks, and reliable wind, the Dalmation Coast is a sailor's paradise. We found winds ranged between 8 and 20 knots, and tides were only 1 to 2 feet. Except for mooring fields and areas marked with an upside-down anchor, you can anchor almost anywhere. We anchored in secluded coves, crowded inlets, and even 100 feet from a submarine tunnel. The peacock-blue water is so clear that it's easy to check on the anchor. In Vis town and other harbors, we secured a mooring ball for a fee.
We stern-tied ashore when we anchored to counter side winds or current and to allow room for other yachts. Stern-to or Mediterranean mooring with set "lazy" lines (or what sailors call "slime lines" — bring gloves) is required in marinas and quaysides. Call ahead to reserve a spot and ensure the staff is on hand to help you dock. We were apprehensive about Med mooring, but the experienced dock staff always made it painless.
Pro Tip: Harborside konobas (pub-style restaurants) often offer mooring, shore power hookups, and water to refill your tanks. Some even provide showers. Fees vary and may include dinner at the konoba. It's a great way to experience authentic Croatia.
Adventures Ashore
The major towns of the Dalmation Coast welcome visiting yachts and offer everything from provisions and hot showers to bakeries and bars. Vis, Korcula, and other island towns are small enough to be walkable if you don't mind stairs and uneven stone-paved streets. It's all uphill from the harbor!
Getting around town and the islands is easy. Taxis, busses, Uber rides, rental cars, and scooters are available for longer trips. Tours to explore the islands' wine, food, military sites, natural wonders, beaches, and other attractions are easy to find along the harbor fronts. Ferry service between the islands and the mainland is fast and reliable, making it simple for our crew members to return to Split mid-cruise to catch a flight. Most transportation options seem to be located near the ferry dock.
Most of the time, we puttered to shore in the dinghy (a small inflatable boat with an outboard motor) and explored on foot, with the occasional Uber or bus ride. Some members of the crew simply swam to shore; the water was about 75 degrees. We also used water taxis to get around when the water was too rough for the dinghy or the town was too far from where we anchored. This worked especially well for visiting the town of Hvar on Hvar Island. We anchored in the nearby Pakleni Islands and took a water taxi to town and back.
Once ashore, we explored the town's winding streets, visited historical sites, picked up a few provisions, did a little souvenir shopping, grabbed a bite to eat, and sampled gelato. We toured fortresses, archaeological sites, museums, cathedrals, and Roman ruins. Narrow, twisting staircase streets and alleys revealed hole-in-the-wall cafes and boutiques. At the Piazza in Hvar, we ate pizza and watched the crowd; in Vis, we sipped wine while the sunset put on a show.
In the nature parks and wild areas we hiked, watched the wildlife, explored submarine tunnels and battlements, swam in the clear blue water, and savored the unspoiled scenery and sounds of nature.
Pro Tip: The first thing I do in a new town is find the local tourist board office. That's where you'll find a local map and brochures on various tours, restaurants, and attractions. The staff can also answer questions, such as where to get the best gelato. Companies that sell tours advertise with signs reading "Tourist Information." The tourist board office is usually located on or near the Riva or ferry dock.
For more on sailing and chartering your own boat, read these articles: