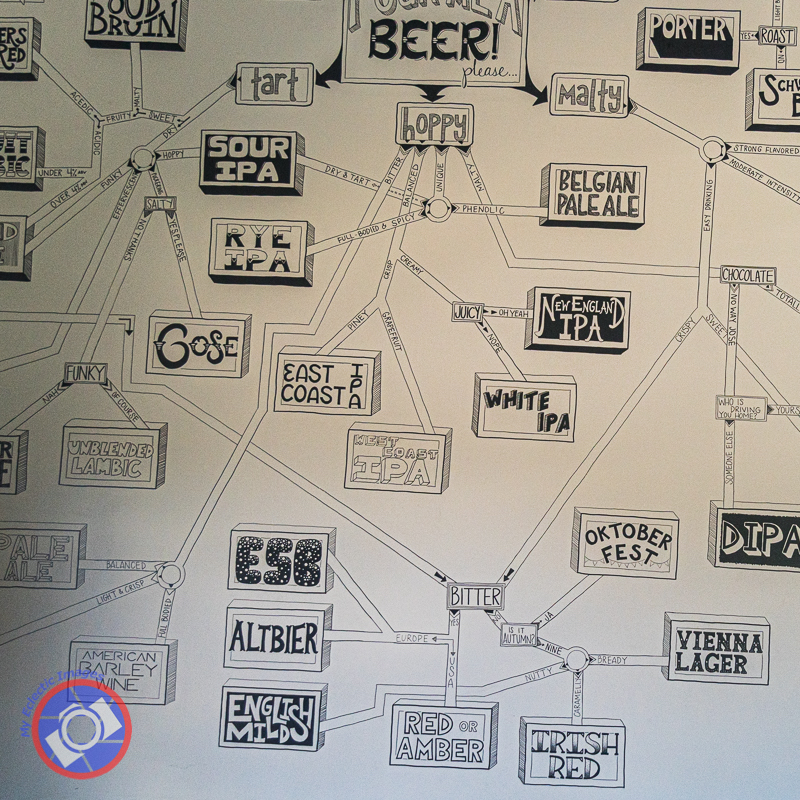 Greenville is an impressive grazing ground for foodies. Naturally, foodies deserve a comparable selection of unique and exciting beverages with which to wash down those eclectic edibles. Fortunately, Greenville's adult beverage scene easily holds its own.
I've selected seven establishments with a higher-than-average wow factor, based on personal experience. These came via word of mouth, passed on by locals who love to share their favorite finds. Each one is different in product and process. What they all have in common is they are owned by families, or partnerships of two, all of whom are passionate about what they do and committed to providing high-quality products.
Note: Some of the establishments mentioned below generously hosted my husband and me. However, all opinions are entirely my own.
1. Copperhead Mountain Distillery
A short, 20-minute drive from Greenville lies Travelers Rest at the foot of the Blue Ridge Mountains. There is a picture-postcard perfect setting, you'll find Copperhead Mountain Distillery distilling rum, vodka, and moonshine. Copperhead uses Tennessee Fat Boy copper stills to make these spirits, as opposed to the more familiar column stills.
The process for making whisky and moonshine are essentially the same, however, most moonshines are clear and not aged. The term "moonshine" comes from the prohibition era when the safest way to distill illegal whisky was by moonlight.
Copperhead also produces moonshine boiled peanuts, jams, jellies, hot sauces, sweet pickles, and award-winning chili. Call ahead for a tour and tasting. For $14, you will learn about Copperhead's history and the products it produces. You will also taste a wide array of its spirits and foods.
Copperhead makes 12 varieties of moonshine using natural flavorings. Try the blackberry or peach. Both smell and taste like fresh fruit, and slip down gently.
2. Eagle Mountain Vineyards And Winery
Also located in Travelers Rest is Eagle Mountain Vineyards and Winery, bringing a line of six exclusive quality wines to the Greenville area. These are currently being produced in California, but the ultimate goal is to harvest the grapes flourishing on the property for future onsite wine production.
The unique Eagle Mountain Winery offerings consist of four pillars: exceptional wine, casual high-quality food at the restaurant currently under construction, indoor and outdoor sculptures by local artists, and live music weekends.
Five of Eagle Mountain's six wines are specifically created to pair with food: two traditional whites and three traditional reds. The sixth, a muscat Canelli, is a light, refreshing semi-sweet sipping wine with hints of tropical fruit. Eagle Mountain's best-seller, is its outstanding cabernet sauvignon, with notes of vanilla, spices, dark chocolate, herbals, and blackberry. This bold, full-bodied wine is well-worth taking home.
Pro Tip: For $14, you can enjoy five wines as part of a tour and tasting, which includes a full glass of your favorite wine.
3. The Southern Growl Beer Company Brewery
Craving a quality craft brew and burger in a friendly atmosphere with an upbeat vibe? The Southern Growl Beer Company Brewery offers 60 taps dispensing a variety of craft beers, ciders, house cocktails, wine, and sodas. Add a menu that includes tasty burgers and chicken sandwiches with names as creative as the ingredients, and you're exactly where you need to be.
Located in the town of Greer, 12 miles northeast of Greenville, this congenial spot where locals gather exudes homemade. From the furniture to the 30 beers brewed in house, as well as the breads, buns, pickles, and sauces, if you can eat it, drink it, sit on it, or look at it, it's likely to have been produced onsite. 
One of Southern Growl's best sellers is also one of the most flavorful. Bury Me in Strata is a deep gold American IPA with a gentle hoppy taste with hints of mango, melon, lemon, and other fruits. If you are looking for something refreshing, look no further.
A fruity sour, Tropical Sauce hits the taste buds with sweet mango, tangy pineapple, and a mild kick of habanero at the back end. The flavors, but not the heat, seem to intensify with every sip.
4. Vicario Spirits And Liqueurs
Another fabulous find in Greer is Vicario Spirits And Liqueurs. Its unique gin and 15 liqueurs are produced from all-natural organically grown ingredients from its local 7-acre farm and its Villa Sant'Andrea farm near Cortona, Italy.
Treat yourself to a tour and tasting for $16. Following a talk about Vicario's fascinating history and the philosophy behind the products, you'll head outside to learn about the various herbs and plants used to produce the gin and liqueurs. Then, in the 8,000 square foot warehouse, you'll see exactly how they are made. The first thing you'll learn is Vicario spirits are macerated and not distilled. The equipment and techniques will be described, and you'll never look at a liqueur the same way again.
After a peek into the room where many of the 200 herbs are drying, it's time to taste. The Herba Luisa, a lemon verbena, and the Seville Orange are fragrant and citrusy, while the Dragoncello, made with French tarragon, has a smooth licorice flavor. The Coffee Liqueur's main ingredient is espresso, made onsite, and is bold and rich in flavor. The Monk's Secret is minty with a hint of honey. And there are more. With the selection available, you're sure to find one or three you'll want to take home.
Pro Tip: Vicario also sells olive oil and wine from its property in Italy.
5. Wandering Bard Meadery
For something a little different, try Wandering Bard Meadery. Located in Hampton Station, an abandoned cotton warehouse turned trendy gathering place, this friendly establishment infuses an ancient beverage with a touch of modern class. The main space is wide open with a balcony for extra seating. Original lighting — as in housemade — adds a funky note, And a rollup garage door opens to a common area where patrons of the complex's various businesses can mingle and enjoy live music.
Also known as honey wine, mead is what happens when honey, water, and yeast are allowed to ferment. The resulting beverage is 12 percent alcohol.
Traditional Mead is only the beginning of what Wandering Bard has to offer. The Meadery serves a selection of flavored meads from semi-dry to semi-sweet on tap, as well as oak and barrel-aged meads. It also produces a selection of ciders and cysers, a mead and apple cider blend. Old World Bochet, a spiced mead, smells and tastes of cloves and other spices, something you could drink slightly warmed in front of a roaring fire.
Pro Tip: Try a charcuterie board, flatbread pizza, or another house specialty to complement your mead of choice.
6. Birds Fly South Ale Project
Also located at Hampton Station is Birds Fly South Ale Project (BFS), where old styles and techniques of brewing and modern methods meet, beginning with house cultivated yeast. The result is 6,000 barrels a year of surprising, creative craft beers you won't find anywhere else.
BSF has 14 beers on tap with several on rotation. Each beer has an interesting name and a story behind it.
If your tastes run toward a sour, try the Perch Watermelon Mint. It has a definite mint aroma and a hint of mint in the taste that takes the edge off the tartness. Blue Prince is an IPA with guava and is always on tap. It's a little fruity but not at all sweet. Nights Like These is a stout with a hint of coffee that takes it over the top
7. Distinct Cider Room
Located minutes from downtown in the up-and-coming Village of West Greenville, Distinct Cider Room brings a refreshing new beverage option to the Greenville area. The only taproom solely devoted to cider, Distinct Cider Room serves a variety of unique ciders on tap.
If you've tried cider and rejected it because it was too sweet, Distinct's offerings will give your taste buds a holiday. Semi-dry with gentle carbonation, these ciders won't send you running to the dentist. Try the cherry lime that produces a pleasant little pucker. Other fun flavors include orange cream, peach, pear, blackberry, and strawberry.
A small interior room seats 16 and the outdoor seats 30. Distinct doesn't serve food, but you are welcome to bring in your own to pair with your choice of cider.
Pro Tip: Not sure which beer, cider, or mead to try first? Order a flight to help you decide.
Many places in South Carolina have activities that are fun and unique: