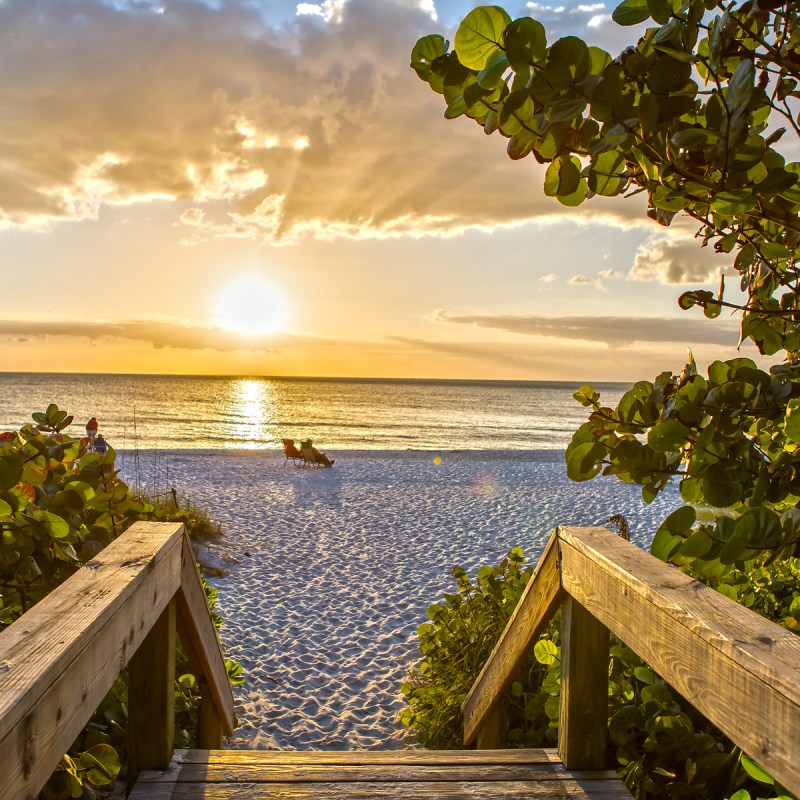 I love finding a good hotel, and I've discovered several since moving to Florida. Here are seven unique hotel stays in Florida, some perfect for a private retreat, some with an abundance of luxury, others suited for adventure, and even one with a live rodeo. I'm finding excellent new properties all the time, but these Florida hotels have really stood out to me as providing exceptional experiences.
Disclaimer: I've enjoyed hosted stays at Westgate River Ranch, St. Francis Inn, Island View Cottages, and La Siesta Resort. All opinions are my own.
1. Westgate River Ranch
Did you know you can have an authentic dude ranch stay in the heart of Florida? My top pick for unique hotels in Florida is Westgate River Ranch Resort & Rodeo in River Ranch, a town in Central Florida. You won't need to leave the property once you set foot on this sprawling family-friendly 1,700-acre wilderness.
Choose from luxe teepees, Conestoga wagons, glamping tents for luxury stays, lodge rooms, suites, or one- or two-bedroom cottages for overnight accommodations. And if that wasn't enough, there are tents, platforms, and RV camping spots, too. Westgate River Ranch lies on the Kissimmee River and has a massive list of amenities. My favorites were the petting farm, airboat ride, swimming pool, swamp buggy ride, Saturday night street and dance party (maybe still on hold due to COVID), and riding a golf cart around the beautiful grounds.
Westgate River Ranch has a general store for all of your camping needs and wants (with a deli, ice cream, and Starbucks coffee), a fun saloon (for drinks), and an onsite restaurant, Smokehouse Grill. I loved the baby back ribs, baked beans, and coleslaw from Smokehouse. Saturdays are rodeo nights, with barrel racing, bull riding, and trick riding as well as a patriotic all-star performance.
Pro Tip: Though COVID halted it, Westgate River Ranch's hayride and sing-along were among the most fun activities I've done in a long time. A tasty buffet-style chuckwagon dinner followed.
2. St. Francis Inn
Nestled on the brick-lined streets in St. Augustine's historic district is the St. Francis Inn, a circa 1791 pet-friendly bed and breakfast dripping in Old World charm and with a host of special touches. St. Francis Inn is the perfect location for your visit to St. Augustine — you probably won't even need to get in your car at all. Rooms are a mix of antiques and modern furniture.
The walled courtyard garden is bursting with color, tropical flowers, and incredible plants. There are seating areas nestled all through the courtyard, perfect for enjoying the wine and cheese evening social hour, fire pit, and nightly homemade desserts. To say we ate well on this visit is an understatement.
The heated (seasonally) swimming pool is gorgeous and a great way to relax on your vacation. You'll also love the gourmet breakfast buffet (the quiche was fabulous) they are famous for or the tasty breakfast boxes they are currently offering due to COVID.
Pro Tip: Take advantage of the complimentary bikes and get to know the beautiful city of St. Augustine. You also receive free admission to the St Augustine Lighthouse and Museum with your stay, and parking at the inn is included.
3. Amelia Schoolhouse Inn
I picked the Amelia Schoolhouse Inn on an impromptu overnight in Amelia Island. Just reading the description of this premier boutique hotel in the historic downtown Fernandina Beach area was enough to lure me in. The inn was built in 1886 as the original school for Amelia Island. Today, it is a charming place to stay and has 17 one-of-a-kind rooms that strike a spark of nostalgia.
My husband and I chose a Premium Queen Room with lots of space and a colorful rug, hardwood floors, school supplies and related decor, and a shower/bath combo. All rooms have desks, ceiling fans, and the cutest retro mini-fridges.
In the lobby, a modern bar area called The Principal's Office serves craft cocktails, wine, and beer and is an excellent spot for networking and socializing. There is also a lovely outdoor swimming pool and putting green, plus a few bicycles to rent. A grab-and-go breakfast is included with your stay at Amelia School Inn, as is 24-hour coffee.
We enjoyed the easy walk to downtown Fernandina Beach; the Amelia Schoolhouse Inn location could not have been better. They even have free parking. We browsed the local shops, ate a tasty dinner, and enjoyed a fabulous coffee and dessert before popping in a book shop.
4. Animal Kingdom Lodge
Walt Disney World has many unique resorts, but one stands out in my mind as the most unique — Animal Kingdom Lodge. Where else can you look out your bedroom window and watch giraffes, zebras, kudu, and gazelle, often eating right beside where you are standing? The photo-ops are incredible, and the experience memorable. There are multiple pools, too, and one (Uzima) shows your favorite Disney movies in the evenings.
You'll find award-winning cuisine at the Animal Kingdom Lodge restaurants. Indian food is my favorite cuisine, so I am especially in heaven eating my way through Sanaa for breakfast, lunch, or dinner.
I stayed at Animal Kingdom Lodge with my parents and my daughter for a Traveling Mom event. I'm not sure which one of us loved the lodge the most — my parents for the animals, my daughter for the safari-themed room, or me for the delicious restaurants and super cool lobby adorned with unique African art.
Pro Tip: If you are visiting the parks, take the free transportation from the hotel or park at the theme park free of charge (since you've already paid at the hotel).
5. Island View Cottages
The Island View Cottages, tucked away on the Indian River in Sebastian on the Treasure Coast, are a real Florida gem. Choose from 12 professionally decorated rooms that include hand-painted murals, private porches, or nautical bunk beds. Regardless of which cottage you choose, the clever decor, artsy themes, and comfortable furnishings will win you over. This place is the perfect retreat for getting away from it all and relaxing.
Thoughtful special touches at Island View Cottages include a welcome snack (local fish dip and orange juice), fresh-roasted coffee, and fresh fruit. A social room is at the back of the property for gathering, games, yoga, reading, and watching the big screen TV. The marina, with boat slips and a fish cleaning station, is an excellent place for fishing or just enjoying the view. Take a nap in the inviting hammocks, grill/barbecue your dinner, make s'mores by the fire pit, or sit outside your room in the provided outdoor furniture.
Fun Fact: Seven of the cottages are dog friendly, and the property has a dog run and recently added a dog station, complete with a (fake) fire hydrant. Beds, bowls, and treats are placed in the rooms prior to arrival.
6. La Siesta Resort And Marina
During a Florida Keys trip, I ended up at the La Siesta Resort and Marina in Islamorada, the Sport Fishing Capital of the world. This resort is on the historic Overseas Highway, and trust me, you will not be disappointed. La Siesta has such a friendly staff plus complimentary Wi-Fi and parking, and you can stay in a hotel room (spacious and tastefully decorated), cottage, or house.
I loved my room's subtle decor and earth tones. The grounds are immaculate and sprawling; you can relax at the gorgeous infinity pool or chill in one of the complimentary chairs along the private beach. Have a kayak adventure or go paddleboarding, snorkeling, or bike riding — it's all included in the resort fee. Then, enjoy tropical drinks and a light lunch from Wild & Lime, a poolside snack bar.
La Siesta Resort is part of four hotels (Amara Cay, Postcard Inn Beach Resort & Marina, and Pelican Cove Resort & Marina) in the same hotel family. A free shuttle runs between them and to nearby restaurants within the same mileage. I recommend visiting each one to check out the amenities and dine at their restaurants.
Pro Tip: La Siesta Resort offers hero, AAA, Florida resident, and senior discounts. You can also save by purchasing your lodging a minimum of 14 days in advance.
7. Hard Rock Hotel Daytona Beach
The Hard Rock Hotel Daytona Beach, with 200 rooms, is a rocking good time, start to finish. The stylish hotel sits oceanfront and has one of the most gorgeous pools on Florida's east coast. If you can afford it, splurge on a cabana and enjoy the scenery in high style. And speaking of high style, get pampered at the award-winning Rock Spa & Salon.
The Daytona Beach Hard Rock Hotel has a great restaurant, Sessions, with fantastic food — you'll want to take advantage of the happy hour deals, too. Of course, it would not be a Hard Rock experience without live music — and lots of it!
When you first step into your hotel room, the music genre of your choice will greet you. The rooms are amazing and so comfortable! You'll "sleep like a rock" in the signature beds, and the one-of-a-kind music amenities are a real treat. My favorite part are the floor-to-ceiling windows, perfect for watching the waves on the Atlantic Ocean. Pro Tip: If you are traveling with a pet, ask about Hard Rock's VIP pet program.