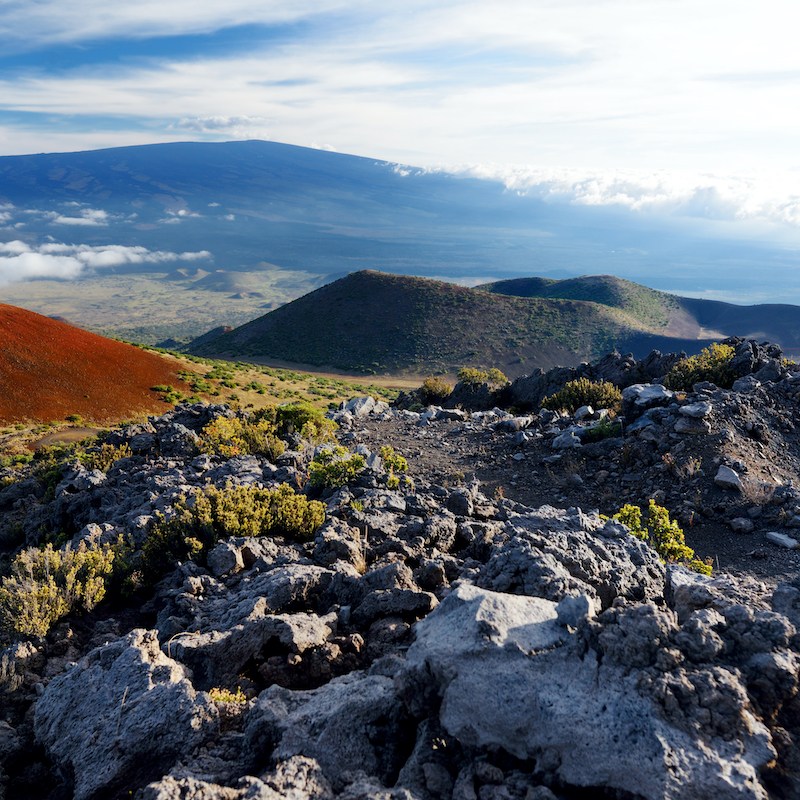 Hawai'i Volcanoes National Park is home to the summits of two of the world's most active volcanoes — Kīlauea and Mauna Loa. The park, which is on Hawaii Island, is also where you'll find archeological sites and historic districts such as Pu'uloa Petroglyph Field — the largest concentration of rock carvings in the park — and Footprints Area, which preserves intact fossilised footprints of Native Hawaiians.
There's a lot to see and do at the park, so to help you plan a terrific visit, the National Park Service (NPS) has released "Plan Like a Ranger this Summer at Hawai'i Volcanoes National Park," as part of its "Plan Like a Park Ranger" series. "With planning and a 'Plan B' to navigate around summer crowds at popular sites, the informed visitor can have a great experience at Hawai'i Volcanoes National Park this summer!" NPS explains.
With that approach in mind, here's how park rangers who work there suggest planning a visit to Hawai'i Volcanoes National Park.
1. Visit The Park's Website First
The park's website has the "the inside scoop on what every visitor needs to know before they come to the park," says Park Ranger Michael Newman. "Volcano updates, things to do, temporary road closures, directions, what to wear — it's all there to help you prepare."
The website may be found here.
2. Arrive At Five
Hawai'i Volcanoes National Park is open 24 hours a day, but to maximize the experience and minimize the crowds, it's best to arrive at either 5 a.m. or 5 p.m., says Park Ranger Ben Hayes. That way, you can start your day with an "unforgettable sunrise, and plan a full day ahead," Hayes suggests. Alternatively, arriving at the park at 5 p.m. gives you enough time for two of hours of hiking followed by a memorable sunset, Hayes explains.
3. Walk This Way
If you enjoy hiking, skip the hassle of busy, crowded parking lots and hike to scenic spots, says Park Ranger Olivia Crabtree — who hikes the park's trails regularly. "Popular spots like Kīlauea Iki Overlook, Nāhuku lava tube, and overlooks along Kaluapele (Kīlauea crater) can be reached on foot from the more spacious Kīlauea Visitor Center and Devastation Trail parking lots," she explains.
4. Tap The App
The NPS App provides interactive maps, self-guided tours of park places, and on-the-ground accessibility information about more than 400 national parks to make your trip planning easier. The free app is available for iOS and Android devices.
"The app is like having a ranger in your pocket," the rangers explain. "You can even use it to send a postcard without a stamp!"
5. Follow A Chain Of Craters
"Chain of Craters Road has been covered by lava five times since it was built in 1965," Ranger Dean Gallagher explains. "Today, the pullouts along the 19-mile road showcase the destructive and creative splendor of Kīlauea volcano — through gaping craters and vast plains of young lava flows. For many people, these flows are a physical manifestation of Pelehonuamea, the Hawaiian volcano deity."
6. Contemplate Culture
Puʻuloa Petroglyphs is a sacred site with more than 23,000 petroglyphs – images that have been carved into hardened lava.
"These images tell a story of our Hawaiian ancestors who recorded births, their travels, significant animals, and other meaningful and mysterious experiences into the lava rock," says Park Ranger Jozie Acasio. "I cherish connecting with my culture at Puʻuloa."
7. Visit Kahuku
"Kahuku is all about Mauna Loa — the park's other volcano," Park Ranger Travis Heinrich notes. "Entrance is free, Kahuku is never crowded, and we are open Thursday through Sunday from 9 a.m. to 4 p.m."
Kahuku is located on Highway 11 near mile marker 70.5 in Ka'ū. You can learn more about Kahuku here.
8. Know Before You Go
Kīlauea volcano may no longer be erupting, and it doesn't glow at night, but that doesn't mean you should skip visiting its summit. "Sunrise and sunset views of the caldera never fail to impress — plus you'll have overlooks along Crater Rim Trail to yourself," Ranger Hayes notes.
9. Be Respectful
The NPS explains that the Native Hawaiian culture reveres the volcanoes as sacred places.
"Kīlauea and Mauna Loa are cherished by many people, including kānaka maoli, Native Hawaiians," says Park Ranger Keoni Kaholoʻaʻā. "Consider others before you take photos or can be heard talking on your phone. Your kōkua (care) means a lot."
10. Stay Safe And Recreate Responsibly
"Even when Kīlauea is not erupting, sinkholes, unstable cliff edges, and earth cracks present hazards," says Chief Ranger Jack Corrao. Visitors should always stay on trails and not enter closed areas.
You can learn more about current conditions and how to visit the park safely here.
Finally, as you plan a trip, be sure to check out all of our Hawai'i Volcanoes National Park coverage as well as our Hawaii coverage.