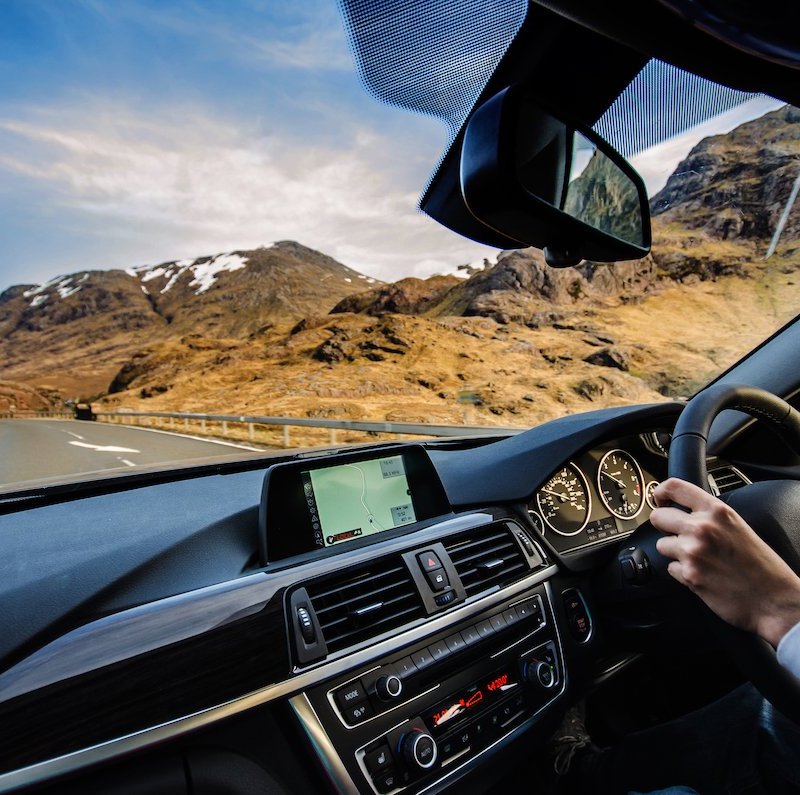 An International Driving Permit, or IDP, often erroneously referred to as an International Driver's License, is a special document that allows travelers to drive in other countries without additional paperwork. It acts as proof that you have a valid driver's license that was issued by the authorities in your home country.
It's helpful to think of the IDP as an international communication tool. If a police officer in Sweden or New Zealand or Cameroon checked your regular driver's license, they'd have no idea if the card they're looking at was real or a forgery. But when they see an IDP, they have confidence. An IDP lets them know in an instant that the driver's license you carry is a legal one. Having one gives you confidence, as well, as you may be required to have a valid IDP to drive and rent a car in some countries.
What's In A Name?
How much power does a word or two have? When it comes to the International Driving Permit, words are everything. While you might hear the terms "International Driver's License" or "International Driving Document" used from time to time, they're not the same thing as an IDP. In fact, there is no such thing, legally, as an International Driver's License or an International Driving Document. This subtle distinction doesn't matter a whole lot in casual conversation between friends, but it matters tremendously when it comes to receiving real-deal documents. Here's why:
Beware Of Tricksters
Tricksters take advantage of how people often use the phrase "International Driver's License" when they really mean "International Driving Permit." As such, they'll sell you an "International Driver's License." Alas, it is a useless document that has no legal standing. Foreign officials will know at once that it's not the IDP they're familiar with, and, instead of helping you, this false document might actually get you in trouble. And chances are, a non-IDP kind of driving document will cost a lot more than the modest fee of the authentic IDP. It pays to be on alert!
Is Getting An IDP Difficult?
Getting an IDP — a real one — is easy. Only certain organizations are authorized to sell the International Driving Permit. In most countries, the authorized seller is the national automobile association. In the United States, that would be AAA, and in Canada it's CAA. You do not have to be a member of the automobile association to apply for an IDP. You can just pop in and take care of things in a very short amount of time, with no appointment necessary.
Sometimes, very "official" looking organizations advertise that they sell international driving documents. But unless it's the AAA or CAA, you're not getting the real thing. You cannot apply for an IDP from a travel agent, a tour operator, an airline ticket vendor, or an international chain hotel.
Note that you must be at least 18 years old to apply, and you must have a full driver's license, not a learner's permit. However, you can receive an IDP if you only have a temporary license (as in, you are a fully permitted driver but your permanent documents are in transit.)
What Is The Application Process Like?
Overall, it's relatively straightforward. You need to visit your local AAA or CAA office and bring in your driver's license plus a copy of your driver's license (front and back). Most offices can also make photocopies for you on-site.
You also need two passport-style photos, which you must sign on the back. They can be either black and white or color, but they must be less than a year old. Since North America's authorized IDP vendors are automobile associations who issue passport photos as part of their services, getting photos done is easy. You can do so on site for a modest fee. Finally, with photocopies and photos in hand, you have to fill out a short application form.
If you apply in person, you only have to wait 30 minutes or so, depending on how busy the location is. If you're short on time, try to avoid the lunch hour, when most offices are low on staff but high on patrons.
You can also send in your IDP application by mail if going in person isn't possible. If you do so, note that it generally takes less than a week to process the application and mail out your new permit. In case you recently moved and the address on your driver's license doesn't match your new home address, include a note to clarify this. While it's not necessary, it doesn't hurt to call or email the AAA or CAA office to let them know your application is coming.
How Much Does An IDP Cost?
IDPs have the distinction of being one of the most affordable kinds of travel documents. Prices are set in each country, and the cost is $20 American or $25 Canadian. Again, you might need to pay a bit more if your local AAA or CAA office is also taking your photo.
How Long Is It Valid?
IDPs are good for one year or until your regular driver's license expires, whichever comes first. In other words, unless you need one urgently, don't apply when your driver's license is just months away from expiring.
What Happens If You're Overseas For More Than A Year?
After 12 months, you can apply for a new IDP, even if you're overseas. You would have to contact your usual AAA or CAA office to ask them about costs, as they'd have to send you your new documents by registered mail or courier. And as always, your regular driver's license must still be valid in your home country. If it's not, you'd have to apply for a new driver's license as a resident of the country that you're now living in and, with that in hand, go to their authorized IDP dealer and make your application.
What Countries Accept the IDP?
The IDP is valid in all countries that have signed the 1949 Convention on Road Traffic. It is also recognized in many countries that are not signatories to the Convention.
Why Do You Need An International Driving Permit?
For a simple document, an IDP does a lot of things. For instance, it translates your driver's license information into ten languages (helpful even if you're not renting a car.) It allows you to rent a car and drive in those countries that require it. And it's an internationally recognized travel document that foreign authorities will recognize. (However, to be clear, it's not a substitute for your regular driver's license. You will need to bring that along!)
In truth, you'll rarely need to produce your IDP. Most countries let you rent cars, for instance, and never check that you have an IDP (or even your driver's license!) But in those countries that do require it, the penalties are serious should you drive without one. In Japan, for instance, in extreme cases, you can be arrested and even deported. Before you travel and make plans to drive, do a bit of research on the specific requirements of your destination.
Actually, make that a lot of research. Rules about IDP usage are poorly publicized. For instance, in 2012, Florida passed a law requiring all foreign drivers to have an IDP. There was just one problem: No one thought to tell the tens of thousands of Canadian snowbirds who visit the state every winter. The confusion was such that the law was repealed within months.
When in doubt, just bring an IDP with you when you travel. It's inexpensive, it's easy to obtain, and it's a helpful form of documentation for many situations. And should you need it to drive or rent a car, you will have it on hand. No stress, no mess!
Pro Tip: Be A Smart, Savvy International Driver
No form of documentation, not even an IDP, makes you exempt from the rules of the road. You are responsible for following alcohol consumption rules, speed limits, road signs, and more. Car rental agencies will assume you know what you're doing, and there are no tests to prove you know the difference between a highway on-ramp sign and a detour-for-construction sign. You're in charge of doing your own research in advance! However, if asked, car rental staff are more than happy to point you to a quiet neighborhood where you can get used to your new vehicle and street signs.
Further Reading: