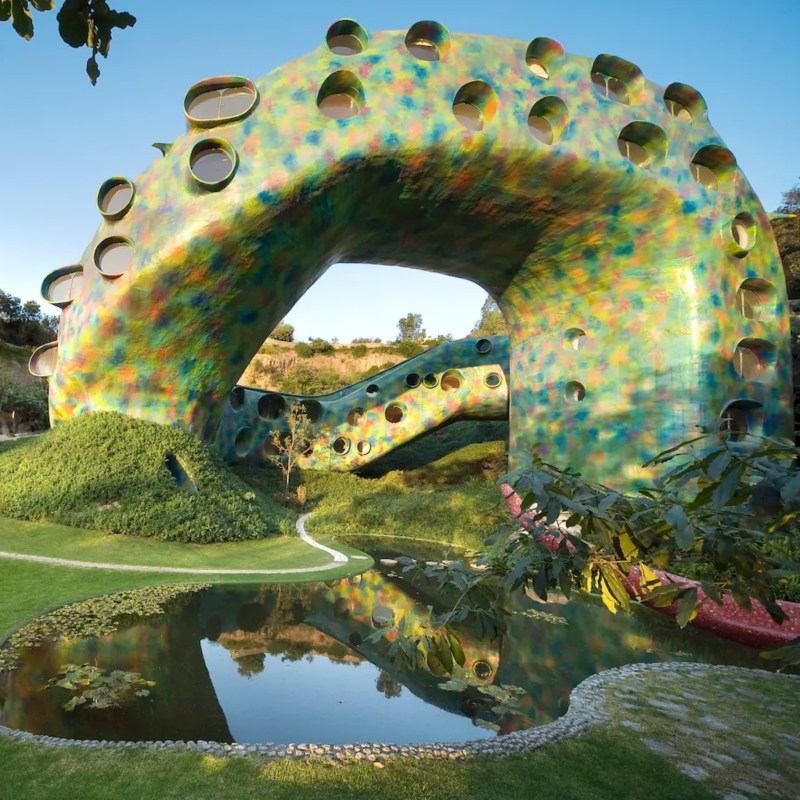 When you are looking to book a place to stay for your vacation, what do you look for? A good location, lots of amenities, a free breakfast? How about an Aztec serpent god? Is that on your list? If it is, you're in luck, because there is just such a place, an over-the-top, extraordinary, condo doubling as a sculpture garden that is available right now on Airbnb.
What Is Quetzalcoatl's Nest?
To put it simply, Quetzalcoatl's Nest is an apartment building, designed in the shape of a snake. It is a sprawling complex containing residences and art, built into the lush hillside area of Naucalpan de Juarez, about 45 minutes west of Mexico City. There are 10 homes located inside, including one owned by "host Patricia" who has opened hers to travelers looking for something a bit fantastical.
Why Is Quetzalcoatl's Nest Unique?
Inspired by the half-bird-half-serpent Aztec god Quetzalcoatl, Mexican architect Javier Senosian, wanted to create a structure that was representative of the landscape, which is dotted with caves. As the project developed, it was noticed that a nearby cave entrance resembled a snake's head with open jaws.
"We located it in the scale model and noticed that it seemed a virtual snake going in and out of the land," said Sensosian in an interview with DesignBoom.com. "We decided then to place a tail and call it Quetzalcoatl."
Senosian not only created a magical, artistic experience; he also created a completely unique yet fully functioning homestead. While only one residence is available on Airbnb, the other nine apartments are well furnished, fully equipped homes with all the modern amenities you would expect.
How To Stay At Quetzalcoatl's Nest
Owner Patricia has made Quetzalcoatl's Nest available for guests on Airbnb since 2015.
"I love to share this place because I'm proud of it," Patricia said in an interview with Airbnb. "I don't want to keep it just for myself, or for my neighbors. I think it's something worthy to be seen and felt and lived."
Airbnb describes the nest as "a roomy, five-bedroom flat with rounded windows, curved ceilings, and other quirky architectural features built inside the belly of the snake. The modern decor and fixtures lend the place an airy feel that's surprisingly fitting to its primal surroundings."
The home is listed as fully equipped, accommodating up to 10 guests. Kitchen, laundry, free parking, multiple TVs with cable and Wi-Fi are all available.
Know Before You Go
Because of the rustic nature of the landscape and the design of the home, there are no elevators listed as available on the property. Hostunusual.com says Quetzalcoatl's Nest is not suited for guests with restricted mobility due to stairs used to access the property.
Self check-in is available. Check out by 2 p.m. Pets are not permitted.
Airbnb.com highly suggests guests take Host Patricia up on her offers of guided tours of the property. The tour can easily take several hours, but there is a lot to see, and Patricia has become quite the skilled tour guide. Book Quetzalcoatl's Nest here and consider all our vacation rental tips and picks here.