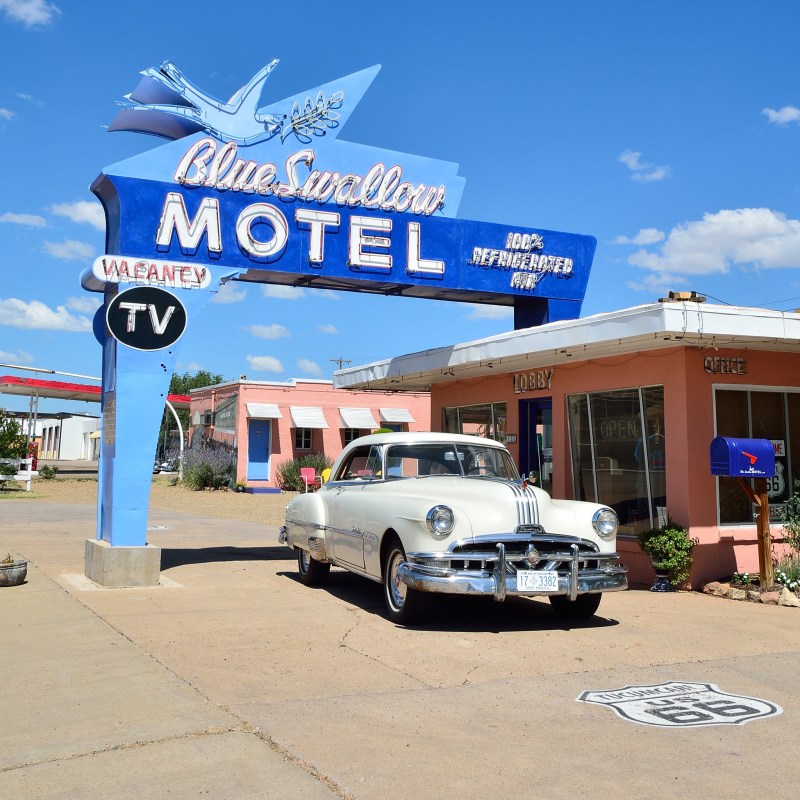 Driving westward through eastern New Mexico's high desert plains, I always have technicolor flashbacks. And as I approach the town of Tucumcari, they become vivid enough to see Don Draper behind the wheel of a gas-guzzling Cadillac Coupe de Ville. His left hand is extended out the window holding a Lucky Strike, while his right hand smoothly navigates the vehicle along Route 66 toward the California Coast.
Connecting Chicago to Santa Monica, arcing southward through six states sandwiched in between, Route 66 enjoyed its heyday in the post-World War II boom decade of the 1950s. As drivers left the Texas Panhandle in their dust, they were wooed westward by "Tucumcari Tonight" billboards with flashing neon lights guiding them to an overnight stay.
By the end of the decade, the famed Mother Road was issued a death sentence, beginning with the Federal Aid Highway Act of 1956. Inspired by the efficient German autobahn, World War II-general-turned president Dwight D. Eisenhower believed the United States needed to establish a network of roads from coast to coast as a matter of national security. Like the railroad tracks that redirected traffic from some communities to others a century earlier, the interstate highways produced the same ghastly effect.
Today, Tucumcari feels like a lived-in ghost town. Abandoned icons, like the Ranch House Cafe and the Westerner Drive-Inn, share the scenery with restored gems, like the Blue Swallow Motel and La Cita Mexican Restaurant. From exploring its history to enjoying the local cuisine to finding the perfect souvenir, here's how to spend a day in historic Tucumcari.
Things To Do In Tucumcari
Scout For Street Art
Large-format murals and other forms of street art share a community's history and culture in a very personal way, making it easy to understand why they're growing in popularity around the world. But the little town of Tucumcari was way ahead of the current trend. Beginning in 2003, Southern transplant and self-taught artist Doug Quarles started adding his photo-realism images to the exteriors of his new hometown. Today, Tucumcari boasts nearly 40 murals that share her history, from the Native Americans to cowboys on horseback to an old roadster on Route 66.
Kickstart your mural scavenger hunt with this digital map, or stop by the Tucumcari/Quay County Chamber of Commerce to pick up a paper copy.
Get Nostalgic
Boasting the world's largest collection of Route 66 photos, the New Mexico Route 66 Museum lets you explore all 604 miles of the road that once ran through the Land of Enchantment. See beautifully restored classic cars that once followed the Mother Road westward, from Model T roadsters escaping the devastating Dust Bowl to 1960s sedans like the vehicle Don Draper drove as he headed toward California in search of himself. There are old gas pumps, classic neon signs, and hundreds of photographs that freeze time.
Photograph Route 66 Landmarks
Tucumcari is full of classic Route 66 landmarks, some slowly disintegrating in the hot desert sun and some lovingly restored and open for business. If you travel the old highway on the outskirts of town, you'll find the crumbling remains of old restaurants like the Westerner Drive-Inn and the Ranch House Cafe. Elsewhere along Old Route 66, you'll see the fully restored Blue Swallow Motel promising 100 percent refrigerated air on a neon sign. Across the street is a concrete teepee protruding from an otherwise basic white block of a souvenir shop. And a few blocks west, a giant sombrero tops the turquoise walls of La Cita Mexican Food.
Learn About The Area's History
Although there is a heavy emphasis on the once-famous road that runs through town, there's more to Tucumcari than Route 66, and a visit to the Tucumcari Historical Museum will take you further back in time. Easily identified by the windmill and railcars out front, the museum includes artifacts from Fort Bascom, bootleg whiskey stills, and a chuckwagon complete with cooking utensils.
The red brick building that houses the museum was originally built as a schoolhouse in 1903. Over the past century, it served as a soup kitchen during the Great Depression and as a hospital.
Ride The Rails
As workers pounded spike after spike into wooden railroad ties, the railroad slowly made its way north from El Paso to Tucumcari. By the turn of the century, steam engines pulled cars piled high with coal and packed with cattle through town as a community built up around it.
Learn more about the role the railroad played in Tucumcari's history by stepping into the recently restored white stucco depot with a red tile roof that now contains the Tucumcari Railroad Museum.
Dig Dinosaurs
Millions of years before the Mother Road and railroad arrived, dinosaurs ran wild in eastern New Mexico. That means that Tucumcari and the surrounding area are packed with fossils.
You can see one of the world's largest collections of bronze skeletons and fossils and fossilized dinosaur eggs among other exhibits at the Mesalands Community College's Dinosaur Museum.
Pro Tip: As you plan your perfect day in historic Tucumcari, keep in mind that Tucumcari's elevation is 4,000 feet above sea level. If you're visiting from a destination closer to sea level, take steps to avoid altitude sickness. Not sure what to expect about a higher-altitude destination? Get answers to all of your embarrassing questions here.
Best Restaurants In Tucumcari
To grab a bite along Route 66 in its prime, Tucumcari travelers would have slid their Buicks and Chevrolets into one of the covered spots of the Westerner Drive-Inn with the skill of a pontoon captain docking his boat. Today, you can zip into a parking spot at one of these joints and enjoy breakfast, lunch, or dinner.
Kix On 66
This old-time diner next door to the historic Apache Motel is the perfect place for a bottomless cup of coffee paired with breakfast favorites and classic sandwiches. No matter where you travel in New Mexico, you can be sure to get your kicks by adding green chiles to any dish. At Kix on 66, add some spice to your morning with the green chile omelet. Other delicious options include the biscuits and gravy and pancakes. And be sure to include a side of hash browns with whatever you choose.
Blake's Lotaburger
Although it's a regional chain rather than a local gem, Blake's Lotaburger is to New Mexico what In-N-Out Burger is to California and what Whataburger is to Texas. Founded in Albuquerque in 1952, Blake's has been serving juicy all-beef patties topped with Hatch green chiles for nearly seven decades, so you can't go wrong with a Lotaburger with green chile and cheese. In fact, Blake's green chile cheeseburger has been crowned the best in the world by National Geographic.
Breaking Bad fans will probably recognize Blake's red, white, and blue packaging featuring a clean-shaven Uncle Sam-like cartoon of Blake.
Best Places To Stay In Tucumcari
You may be tempted to stick with a name you know by booking a room at a national chain. I have certainly enjoyed stays at the Fairfield Inn & Suites, Days Inn, Holiday Inn Express, and Best Western over the years. But you'll miss out on a piece of Tucumcari's nostalgic yesteryear charm by not staying at one of these locally owned gems.
Blue Swallow Motel
Built on Route 66 in 1939, the L-shaped Blue Swallow Motel has retained its original floor plan and historical charm while adding modern-day comforts. Inside its thick terra-cotta-colored clay walls, you'll find 13 guest rooms with a selection of full- and queen-size accommodations. And true to its connection to the Mother Road, many of the rooms include an attached garage!
Don't miss the James Dean mural on the side of the motel.
Roadrunner Lodge
Another vintage accommodation along Route 66 is the Roadrunner Lodge. With a coin-operated vibrating bed massager, tunes from the '60s, and other retro accents, stepping over the threshold into one of their snazzy '60s rooms will make you feel like such a time traveler you might want to sport a beehive hairdo and miniskirt!
Motel Safari
Route 66 enthusiast Larry Smith runs Motel Safari with the personal touch of a bed and breakfast host. His motor lodge offers convenient parking right outside your door, and the motel's retro rooms have been updated with modern amenities.
Pro Tip: The long-abandoned 22-room Apache Motel is being restored and is expected to open by the end of summer 2020.