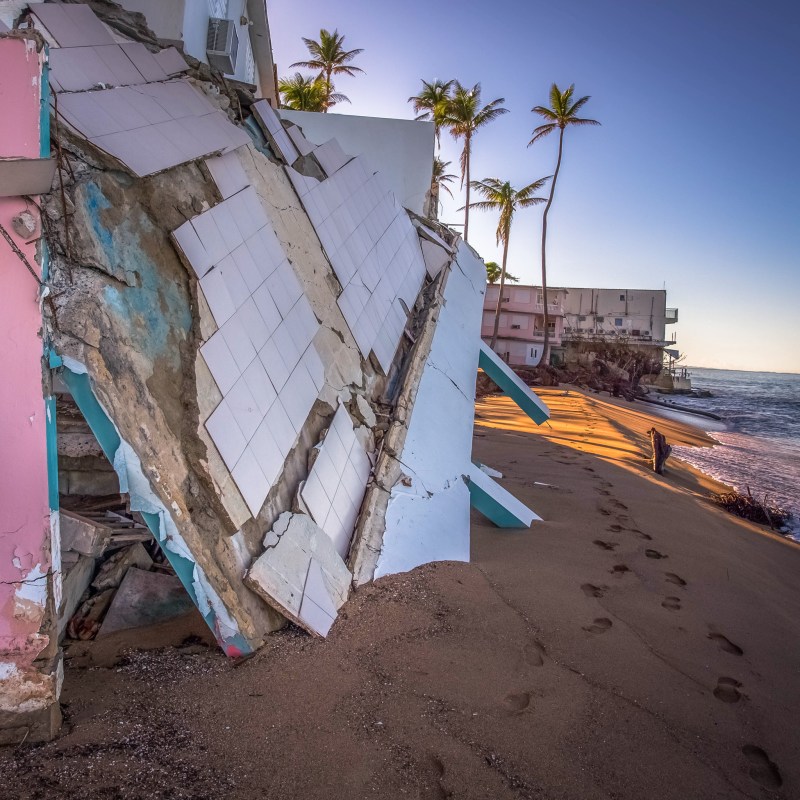 Two weeks out from our quick (and desperately needed!) mid-winter getaway to Puerto Rico, we were really looking forward to sun, sand, and of course, strolling the historic city of San Juan. I was doing the last bits of shopping and planning for the trip when we saw the news: Another awful natural disaster had hit the island.
Puerto Rico continues to recover after the devastation of Hurricane Maria, however, this time it was a powerful 6.4 earthquake that rattled residents on the south of the island. Thousands of people were left without stable shelter, electricity, or water. And the aftershocks kept coming.
Family and friends started asking. Are you changing your plans? Will you go somewhere else or reschedule? While we understood their concerns, our answer was a resounding no.
After a few days, a bit of research, and quite a lot of soul-searching, we decided to keep our plans. We went through with our trip, and would absolutely do it again.
Why We Chose Puerto Rico In The First Place
It's our family's tradition to take a big vacation — out of the country — during the month of January. It's a great way to beat the post-holiday blahs, we find great travel deals, and there are fewer tourists no matter where in the world we go.
This year, after two intense international trips (to Istanbul and Mumbai), and a serious illness in our immediate family, we decided to dial it back slightly and stick closer to home. We started looking at Caribbean destinations from which we could quickly return home should something come up.
What's more, Puerto Rico is a place that truly piqued our travel interest. It has gorgeous beaches, incredible biodiversity, great places to stay, and an intriguing capital city full of culture, charm, and history. There would be plenty of places to explore and things to do, whether trekking the rainforest, exploring the 500-year old city of San Juan, or simply taking time to relax in a beach cabana.
Then there was the convenience factor. Because the island is an American territory, it's American soil. There were no passports or long slogs through customs needed; getting down and back would be a breeze.
Finally, we were quite keen to go to Puerto Rico so we could spend money with local mom-and-pop tour operators and businesses. Bottom line: The island has been through hell since Hurricane Maria, and we felt strongly that the best support we could offer would be showing up, learning about the people and culture, and spending money on the island.
When we added up all of these factors, it quickly became apparent that we had a winner for our January travel destination. In short, Puerto Rico ticked all of our boxes for this year's travels. Until January 7, when the big earthquake hit the island.
Why We Were Conflicted After The Quake
In the hours and days after, we started assessing fall-back options for our trip. Since we booked our flights and hotel with miles and points, we had a bit of flexibility when it came to canceling. We were obviously concerned about aftershocks, power outages, and other factors that could seriously impact our trip, and possibly our safety.
We also didn't want to seem like unempathetic jerks hell-bent to get their vacation in, no matter the suffering or condition of the people who actually live there. That's not our style.
At all.
We took a couple of steps back and looked at the situation carefully and critically. The areas of Puerto Rico that were affected by the quake were far south of where we were staying. We contacted our resort and were assured that there was no damage to the property and there was zero interruption in service. Puerto Rico's official tourism site posted updates on the situation daily and encouraged people who had plans in and around San Juan to keep them. The airport remained open, as did the cruise ship port. Our tours were still running.
At the end of the day, we ran our math. San Juan was still open for business.
If they were, we were, too.
What We Experienced
Simply put: We loved Puerto Rico. Getting there was a snap, and we really soaked in the culture, cuisine, and history of San Juan. Our tours were both terrific — one an eating and walking tour of San Juan, the other a high-adventure trek through the island's natural gems. Our resort was picture-perfect, and everyone was lovely.
During a brief break during one of our tours, we had a chance to chat with our guides. When we confided in her that initially, we weren't sure about coming down, she shook her head.
"Thank you so much for supporting small businesses," she told us. "We are so glad you are here. Please tell more people to come see us."
The island has much to offer, even as it continues to recover from Mother Nature's wrath once again. Despite the quake, Puerto Rico was a terrific destination, and I'm so glad we weren't scared away.