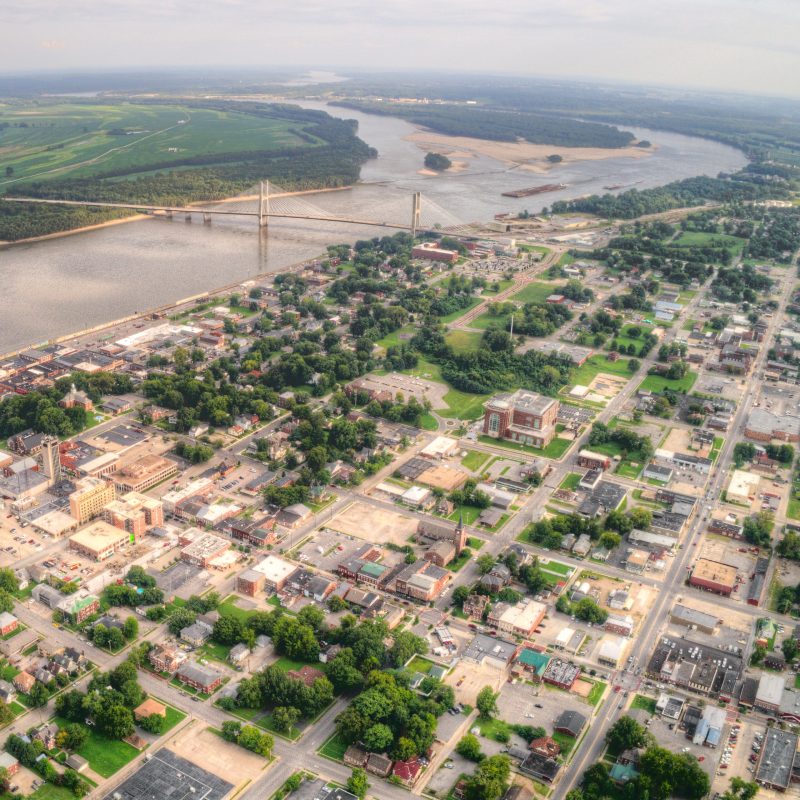 Cape Girardeau, Missouri, is located near Missouri's Bootheel, the southeastern portion of the Show Me State that resembles a boot's heel. Whether or not you have the Missouri Bootheel on your bucket list, one thing is for sure: Cape Girardeau needs to be on it. With its rich Civil War and Native American history, its natural beauty, and its excellent dining options, the town makes a great place to spend a day (or two… or three!).
Here are the best things to see and do on a visit to Cape Girardeau.
Visit Trail Of Tears State Park
In the 1830s, about 16,000 Native Americans were forced to walk from their homeland in the southeastern United States to the Indian Territory (Oklahoma). The route, which became known as the Trail of Tears, entailed crossing the Mississippi River near Cape Girardeau.
During the march, a group of Cherokee people became separated from the others when the Mississippi River froze. Stuck in the area without food, water, or supplies, the Native Americans and soldiers had to find a way to survive the winter there. Today, a memorial in the area, now the Trail of Tears State Park, honors the only person to die that winter, a young Cherokee girl.
Trail of Tears State Park's visitor center acknowledges this chapter of American history with an exhibit that includes a film describing the Trail of Tears and its Missouri connection.
While the park pays tribute to the people who endured the Trail of Tears, it also encourages visitors to explore the area, including an overlook offering impressive views of the Mississippi River. Trail of Tears State Park also features excellent hiking trails, a small lake, and other scenic views. Camping and picnicking areas are available within the park.
Learn About The Area's Civil War History
Civil War buffs will find plenty to do in the Cape Girardeau area. While it was a Union stronghold, Cape Girardeau had its Confederate sympathizers. After all, Union soldiers took the area from the Confederate army during the Battle of Cape Girardeau in 1863. Following the battle, the area was protected by four forts: A, B, C, and D.
Today, a replica of Fort D stands on a bluff overlooking the Mississippi River. The fort is open for tours, and it's especially crowded during holiday weekends, when Civil War reenactors occupy the grounds and share stories with visitors.
A driving tour of an hour or two will take you to key Civil War spots in the city. From Port Cape Girardeau (now a restaurant) on the river to the Old Courthouse Park with its memorials to the Union and Confederate armies, you can get an up-close look at the area's Civil War history.
You may also want to visit the Old Lorimier Cemetery, where several of Cape Girardeau's early leaders are buried. You can pick up a copy of the tour map at the visitor center downtown.
Take A Walking Tour Of The Downtown Area And Riverfront
Cape Girardeau's riverfront is home to an impressive collection of murals covering Missouri's history, as well as a state Wall of Fame. Painted on a flood wall designed to protect the downtown area from high water from the Mississippi River, the murals tell the stories of the state's most significant moments, including the Louisiana Purchase, the Civil War, and the Mississippi River trade. The Hall of Fame murals recognize Missouri natives or citizens from Mark Twain and Harry S. Truman to Stan Musial and Walter Cronkite.
A short walk down the river will take you to Riverfront Park, a small space with trees and flowers as well as a view of the sleek Emerson Bridge that crosses into Illinois.
The downtown area is full of street art, from murals showcasing area history to a sculpture walk that features new designs each year. You'll also find storefronts dating back to the 1800s and early 1900s.
Experience Nature And Wildlife
The Cape Girardeau Conservation Nature Center offers a variety of hiking trails as well as exhibits on hunting, natural resources, and how the two interact. There are also exhibits covering life on the Mississippi River and area wildlife, including fish and birds. The center may be best known, however, for its two-headed rat snake. Found in the wild, the snake was unable to survive on its own, so it now enjoys life at the nature center.
The Lazy L Safari Park is a walk-through zoo featuring an array of animals from llamas and zebras to goats and lemurs. No matter your age, you'll feel like a kid as you walk around the park, feeding the goats, admiring the white peacock, and looking up at the camels. While you're at the park, stop in the parakeet jungle and hand-feed the colorful birds as they flock to and land on you. It's a fun place to visit between April and October.
Eating In Cape Girardeau
Sand's Pancake House
With entrees under $10, Sand's Pancake House is a great place to start your day with a hearty breakfast. You can enjoy plate-sized pancakes or other dishes that are sure to fill your plate and satisfy your appetite. The building may look like a hole-in-the-wall diner, but don't let its looks scare you off. A lot of times, these sorts of places make the best eats! You'll want to put any diet plans on hold as you sample the biscuits and gravy, corned beef hash, or gigantic omelets. Open daily from 5 a.m. to 2:30 p.m., Sand's draws crowds on weekends.
Muy Bueno
For an authentic Mexican lunch, stop at Muy Bueno. The restaurant's menu features tacos and enchiladas as well as other Mexican favorites. Movie buffs will enjoy dining here, since Muy Bueno was a favorite spot for the cast of the movie Gone Girl, which was filmed In Cape Girardeau. Director David Fincher sent the owners an autographed copy of the movie poster. As you enjoy your lunch, the staff might share stories about the actors, including Ben Affleck.
Broussard's Cajun Cuisine
You'll think you're dining in the French Quarter at Broussard's Cajun Cuisine. Plates overflowing with jambalaya, etouffee, and beans and rice are just some of the items on offer. Since the portion sizes are so large, you might want to split an entree or two with your partner and take home leftovers to your hotel.
Shopping In Cape Girardeau
Cape Girardeau's downtown area is home to some impressive antique stores and boutiques.
Pastimes Antiques offers visitors more than 10,000 square feet of shopping space and about 50 dealers selling items ranging from vintage dresses to classic magazines. A visit to Pastimes is like taking a walk through history, and there's a story to go along with almost everything in the store.
Annie Laurie's Antiques offers visitors an opportunity to explore classic home decor and antiques in a former funeral home.
Where To Stay In Cape Girardeau
Historic Kage House
Located downtown and a short walk from the riverfront, the Historic Kage House was built in the 1880s. Visitors can rent the homey apartment available on the second floor. Kage House requires a minimum stay of two nights.
Hotels
If you prefer a hotel, Cape Girardeau is home to nearly 20 chain locations. However, Missouri-based Drury hotels offer a comfortable stay at a reasonable rate. Cape Girardeau has four Drury properties: Drury Plaza Hotel, Drury Inn & Suites, Pear Tree Inn West, and Pear Tree Inn Medical Center. The Drury hotels offer midscale hotel accommodations, while the Pear Tree Inn properties are more economical.