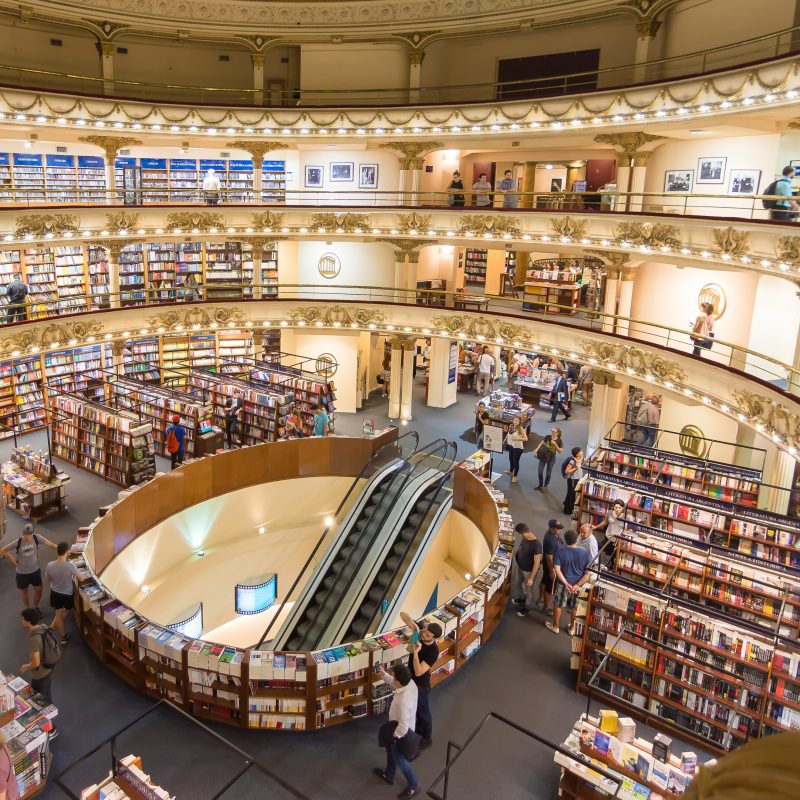 If you're a lover of literature, you understand the feeling of pure delight that a bookstore can bring. Nothing compares to the joy of picking up a book and sensing the history behind each one of its pages, considering that every book has its own story to tell and a journey to unfold for its reader. E-readers are easy and convenient, but books — books you can smell and feel. They're the bread and butter of all literary experiences.
Your fascination with bookstores doesn't have to go unsatisfied any longer! Read about these stunning bookstores around the world. You'll want to visit each at least once in your lifetime.
1. Livraria Lello In Porto, Portugal
Known for its elaborate architecture, Livraria Lello is a book enthusiast's wonderland. The bookstore has winding stairs and complex design work which is a result of a combination of art deco and other eclectic styles.
Despite popular rumor that the bookstore inspired some elements of J.K. Rowling's well-known Harry Potter book series, the author had actually never heard of the bookstore until after the series was complete. Regardless of its influence, many people say the bookstore bears a close resemblance to several popular settings throughout the books, such as Hogwarts' winding staircases and Flourish and Blotts, the bookstore for young wizards.
2. El Ateneo Grand Splendid In Buenos Aires, Argentina
Labeled by the National Geographic as the world's most beautiful bookstore, this one-of-a-kind shop is housed in an old converted theater.
According to Wander Argentina, the bookstore's stage is now a cafe that serves delicious treats and hosts a live pianist in the afternoons.
The majority of the books that the bookstore houses are in Spanish, but there are at least 4,000 non-Spanish titles available as well.
3. Book And Bed Kyoto In Kyoto, Japan
If reading a book in the comfort of your cozy bed before it's time to drift off for the night brings you deep peace, then this may be the place for you. The concept behind this place is that it's not only a bookstore where you can read wonderful books — it's a place where you can stay, too!
This bookstore/hostel gives you the ability to reserve a place to rest your head as well as peruse the variety of books provided. This quirky concept is what some folks' dreams are made of!
4. The Last Bookstore In Los Angeles, California
This Los Angeles-based bookstore has been lauded by CNN, HuffPost, The Washington Times, and — across the pond — even The Guardian, which named it a "literary treasure trove in downtown L.A."
The bookstore's name is a play on the fact that bookstores are in decline and falling to online bookseller competition. Hence the catchy phrase on the bookstore's homepage: "What are you waiting for? We won't be here forever."
What makes this place so special besides its suspenseful name? The Guardian claims that the bookstore's upstairs level is where all the magic happens. Guests will be greeted by books suspended in the air as well as numerous tunnels made from books. Take a whirl through one of the tunnels — you might find your perfect book falling from the ceiling!
5. Cook And Book In Brussels, Belgium
A bookstore that is also a full-blown restaurant? It sounds like a dream come true and it really is! This bookstore in Brussels, which also houses two restaurants, is supposedly the size of a supermarket.
On the bookstore's website, you can see that it is divided into nine themed areas. Within each space, you'll find literature catering to a particular interest (or music), plus decor to match. There are two restaurant options — one in each section of the sprawling complex.
You should definitely bring your appetite and love for books to this eat-and-read bookstore!
6. Zhongshuge Bookstore In Chongqing, China
This bookstore is one of five that make up the Zhongshuge chain designed by Li Xiang of the Shanghai-based firm X+Living. More than just your average bookstore, this destination doubles as an architectural masterpiece! The stairs in the bookstore mimic the famous M.C. Escher piece "Relativity."
Zhongshuge sister bookstores with similarly surreal features are in Hangzhou, Shanghai, Chengdu, and Yangzhou, China. Each leverages optical illusion but possesses its own unique design features.
For more information on the unique bookstore, read about why China's Chongqing Zhongshuge bookstore needs a spot on every book lover's bucket list.
It's Not A Bookstore, But…
Named one of Time's 100 Greatest Places in 2018, the Tianjin Binhai Library in Tianjin, China, has attracted nearly two million visitors since its opening in 2017. The library has an all-white design that adds to its back-from-the-future appeal.
The Tianjin Binhai Library has books everywhere you turn, and some of its bookshelves reach all the way up to the ceiling. With 363,000 square feet of space, the library is projected to be able to hold at least 1.35 million books according to Time.
For more book fun within the U.S., consider giving these must-see places in Northern California for book lovers a read and set off on your own inspirational literary journey through Northern California!